Andy Sidhu takes office as UFV's new chancellor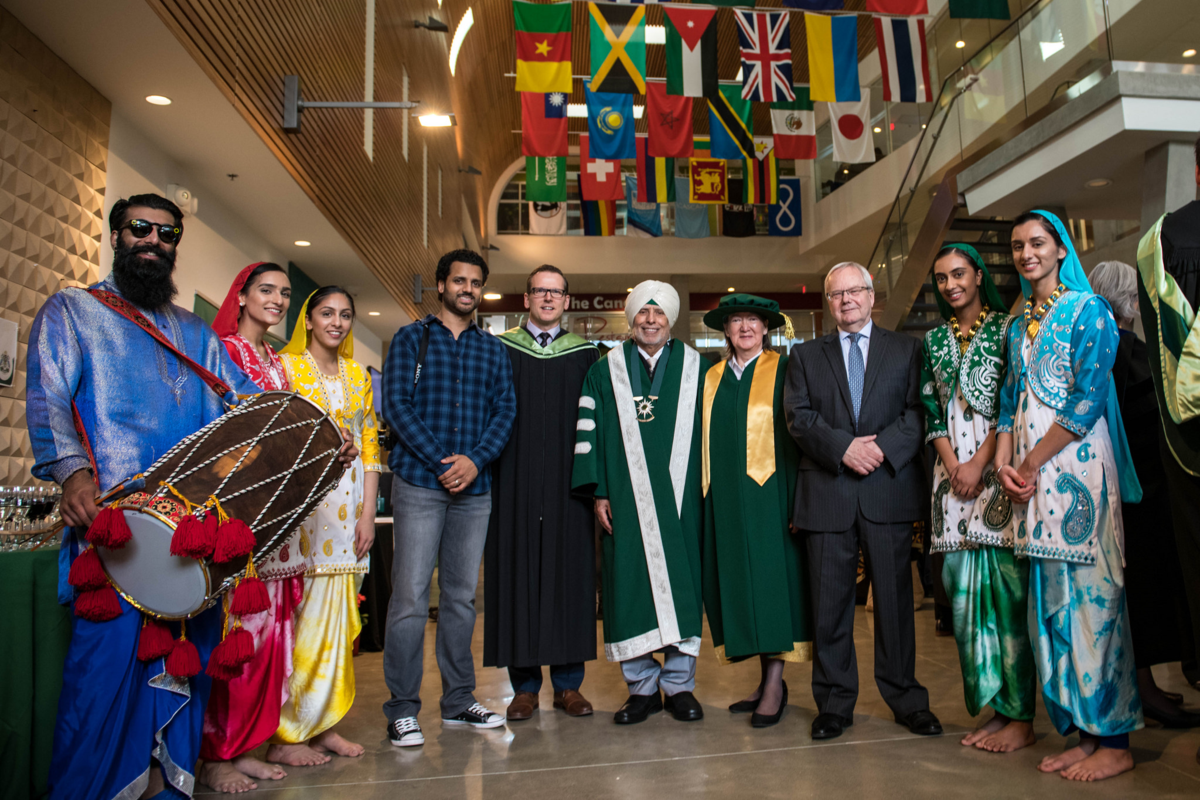 UFV's newly appointed chancellor Andy Sidhu was formally sworn into office in a ceremony Thursday, April 19. Sidhu will be taking over the position from Dr. Gwen Point, who has served as chancellor since 2015.
As chancellor, Sidhu will act as the ceremonial head of UFV, presiding over convocation, attending senate and board meetings, and representing the public's interest at UFV. He will act as a representative for UFV at a variety of events both on and off campus.
"Over my term as chancellor, I look forward to seeing our success stories, I look forward to seeing our UFV stars shine here, in the Fraser Valley and beyond," Sidhu said during his first address as chancellor of UFV.
The chancellor is appointed by the UFV Board of Governors at the recommendation of the Alumni Association and in consultation with Senate.
"The UFV chancellor is chosen for having an exemplary character, for the way they treat people, for their wisdom, and for their appreciation and passion for the importance of education," John Pankratz, chair of the UFV Board of Governors, said.
Sidhu has a long history of involvement with the Fraser Valley community since his immigration from Malaysia in 1974. Sidhu worked first as a labourer on a dairy farm in Abbotsford, then as a bookkeeper with the Canada Agricultural Labour Pool. Being multilingual, many government offices used his services as an interpreter, and Sidhu became an unofficial ambassador for new immigrants to the area.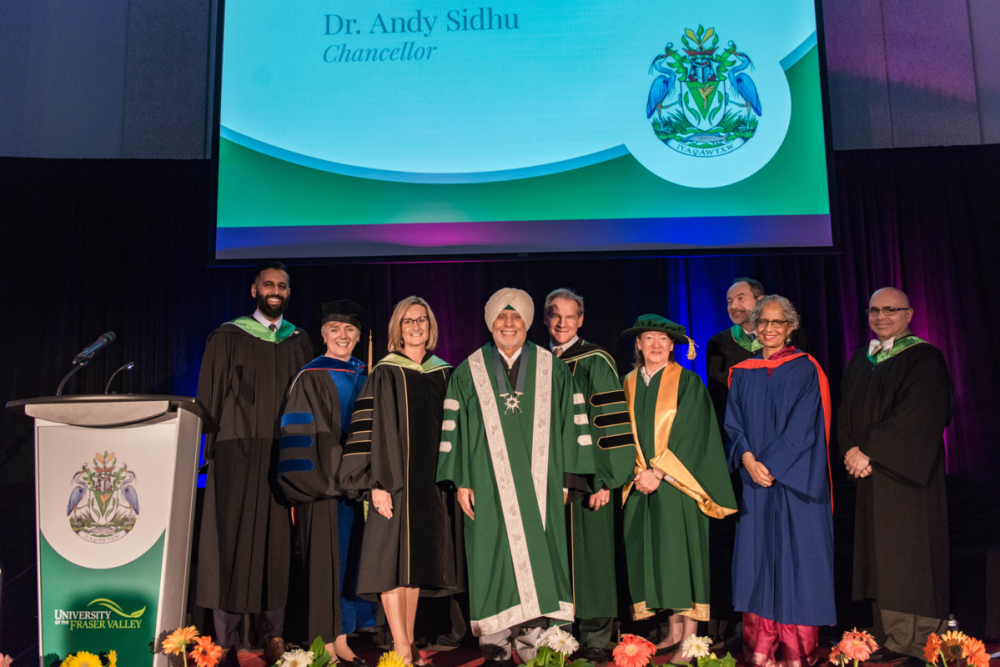 Sidhu is well known for funding Canada's first multi-language newspaper, the Patrika. The Patrika has been in print once per week for 22 years, and today is one of two multi-language newspapers in Canada.
Today, Sidhu continues to be an active member of the Fraser Valley community. He has contributed financially to local healthcare, education, and recreational activities, as well as having volunteered his time to help over a dozen groups, including the Abbotsford Hospice Society and the UFV South Asian Institute. In addition to being regularly listed in Abbotsford News "Top 100 Most Influential People in Abbotsford", Sidhu is the recipient of Queen Elizabeth II Diamond Jubilee Medal, the Fraser Valley Cultural Diversity Award, and holder of an honorary Doctor of Letters Degree from UFV, which he received in 2017.   
"He is, needless to say, a champion of postsecondary education, and has demonstrated his ongoing commitment to building community with compassion, with integrity, and with dedication," Dr. Satwinder Bains, director of the UFV South Asian Studies Institute, said.
"Your commitment to this university has been tremendous over the years, and I'm sure I speak for all of us when I say how proud I am to see you take this important role," Nav Bain, UFV Alumni Association Chair, said to Sidhu. "You truly represent the spirit of the University of the Fraser Valley, and our commitment to building community and changing lives."
Sidhu will be the third chancellor of UFV, following Dr. Gwen Point, and Dr. Brian Minter, who served two terms as UFV's first chancellor.
Point has been involved with UFV since it was a college, and is a respected Stó:l? leader, mentor, and cultural advisor. She has worked as an assistant professor in the School of Social Work at UFV, been on the Board of Governors, served as UCFV's Aboriginal Curriculum Coordinator, and as B.C.'s Chatelaine.
"I have a daunting task of following in the footsteps of my predecessor," said Sidhu."It is humbling to be part of this group."
Images: UFV Flickr