Art of the Book exhibit visits UFV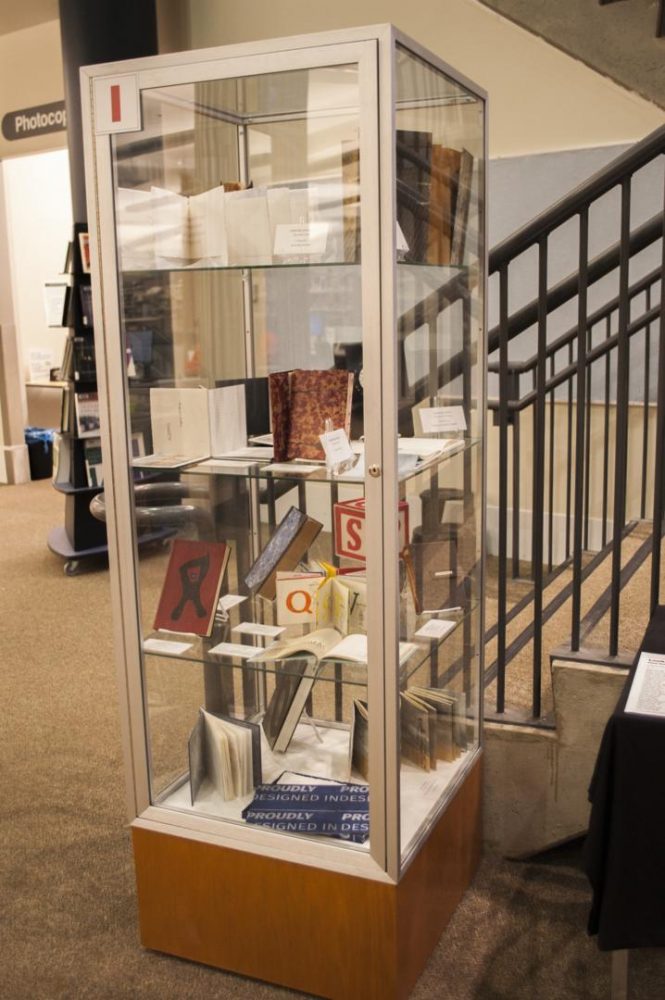 UFV is privileged to host Art of the Book 2018, a collection of art based on the aesthetics of book design, from papermaking to printing, which is being exhibited in UFV's Abbotsford campus library.
Books are well-known to contain beauty within the meaning of their text. Art of the Book broadens the scope to examine and showcase books as works of art in and of themselves. The exhibit contents are sorted into several categories, which include fine binding, fine printing, restoration, box making, artist's books, papermaking, paper decoration, and calligraphy. These encompass many types of art and artisanship, from samples of excellent and beautiful text, binding, and illustrations, to artworks made out of, or in the shape of, books.
The exhibit was organized and sponsored by the Canadian Bookbinders and Book Artists Guild (CBBAG). The collection on display includes works from artists and companies from Canada, the United States, the United Kingdom, France, Spain, Australia, Singapore, and Hong Kong.
The collection on display was assembled by a panel of four judges, including Betsy Palmer Eldridge, Lang Ingalls, Susan Warner Keene, and UFV's own Jan Elsted. It is largely thanks to Elsted that UFV was selected as one of the hosts of the exhibition.
Art of the Book will be making its way across Canada over the next two years. UFV is the second stop on the journey after the exhibit's original opening at the University of Victoria last August. UFV is honoured to be the only institution in the Lower Mainland, and the only other place in B.C. other than UVic to host the collection. Art of the Book will be hosted by other universities across Canada, including the University of Alberta, McGill University, and others as far east as Newfoundland.
Art of the Book is currently housed in display cases arranged around the ground floor of the Abbotsford campus library. The exhibit will remain at UFV until Dec. 7.
Images: Jen Klassen/The Cascade