Athlete Profile: UFV Volleyball's Landon Uy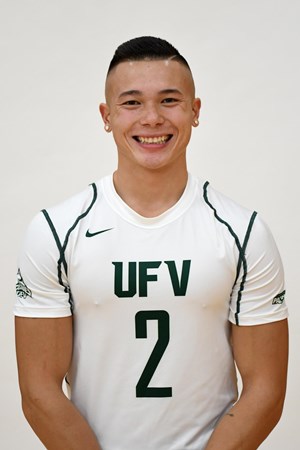 In the sport of volleyball, the various positions demand different physical talents. The UFV men's volleyball team has had no shortage of those, and many if not all players on the 2018-19 team consistently display multiple talents that make home games fun to watch. Even of these skilled players, Cascades outside hitter Landon Uy stands out. A combination of competitive drive and a huge vertical jump makes Landon one of UFV's most noticeable players. It's not uncommon to hear gasps or comments from the stands after Landon serves the ball during games.
His volleyball career began from a connection close to home.
"My dad was my first coach," says Landon, who played for Cedars Christian in Prince George, B.C. "He coached me all the way through high school and midway through club seasons."
His brother also played on the same team as him for many years.
Landon decided he wanted to further his career in volleyball by playing after high school, but his path to UFV was different than others.
"I actually did my first two years of schooling at Trinity Western, and I was playing in a rec league where I met Kyle, the coach here. It was run through UFV and Kyle ran the league. So, I kind of just asked him, 'Hey like, think any teams want a real short left side to play?' and he's like, 'Yeah dude, why not UFV?'"
If you watched the men's team play this year, you know they play confident and with a lot of energy. It might surprise you to know that they currently sit at a 1-11 record and have struggled closing out games this season.
One important factor that Landon observes is the growth of the team despite the losses.
"There's a lot of room where we've stepped it up each week, made improvements. We've dropped back a little bit some weeks but that's kind of how it goes all the time. You make improvements; you sometimes don't play your best one weekend, then you play better the next weekend, right? We're still hopeful and we're not too worried yet."
As focused as ever, losses don't seem to faze the Cascades or put them off of their goals, says Landon. In the PacWest conference, only one team doesn't make the playoffs. So long as the Cascades remain focused and committed to their growth and development, a trip to the postseason awaits.
The most noticeable part of Landon's game is by far his vertical jump, which has been known to garner quite the reaction from fans.
"For me it's a big part of the game because I don't have a whole lot without it," Landon said. "For me, since I'm so short, it's really important. If I'm not jumping high on every ball that I try and hit, I'm not getting a good aggressive attack out of it, right?"
Despite the limitations of Landon's height, his athleticism and volleyball knowledge propel him to constantly bring a remarkable work ethic and style of play to the court, and he has become a fan favourite.
When it comes to the goals of the team, Landon and the Cascades appear to have their sights set on one main goal: win the playoffs.
When it comes to his favourite post game meal, he presents two scenarios.
"If I'm looking for a full meal, it would be real classic, just like chicken and rice. Fills you up nice and good. But if I'm looking for a snack and something fun and yummy it'd be popcorn or a milkshake."
Come watch Landon Uy and the UFV Cascades as they take on the Camosun Chargers this weekend, January 11 and 12, in back-to-back games to open their 2019 campaign.
Image: UFV Cascades