Cascades and Wolfpack each sport a win and loss after exciting weekend of hoops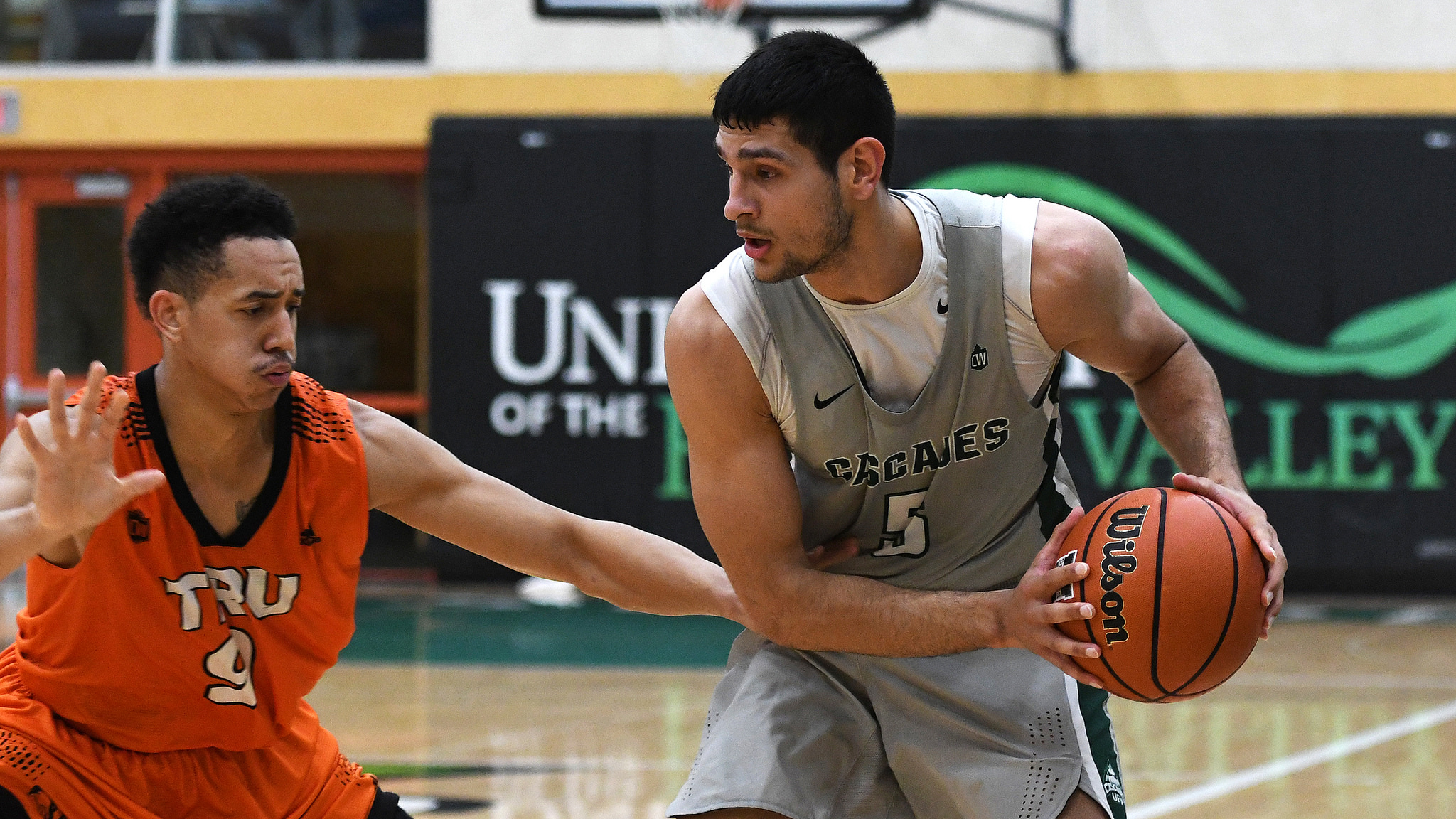 As the opening weekend of men's basketball came to a close Saturday, it was evident that if this past weekend's games were of any indication as to how the rest of the season will go, it will be a fun year for fans of the Cascades. Some might see the 1-1 season record, or even the box score and think it wasn't as good as it could have been, but if there's one thing that fans can take away from opening weekend, it's that this team is fun to watch in victory AND defeat.
As the first quarter of the season began on Friday against the TRU Wolfpack, it was evident that nothing was going to come easy to the Cascades in their home opener. Both teams tried to establish the three-point shot early while also getting called for a handful of fouls each. TRU led 20-11 after the first quarter but UFV hardly looked shook.
Parm Bains opened the scoring in the second quarter with a three-point score assisted by Navjot Bains and from there UFV went on to have a high output quarter, outscoring TRU 21-14 to make it 34-32 at the half, nearly erasing their previous deficit despite the Wolfpack's Anton Bilous scoring 13 points on 50 per cent shooting from the field and from three-point range.
The third quarter got off to somewhat of a rough start, but after three-point scores from both Parm Bains and Mark Johnson, the Cascades were back in the mix yet again. Another Cascades player who had a great game Friday night was Sukhjot Bains, who at the 1:19 mark of the third quarter scored a layup to take the lead. The game went back and forth until UFV had a two-point lead courtesy of a layup made by Sukhjot Bains.
Forced to foul in order to get another chance to win or tie, TRU sent Sukhjot Bains to the line. With a chance to win the game, he made the first of two free throws to extend the lead to three, but did not make the second, leaving a window for TRU to send it to overtime. The Wolfpack's Enrico Nuno drove down the court and shot a heavily contested three with only three seconds remaining, sending the game to overtime. In overtime, both Parm Bains and Sukhjot Bains would score in addition to a pair of steals from Mark Johnson, but it would not be enough as a three-point shot from Yonathan Michael would win the game for TRU.
For their second meeting just a day later, both teams had a better understanding of one another, and quickly UFV showed that they weren't bothered, nor stuck on their OT loss the night before. Winning the first quarter 24-15, it was already evident that the Cascades came into the game aggressive, similar to the Wolfpack the night prior.
The second was much closer, and TRU was almost able to bring it within four, but Parm Bains had other plans as he unloaded a three-point score late to close out the first half up seven points with a score of 45-38.
Despite UFV's success in the second quarter, they were actually outscored by two points. They came out in the second half and like the veteran team that they are, they were not about to get comfortable against a team that just a night ago scored and rallied late for the win, winning the third quarter 25-18 and now sporting a 14-point lead.
In the fourth quarter, TRU fought back and at the 5:35 mark brought the game nearly within reach to make it 68-72. After Mark Johnson made good on a three-point attempt assisted by Parm Bains, it seemed UFV might pull away, but it was then made a one-score game from a jump shot courtesy of TRU's Joe Davis. That is as close as it would get for the Wolfpack, as UFV began to roll and with just 1:05 remaining in the fourth quarter, Sukhjot Bains would redeem himself for the missed free throw and win the game for the Cascades with a three-point shot that made the lead 11 points.
Needless to say, it was a wild weekend for the Cascades who now will look to secure a winning record and more when they take on the Saskatchewan Huskies in Saskatoon, S.K. on the road.
Image: UFV Cascades Flickr