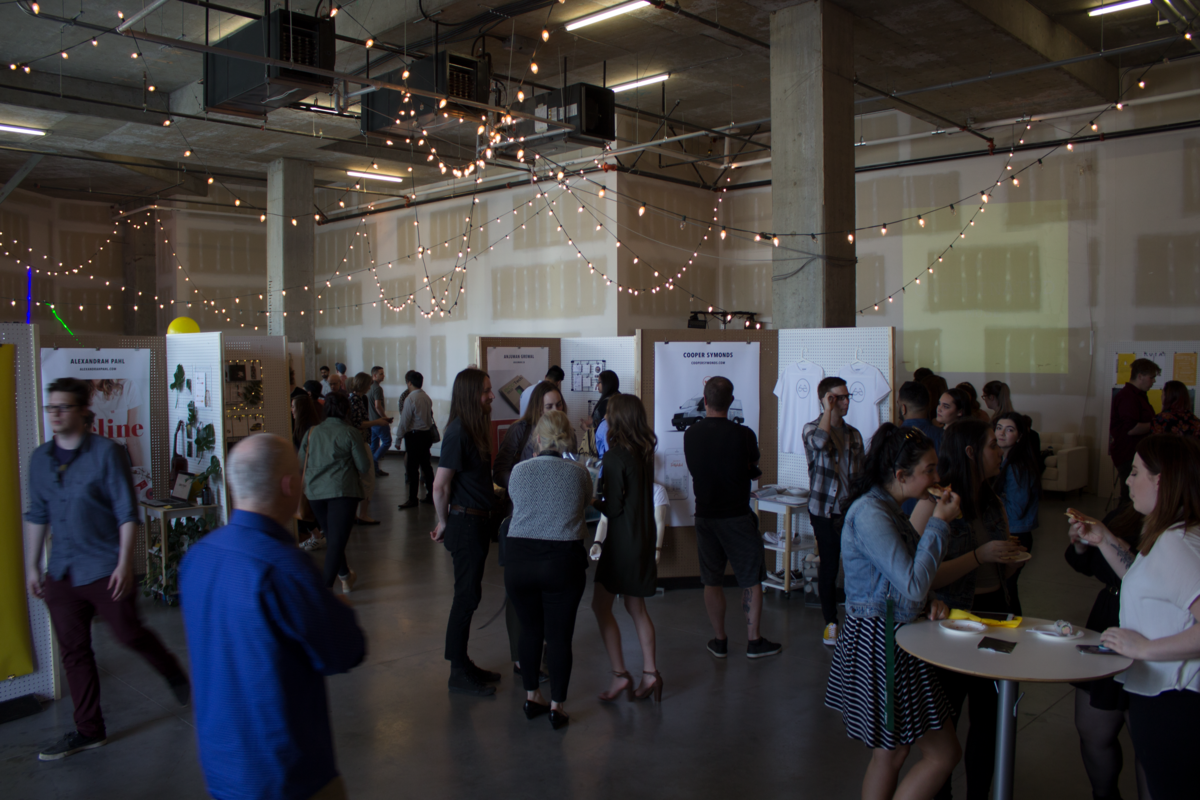 Graphic design is a growing and happening industry with a supportive community full of creative people. Therefore, it should come as no surprise that more and more creative individuals have begun to pursue a career in such a rewarding field.
On Tuesday, April 24 the graduating class of UFV's Graphic and Digital Design Diploma held a show to display their portfolios and personal style in an empty building at Highstreet Mall in Abbotsford. The show celebrated the accomplishments of the up-and-coming designers, and gave them a chance to present their skills to a massive crowd of family, friends, community members, and possible employers.
These students had been preparing for this night since the beginning of their program. Mountains of hard work on projects, individual skills, and self-branding all fell into place for a wildly successful event. Graphic design graduate Cooper Symonds was able to provide more insider information in an interview. Symonds detailed the main themes of the show, and explained the meaning behind the key phrase used in the event's advertisements, "Discover your Muse."
According to Symonds, the definition of a muse is "an artist's inspiration." This one idea evolved into "Discover your Muse." This phrase was intended as an invitation to visit the show and discover new graphic designers who may inspire you and suit your needs. In addition to being inspired, it is important to find someone who also inspires you.
In regard to the amount of planning and dedication work that goes into an event such as this, Symonds stated he was proud of how he and his fellow grads worked together to pull off such an outstanding event.
"It's endless. People don't realize, and I didn't as well, how much work goes into an event like this. Not only everyone's individual portfolio and work, but just the organization of the event itself. There's so many details you need to consider."
The grad show was completely student-run, with some guidance from UFV graphic design professors. Each of the graduates had to develop self-branding, individual websites, and portfolio books. As a group, they worked to create a website for the event, various social media campaigns, and much more.
The participants researched past grad shows by UFV students, as well as events put on by neighbouring schools, such as Capilano, Kwantlen, and Emily Carr. The purpose of such research was to examine their events, determine what worked and what didn't, and apply that information to their planning process to ensure a successful evening. Students also looked into current design trends, since a major purpose of the show was to attract industry members. Symonds stated: "That's who we really want and that's who is going to offer us the jobs. Grandparents are fantastic, but we really wanted people that are in the industry. We definitely wanted to make sure that the branding is the top of the line."
Many students mean to return to school as their next step. Symonds' plans include taking a year off to study elsewhere until UFV's major in graphic design becomes available for the Bachelor of Fine Arts program in 2019. The designer has a five-month internship lined up in India, and he also plans to study abroad in Singapore. Stepping stones such as these are incredibly valuable and enriching for any budding design career.
Various other graphic design students are planning to travel after their recent graduation. According to Symonds, the list of destinations includes France and Japan. Symonds also mentioned that several of the graduates have already landed graphic design jobs here in the Fraser Valley. "Everyone here is so talented. Everyone that wants to be successful is definitely going to make it."

Image: Cassie de Jong/The Cascade