A new art exhibition in the S'eliyemetaxwtexw Art Gallery has started this year off with a bang for the UFV visual arts department. Graduating student Madeline Hildebrandt had the pleasure of opening her latest show to the public last Friday, Sept. 7. Dubbed Les Fantasmes de la Flore, the exhibition is noticeably a departure from Hildebrandt's previous work, but still retains enough of her classic visual aesthetic to identify the works as a natural step forward.
All the drawings shown in Les Fantasmes de la Flore were completed during Hildebrandt's directed study under the visual arts department head, Shelley Stefan. Origin, the one work that was completed prior to the directed study, also happens to be the featured artwork of the exhibition. You can identify Origin as the centred piece hung on the far wall of the gallery, which draws the eye of viewers immediately upon entry into the space.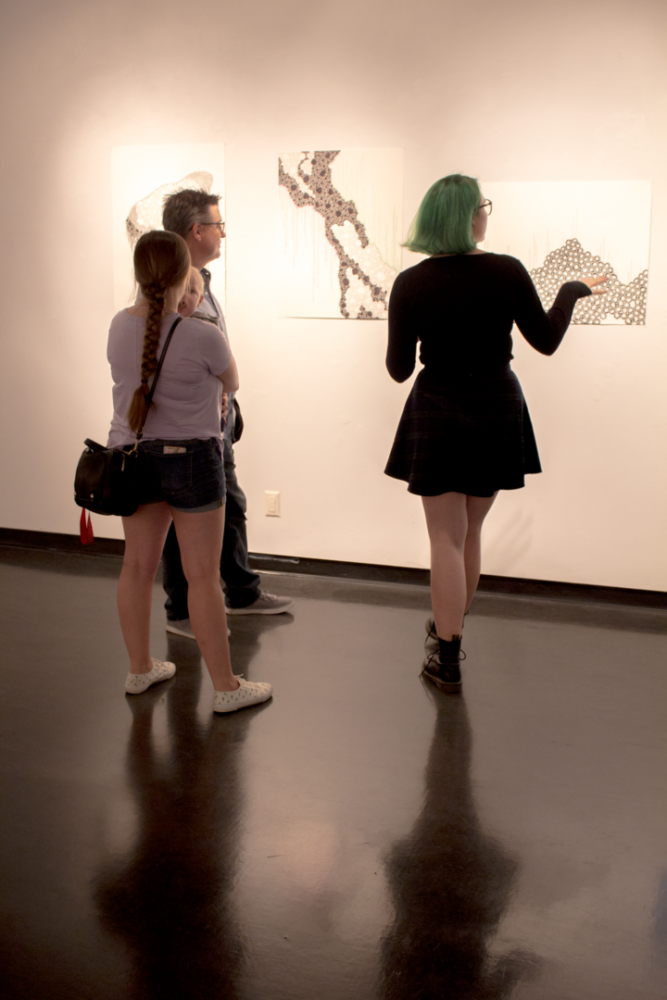 In an interview with The Cascade, Hildebrandt mentioned that each work took an approximate completion time of 30 hours, which is why it has taken her just over four months to complete this body of work. During this time, she experimented extensively with new materials, including Japanese ink and fountain pens, to determine a more eco-friendly drawing practice that wastes less pens.
This is Hildebrandt's second solo show in the S'eliyemetaxwtexw Art Gallery; however, her previous exhibition used the space in an entirely different context. From Jan. 8 to 25, her exhibition Deep Sea Changes transformed the gallery space into an undersea oasis made entirely of recycled plastics. When asked about how the change of pace affected the production of the show, Hildebrandt stated: "It's really interesting, since it took a lot less time to install. It took hours to install Deep Sea Changes, over multiple days. This probably feels so different because the space is so empty. I'm not used to that. I'm used to installations."
Like Deep Sea Changes, Hildebrandt's work in Les Fantasmes de la Flore revolves around the concept of sea life. She is deeply mindful of how horrible the plastics situation in our ocean has become. She also mentioned during her interview that she has tried to work with other plant life, but it always comes back to the sea. There's something about the modular nature of deep sea plant life she is drawn to.
"In coral, there's a lot of [motifs] repeated," she said. "That's very natural for me because that's the way I want to draw. And I just love the ocean! It's so beautiful, and everything is wonderful in there."
Hildebrandt graduates this year with her Bachelor of Fine Arts with a major in visual arts. More of her work will be on display at the year-end grad show for the BFA program. Les Fantasmes de la Flore will remain on display in the S'eliyemetaxwtexw Art Gallery until October 10.

Images: Cassie de Jong/The Cascade