Happy birthday to a good boy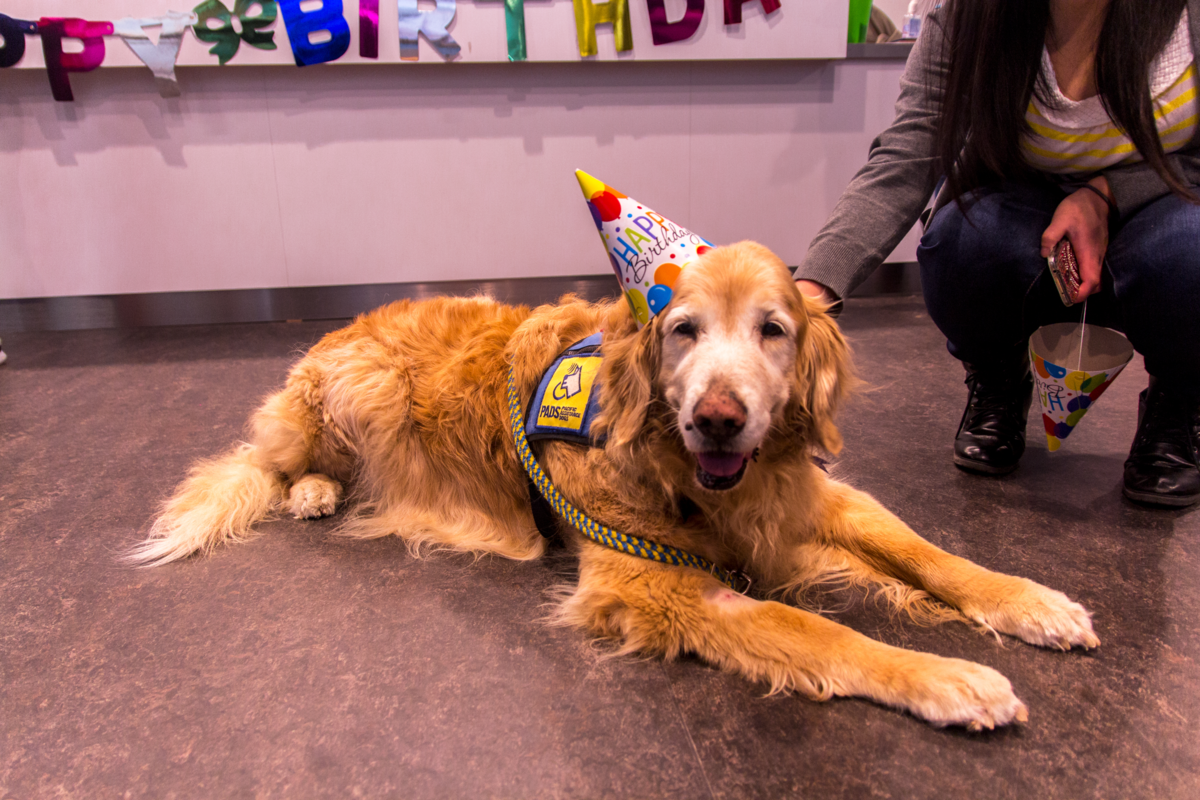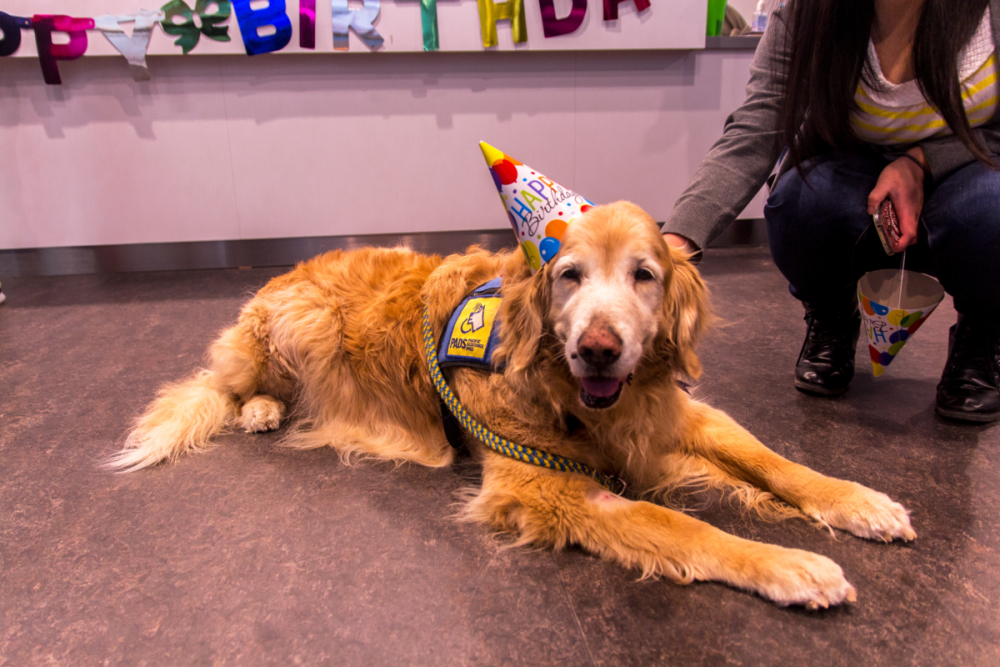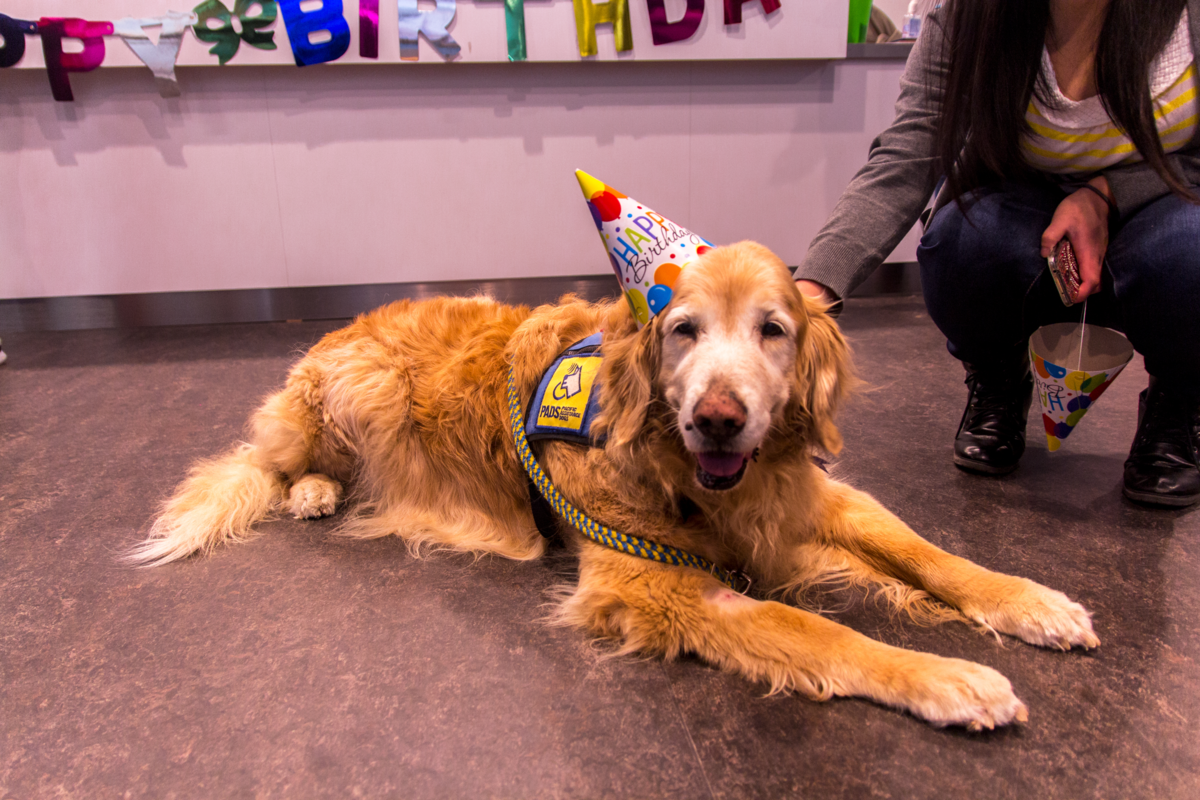 Yesterday, Mac celebrated 14 years on this earth. And so did about 300 students, faculty, and staff who came through to take part in the festivities in the Student Union Building.
Mac, short for Macbeth, is UFV's resident and well-loved therapy dog. He's been a PADS (Pacific Assistance Dogs Society) dog from the day he was born — he was born of a breeding dog for PADS, and entered training at eight weeks old. He was part of a Shakespeare litter, and his three siblings were also named after Shakespeare characters. Mac lived with his puppy raiser until he was one, then entered advanced training, where he learnt advanced obedience and public access skills. After two years of training, he was placed with Dawn Holt, Mac's owner and coworker.
Holt did her master's thesis on the bond between assistance dogs and their handlers. That's how she got connected to PADS in the first place — as a volunteer.
"Mac was going to retire last year, but we decided he wasn't ready, can't do it," Holt said. "He loves his job, he's good at it, and we love him. We'll let him work for as long as he wants."
Becoming a therapy dog takes a lot of work, and the right kind of doggo.
"A lot of dogs absorb emotion and distress from people, and it would give them hotspots and behavioural issues. It actually destroys them," Holt said. "It's got to be a dog that loves people, but doesn't absorb the emotions that are around them."
What will you do after the party?
I'm going to go back to my office, and have a well-deserved nap. I had my pupcake, so it's time for a nap.
What's a pupcake?
It's a chicken-flavoured cupcake with peanut butter icing.
Obviously. What's your favourite treat?
Rice cakes. Plain rice cakes. Best treat ever.
What do you like to do for fun?
I love to play with the cat, play with the eight-year-old who lives at my house, and I love going swimming. So playing and swimming, and spending time with the family. I love it all.
Do you enjoy your work?
I love it. I come to work every day and every Tuesday we do drop-ins here. That's my public access time. The rest of the time I work with students in Dawn's office. We also do the new student orientation, as well as lots of events.
This interview was edited for length and clarity. It was also translated by Holt.
Image: Cat Friesen/The Cascade