Hear and See healing in our community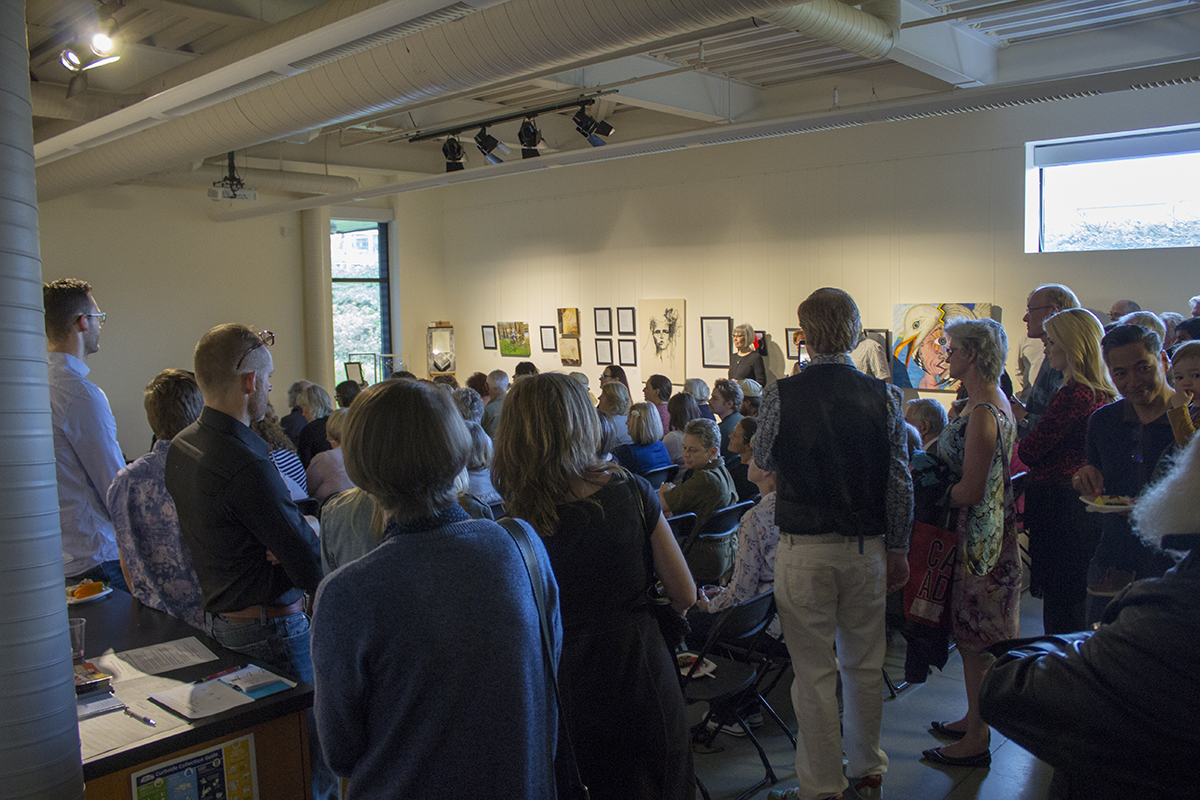 The amount of creative outlets popping up around Abbotsford is a breath of fresh air for struggling members of our community looking for help. An example of such is the Communitas Supportive Care Society. According to their website, Communitas is a faith-based registered charity which aims to provide care to those living with disabilities across British Columbia. It is part of their mission to provide a wide variety of services to those in need. These services include residential care, skills-based day programs, and care for families or individuals from all walks of life, regardless of faith, social standing, race, or ethnicity.
A recent project put together by Communitas aimed to match local artists to members of their society who were struggling with various mental or physical issues. Fourteen members were paired with 14 artists in an attempt to use art as a tool for healing, change, and raising awareness of the challenges faced by people living with mental illness. The members were prompted to write a poem about their struggles and life experience, which was then sent to an artist who created a piece based off their work. The types of poetry ranged from haikus to sonnets to rap, and the artwork included a wide variety of two-dimensional work and sculpture.
The resulting collection is currently on display at the Reach Gallery Museum in Abbotsford. The opening reception for the show was held on May 3, and attracted a full house of art lovers and supportive community members alike. The crowd packed into one of the Reach's smaller rooms to hear the poets and artists speak about their work.
Each poet first stood at the front of the room and presented their poem and the story behind it. Following that, the artist paired to that poet then addressed how they related to the poem, and how they chose to interpret and translate it into a visual format.
Topics addressed by the poets spoke about struggles with anorexia, managing emotions, environmental issues, true love and old age, disability, medication, withdrawal, stories of survival, and much more. One young poet wrote about her eating disorders and her position on the autism spectrum. One man wrote a dialogue poem structured as a conversation between cancer and depression personified. The writer's family had been struggling with these issues for for many years.
A poet of note was Cornelius J. Franz, who wrote four sonnets about his battle with depression and anxiety. He stated that the final poem he read aloud was the one he wrote first, while he was in a state of suicidal depression. His poem was translated into a mixed media painting of a genderless human, as there are no gender differences when it comes to these issues. A gold needle sews the figure's mouth shut, and leaves a red thread falling down the throat with a thick knot at the end. This is meant to symbolize the pain that we swallow over and over again.
The emotion felt in the room was intense. Each issue addressed elicited a strong reaction from the audience and presenter alike. Overall, the event was unifying, and had massive healing effects for anyone who attended.