Hitting the trail, taking the trash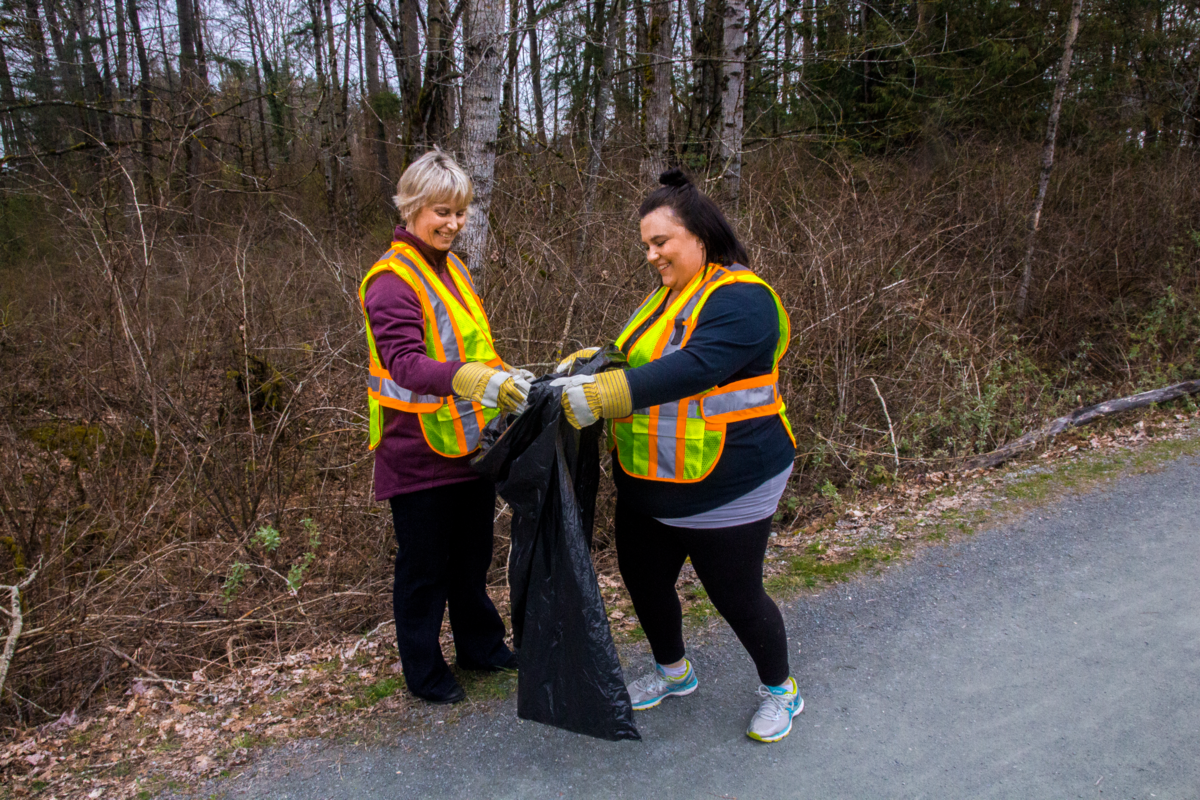 The enjoyment of an afternoon walk along the river is only part of the reason Margaret Shamro organizes monthly trail walks.
The UFV Health Sciences' Trail Clean Up Walk, organized by Shamro, assistant professor in the nursing program, faculty of health sciences, cleans up their adopted 1.5 kilometre portion of the Rotary Trail between Vedder and Peach Road.
On Monday, just after the 11:45 a.m. meeting time, the group embarked on the walk. Shamro said there's often a group of five or six volunteers. On Monday, it was only Shamro and Samantha Hampton, associate professor in the nursing program.
Beginning near the dog park, just south of the UFV CEP campus, they walk and pick up garbage for about an hour. The walk is marked by conversation and sightseeing. Shamro said they even saw a black bear once.
"I started this trail walk because I love this trail," Shamro said. "I grew up in Chilliwack, and have spent a lot of time in my life on this river — walking, fishing, relaxing, and camping."
This is the second year of trail tidying. The group likes to clean up on Mondays, after the weekend, when the trail is typically most travelled.
"Just being on the river is nice for us," Shamro said. "Being so close, students can come, then go back to class. We say you don't need to walk the whole hour."
Recently, the group has been made up mostly of nursing students.
"I really enjoy a chance to spend some time outdoors in the middle of my workday," Shamro said. "I also really enjoy meeting with community members who see us on the trail, and express thanks — we've had lots of great conversations."
Shamro said the group usually collect a garbage bag of trash.
"We find lots of dog poop, not crazy but gross," she said. "Sometimes you find it in the bag, tossed into the bushes."
Shamro said they thankfully haven't found any syringes yet. That is a positive for their own efforts, as well as a testament to the kinds of traffic seen along the river.
Though the sunnier months tend to yield the most amount of garbage, there's always garbage to find. Only recently the ice melted off the trail. But even in the snow, the group walks the trail to clean up as much as they can.
The City of Chilliwack and City of Abbotsford both offer volunteer clean-up adoption programs. To adopt a park or trail in Chilliwack, volunteers must commit to four clean-ups per year. Shamro's group hits the trail once a month during the fall and winter semesters.
The next health sciences trail clean up will be April 9. Anyone can join, and more information can be found by emailing Margaret.Shamro@ufv.ca.
Image: The Cascade