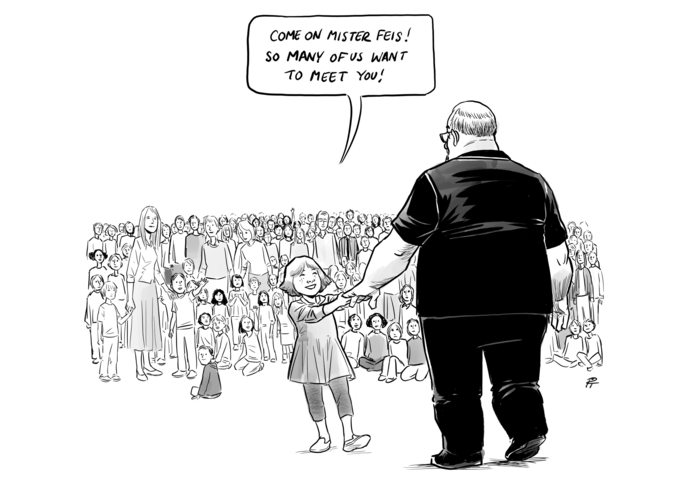 As a child, I couldn't wait for the newspapers that invariably showed up on my front door. My parents would take the print, and I would race to the comic section. I was fascinated by the colourful pictures and the small anecdotes that adorned it. My kid self didn't always understand what was being said in those comics, but I knew that they were my favourite part.
I didn't appreciate the art of the editorial cartoon until later: pictures coupled with carefully chosen words or images that make a rather vivid point. Just as a spoonful of sugar makes the medicine go down, it is easier to swallow a bitter truth when it is coupled with a comedic twist. Editorial cartoons do just that. They take a bitter truth, or a horrifying current event, and package it in a way that makes it just as impactful as prose, but much easier to take in as a whole.
Pia Guerra has been a cartoonist for many years, and after news of yet another school shooting in the U.S, she took to the Twitter-verse with an editorial cartoon that's been shared internationally.
Down south, apprehension reverberates, and emotion are running high. Affected by the tragedy from her home in Canada, Guerra sought to comment on the terror.  
Guerra resides in Vancouver, B.C. and works for The Nib, an editorial cartoon website that publishes political, non-fictional, and satirical cartoons, delivered to your inbox every morning. She's also worked on Black Canary, Doctor Who, and Hellblazer, among other publications.
She is opinionated, bold, and ready to see change happen in the world; she's also incredibly talented.
I asked Guerra how "Hero's Welcome" came to be. She had intended to submit it to The Nib, and this actually wasn't the first cartoon she had submitted about the school shooting in Florida. She had already turned one in and was getting ready for bed when the news stations revealed more about the event. She heard about Feis' story.
"An image came to my mind, and it was a strong one, it gave me a little lump in my throat." She drew it up while the thought was fresh but, in the end, decided to post this one on Twitter, instead of on The Nib.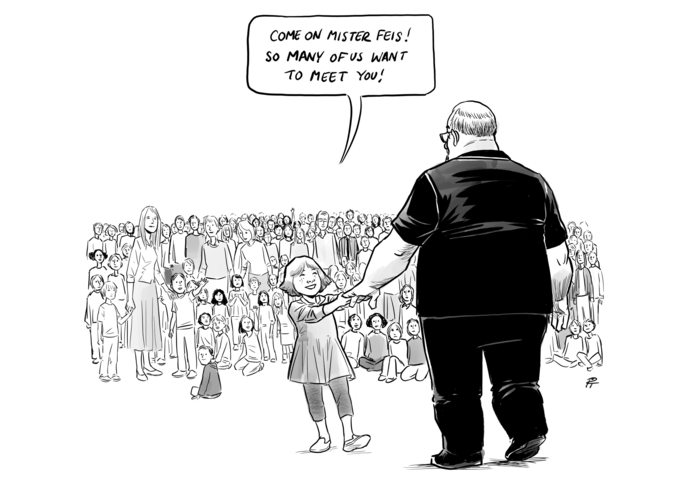 The cartoon, entitled "Hero's Welcome," depicts the coach and security guard of Marjory Stoneman Douglas High School, Aaron Feis, being welcomed by a little girl, and led by his hand towards a crowd of people who want to meet him.
Feis was shot and killed in the Florida school shooting; he used his body as a shield to protect students. Feis had graduated from the school in 1999, but continued to be a part of the community. He leaves behind a wife and daughter in Coral Springs, FL. His story of bravery has been spread throughout newspapers and the internet, his courage and self sacrifice a testament to his remarkable character.
Editorial cartoons have a long history around the world. They depict current events coupled with language, in a specific way, allowing the reader to understand what is being said. Historically, we can trace the origins of caricatures to Leonardo Da Vinci, who commonly used this technique. Next, William Hogarth employed an updated version of Da Vinci's, to create and publish a picture entitled "A Harlot's Progress." This was  published in 1732, criticizing the immorality of British politics at the time. In the 1750s, during the era that the British military held a campaign in Canada, George Townshend published the first blatant political cartoons. Since then, editorial cartoons have continued to be an effective way to communicate political sentiments.
Guerra knew that she had an interest in cartooning. Inspired by her favourite drawing, "I am Not a Crook," by Herblock, and his methodology of delivering editorial cartoons, she took to the drawing board. "After the election, out of a need to do something … I started sharing my cartoons on social media as a part of the resistance hashtags," Guerra said.
She wasn't willing to stand by and allow ineffective and insufficient policy to be created. She went to the Women's March in D.C. with one of her comics, "Liar Liar," blown up on a poster, which received positive feedback. This vote of confidence from fellow protesters led her to continue on her quest to bring awareness to terrible situations. Her work was first popularized in the mainstream last year with her rendering of a childlike Trump sitting on Steve Bannon's lap, the former White House strategist, assuring Trump he's a "big boy." This comic garnered large amounts of attention and accolades from the public.
Most of the feedback about "Hero's Welcome" has been positive. If you scan Guerra's Twitter feed, it's evident that the majority of people found the rendering of the event to be heartbreaking, stirring, even inspirational. If you search her name right now on Google, the first eight pages of search content in some way mention her in relation to this cartoon.
Her comic has been shared all over the internet and news channels, and shows no sign of stopping any time soon. It only came out last week, and the attention it has garnered has been staggering. I asked Guerra what the main responses have been. "Crying, lots of crying," she said.
However, Guerra has received flack for the drawing being "too white." Many people on social media have pummelled her with insults over there not being enough representation of people of colour in her drawing. Guerra's response was to apologize, both on her Twitter page, as well as in an interview with Breakfast Television. She recognizes that more people of colour should have been represented in her rendering, however, she stated that she had only quickly drawn and submitted this, and didn't provide time to self edit, which resulted in the depiction of the crowd being mostly light skinned.
"I may have been trying to say more than one thing at a time, like a part of it was modelling them on past school shooting victims, and pointing out the white suburban locales where many of these shootings take place," Guerra explained.
She noted that this particular disconnect, that events like these happen in suburban, predominantly white neighbourhoods more than the inner city, is an issue that the public needs to be more aware of.  
Criticisms aside, this piece of artwork has contributed to the conversation around gun control. The endless circular debate has only managed to tie a noose around the neck of safety, suffocating the patience of those fighting for stricter laws, and more awareness on this topic.
This week, CNN reported that a few survivors of the shooting went to a town hall meeting in Washington, D.C. to face the lawmakers who helped make the mass shooting a reality in their lives. They asked questions of Senator Marco Rubio, Bill Nelson, and Representative Ted Deutch about what it would take to bring about better gun control laws.
NRA spokeswoman Dana Loesch was also present that evening, and she was certainly not left out from the rapid fire questions from the students. Parents were also present; Fred Guttenberg, whose daughter was a victim of the shootings, savagely addressed Rubio, "Senator Rubio, I want to like you. Here's the problem. … Your comments this week, and those of our president, have been pathetically weak."
While I watched clips of this, I was incredibly moved by the strength each teenager and parent had, to be able to speak emotionally, yet eloquently, to bring more awareness to a long-debated topic.
According to the BBC News, of all of the murders in the United States in 2012, 60 per cent were from firearms. That stat is in comparison to 31 per cent in Canada and just 10 per cent in the U.K. There were 64 school shooting in the U.S. in 2015, which includes times when a gun was fired, and no one was hurt. According to CNN there have already been at least eight school shootings in the U.S. since the beginning of the year. These stats are staggering — they beg for change.
There have been far too many children who have suffered because of adults being unable to make the decision that has their best interest at heart. It is time for that to stop. It is time for us, those of us graduating this semester, those of us graduating soon, to take up the call, and be as courageous as the youth in our midst. Out of the mouths of children comes truth, and I think it is time we start listening.