King Gizz releases vinyl pressing of their album, Polygondwanaland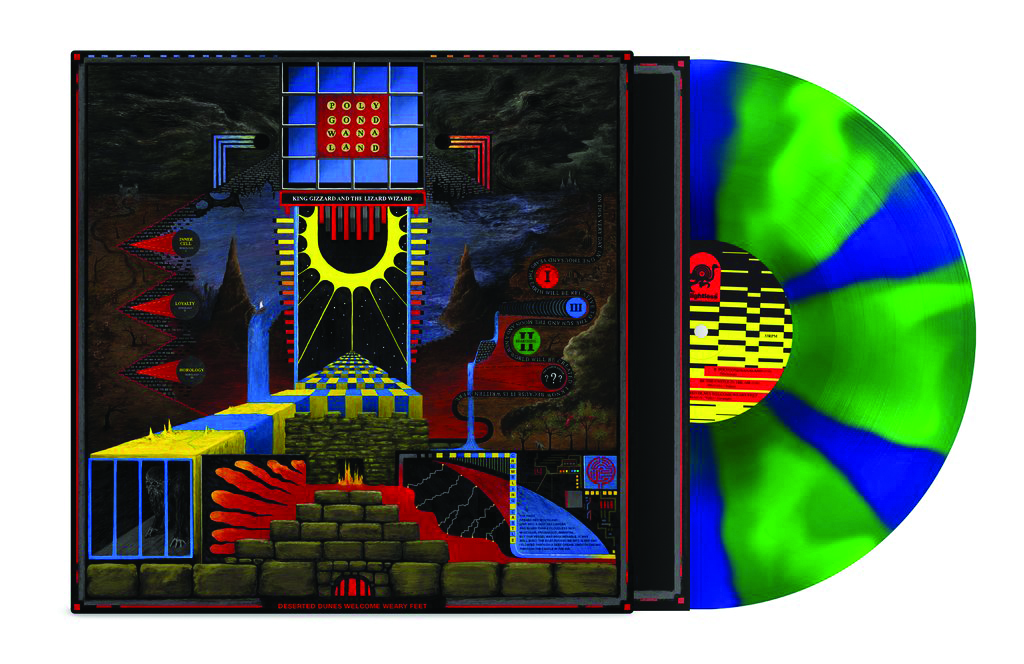 Last November, Australian psychedelic rock band King Gizzard and The Lizard Wizard released a vinyl pressing of their album, Polygondwanaland. This was King Gizzard's 12th studio album and the fourth of five albums released in 2017. The pressing was released under their own label, Flightless Records, and is limited to 2,000 copies worldwide. This comes after one year of being under open-source licensing, meaning they didn't sell copies of the album, rather uploaded it for free as a thank you to fans for their support. Like King Gizz, I too believe this album deserves a one-year anniversary celebration and a revisit to its erie boulevard.
King Gizzard is well known for obscure rhythms and unusual section counts often taking influence from Afro-jazz on previous albums such as Sketches of Brunswick East. In Polygondwanaland, more funky roots show through in their bass lines which contrast with clean guitars and a unique compilation of multiple instruments such as harmonica and flute. The title comes from their use of polyrhythms (the practice of layering contrasting rhythms on top of one another) throughout the album which make it unpredictable and very colourful. Their success in this area is aided by the fact that they have two drummers, four vocalists, a keyboard player (who also rips up a mean harmonica), and five guitar players. The polyrhythms couple with the lyrics of the songs to tell a story of conflict and transformation; a collision between our natural world and the prison we have created for ourselves within it. Featuring poetic lyrics alluding to a dystopian society, a decaying Earth, and a population digging their own graves, it takes you on a journey of uncomfortable self awareness just to pull you back in in a burst of energy with lyrics of enlightenment, a new beginning, and being lost in fantasy.
Expect the funkiest of basslines to hook you in and ground you to earth just to explode into bursts of spacey etherealism that will leave you feeling small and consumed by the world. This funky, dreamy album gives off otherworldly vibes and though speaking of impending doom, the sounds presented never cease to inspire and invigorate. A crisp, clear production balances all elements of the music and nothing stands out too obnoxiously. With intentional construction, each sound and song has a purposeful place.
The first track, "Crumbling Castle" sets a feeling of breaking through, enticing you in with vocals that jump between airy and light and intense and desperate. It sets images of a decaying society stating, "Look upon our condition, crumbling castle / We head to our extinction, crumbling castle" but suggest there might be something more: "I see through the bricks to the sea, crumbling castle." Each song melts into the next to tell a fluid story of traveling to a distant land. The second track, "Polygondwanaland," takes you down a river of sound using a 12-string; a simplistic but catchy rhythm and vocals that weave in and out of the music. They use layers to keep you interested as the record twists and turns into the third track, "Castle in The Air." Leaving you feeling enticed and excited, it perfectly sets you up to really feel the next few tracks. "Deserted Dunes Welcome Weary Feet" and "Loyalty" stand out as particularly entrancing. "Loyalty" begins with an electronic buildup complemented by spacey bass tones reminiscent of Pink Floyd, before dropping you into intricate guitar riffs and a very catchy bassline. The pinnacle of this track comes from the flute that jumps in near the middle of the song. If you've never before thought of yourself as the kind of person that enjoys a sweet flute solo, be prepared to have your mind blown.
On "Horology," conflict both peaks and subsides. The song's outro states: "Sit down weary traveler / I am that what you seek." Again, a 12-string shines through in "Tetrachromacy" and hits you with a different tone, beginning the end of your journey, slowly dragging you back down to earth for self-reflection. The album ends strongly with thoughtful tunes such as "The Fourth Colour," giving the listener a fresh start with lyrics, "I'm back to birth / I see the light / It's in my face / I analyze information / Now I am a god."
It is my recommendation that for maximizing your experience with this album, it is best that you listen to it while travelling on a bus through a dark rainy city in a particularly angsty mood. I also suggest you give it a few listens; each time I throw this album on I discover something new and different parts speak to me.