Long-term vision, short-term problems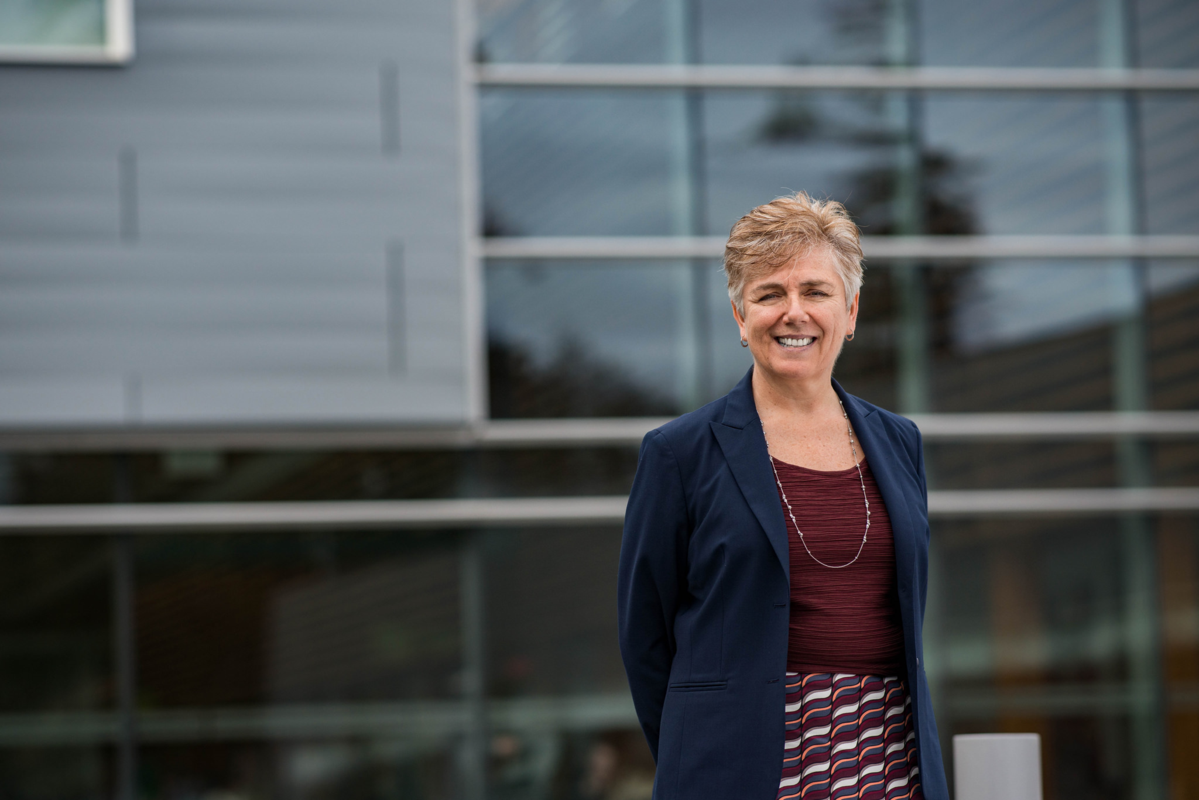 By Aleister Gwynne & Edina Balint
UFV's president and vice chancellor Dr. Joanne MacLean held a town hall meeting at each of UFV's two main campuses, first in Abbotsford and later in Chilliwack, on Oct. 2, 2018. The purpose of the town hall was to answer questions from the attendees and announce UFV's plans moving forward.
The hour-long session began with a question and answer period, wherein the president addressed questions that had been submitted beforehand, as well as ones from the audience.
During the question period, several questions were raised concerning areas of UFV being short staffed. The IT and health & safety departments were both said to hold important vacancies. It was also mentioned that Chilliwack campus does not have an occupational health & safety officer, which is required by law, and currently does not meet OHS standards.
MacLean responded to these queries by saying that several new staff positions have been opened, but so far, they have had trouble finding people able and willing to fill them.
Similarly, one audience member voiced concern over the groundskeeping department, saying that it is short-staffed, resulting in the campus becoming unkempt and run-down. They expressed embarrassment when showing visitors around, saying that it puts a bad face on the institution.
MacLean responded that this is a problem that needs to be dealt with, including assessing where resources are being allocated and who is responsible for this area.
"We need to deal with it," MacLean said. "I would say to you what comes to mind to me is be a part of the solution. If you see things that need to be fixed or changed or you see a spelling mistake on something or if you see garbage somewhere … then let's bring it forward and let's talk to people about it and let's try to change it."
Another series of questions was raised by those running the Race Antiracism Network (RAN) at UFV concerning an Employment Systems Review conducted in 2010. The questions concerned diversification, hiring practices, and accountability surrounding recommendations that were made in this report and how it was going to be unpacked and accessed, and what sort of action she would take on the recommendations.
MacLean was unable to address the question fully at the town hall due to the extensive nature of the report, but promised she would be engaging directly with those who posed the question.
"The short answer to this question is that yes, I am going to be looking at these reports and engaging with our folks in HR and the provost's office and others in terms of where we are," MacLean said. "I think there are things within these recommendations that we have achieved or are working towards and there are areas that still require a lot of concerted effort."
Insufficient funding for the applied and technical studies was another point that was raised. Currently, there is a budget model in which resources are split among departments based on student enrollment. However, the 22 per cent increase in the cost of steel and expensive machinery used in the trades that have a limited life span require extra funding, which has not yet been accounted for.
MacLean acknowledged this problem and stated that she will be working closely with the finance department to come up with solutions, and the budget model is being reviewed for possible areas to "tweak."
MacLean confirmed that negotiations are still ongoing for the purchase of a new building at the Trades and Technology Centre in Chilliwack. She hopes the purchase can be finalized within the next few months, citing complexities in negotiating with the provincial and federal governments, as well as engaging in conversation with local First Nations as reasons for the delay.
The university will continue to strive to be part of environmental leadership under MacLean, looking for ways to continue what is already being done, such as carpooling and the addition of electric vehicle charging stations, and to educate those at UFV and in the local community.
"It's all of our jobs to make this a priority, and it's probably incremental change and incentivization that will help us to move forward," MacLean said.
In terms of government funding for post-secondary institutions, MacLean noted that there will be more targeted spending from the provincial government but universities will not necessarily receive more money to invest in education.  
"There are priorities that are among the ministries and among the government more generally in Indigenization and a variety of different areas in terms of economic growth. That will be parts of the areas which they are looking to invest in," MacLean said.
When questioned about the university's relationship with the SUS, and the effects of the Canoe's closure on both faculty and students, MacLean asserted that the university's relationship with the SUS is a strong one, and there is open communication between the SUS and the university.
"The student union has a particular take on their activities within the building and what they're looking to achieve, and I think we've got to come to a place where we can understand what it is they're looking to do, and mesh it in a reasonable way with what we're looking to do," said MacLean.