Professor Profile: Chris Friesen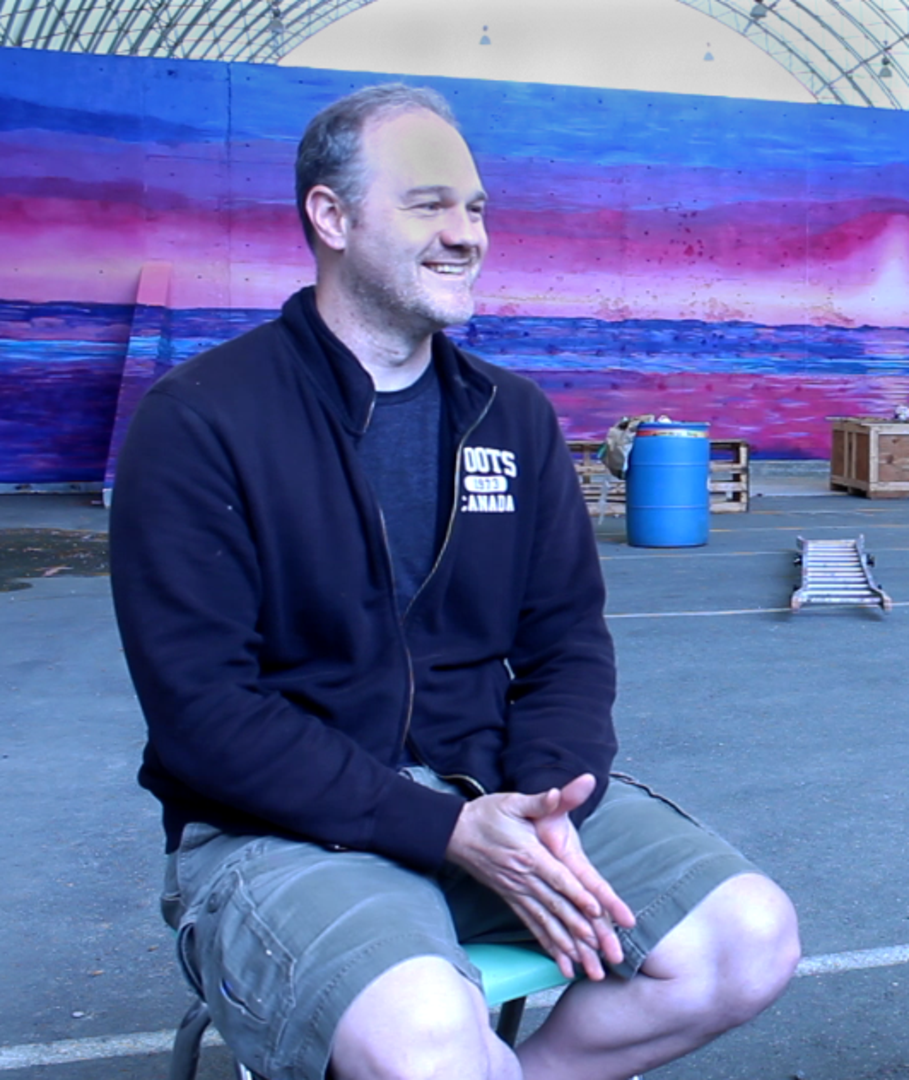 Visual arts professor Chris Friesen is an incredibly active member of the local arts community. With a long list of connections and accomplishments under his belt, Chris's most recent contribution to the Fraser Valley community is the murals being completed by his VA390 Community Arts Practice course. This week, The Cascade was able to interview Friesen about the course's recent success and his own.
Can you tell me a bit about the work you've been doing with the community arts practice course? What's your favourite part about it?

The art department always has a deluge of citizens and community groups wanting the department to do something for them. So, we had enough requests where we could put something together formally, meaning that we wanted to have a course shell that could be really flexible and responsive to the needs of the community.
Because the course had a lot of flexibility to it, what I wanted to do was put the City of Abbotsford's public art policy into practice. I was involved in the conversations around what that policy would look like, and we thought that we should probably do a bit of a dry run before we hoisted it onto the public. I took that same structure and brought it into my classroom situation. There, the students are responsible for meeting the people involved, looking at the locations, designing for those locations, designing for the needs of the community, then presenting [that information] to a panel of people who have an invested interest in that project. It's a process in which people have a degree of accountability. It's not just "Oh, we've a got a wall to paint." It's in a community, and we need to tell the story of what that community is about.
We seem to have a bit of a backlog with projects. There's probably about three other projects we could be doing right now, but I thought it would be extremely valuable to bring public art into our campus life. We're talking about what the university district is going to look like, and what can we do around campus to get more engagement and to activate the campus more. So that's what I've been focused on for two years. How can we bring art into UFV culture? I think we've been doing that rather successfully.

What first drew you to work in the fine arts industry?

That goes back to asking yourself early on in life what you want to do with your life. I loved art, and I figured if I had to commit myself to something that I loved, it's not a waste of life. So, I figured out what I needed to do, and I went straight through from university just because I knew it's very difficult once you step away from school to kind of get back into the community. If you take a year off, that can take you in certain directions. But if you focus, you can achieve a lot if you make it your goal. So I made art my goal.
Being involved at the university level, I have some experience with teaching in high schools and I had some experience working for the financial industry. So, I've had all this life experience, but nothing really compares to being involved in the arts and being a leader in the community. Working for the university gives me a responsibility to take what I know and be an advocate and a leader in the community. So even though I could lock myself in the studio for eight hours painting and be quite content, I find that being in the position I am in, I have more responsibility to be a leader.

You've been very involved in the local community, especially having been the previous president of the Abbotsford Arts Council. What would you say were the vital steps that got you in a position such as that?

I started off as a director asking, "What is culture in Abbotsford?" It took me a long time to figure out what that looks like. But once you become a key player, you realize that there's not a lot of key players in Abbotsford. There have been a lot of collaborative efforts that have come about. Abbotsford went from a silo effect, which is where organizations don't talk to each other, to very much a strategic alignment of organizations that we can communicate with. Both the Abbotsford Arts Council and the Reach Gallery Museum play a vital role in the community, and are not really duplicating efforts. But both are required to provide full and healthy emerging and professional artist opportunities. From showing in a Class A facility to having your first show, an arts and culture community needs to basically support all of that.

You've also been very involved in fine arts outside of UFV as well, showing your latest body of work at both the Reach Gallery Museum and Mennonite Heritage Museum in Abbotsford recently. How do you manage such a busy career?

Being a professor, there is the "publish or perish" mode. That's always been part of who I am, which is to be involved in exhibiting my work. For instance, I have a gallery that exhibits my work in Vancouver, and when I was on sabbatical I wanted to focus on something I have never really focused on, which is to show in a public space. With a commercial gallery you kind of know you have a show coming up every couple of years, but in a public space you have to apply, you have to get accepted, you have to do the work, and you don't want to duplicate efforts.
When I was on sabbatical I composed a body of work, and it took me about three years from 2015 when I got accepted at the Reach to 2018 when I had my show, to produce the work. The opportunity at the Mennonite Heritage Museum came about by me overproducing for the show at the Reach. I produced more works than I could show at the Reach, so I edited work out. By being involved in their events, such as the artist brunch where I was there as a guest giving an artist talk about my work, I met some people at my table which led to the show at the Mennonite Heritage Museum.
I try to be a yes man. When opportunities present themselves, I want to say yeah. Before I maybe wasn't comfortable doing that because I've shown at the Reach and I'm a professional artist. At the same time it's neat to do it in the community and realize that, as an artist, your job is to put work in front of people. I think this year I might be showing at every gallery in Abbotsford.

This interview has been edited for length and clarity.

Image: Cassie de Jong/The Cascade