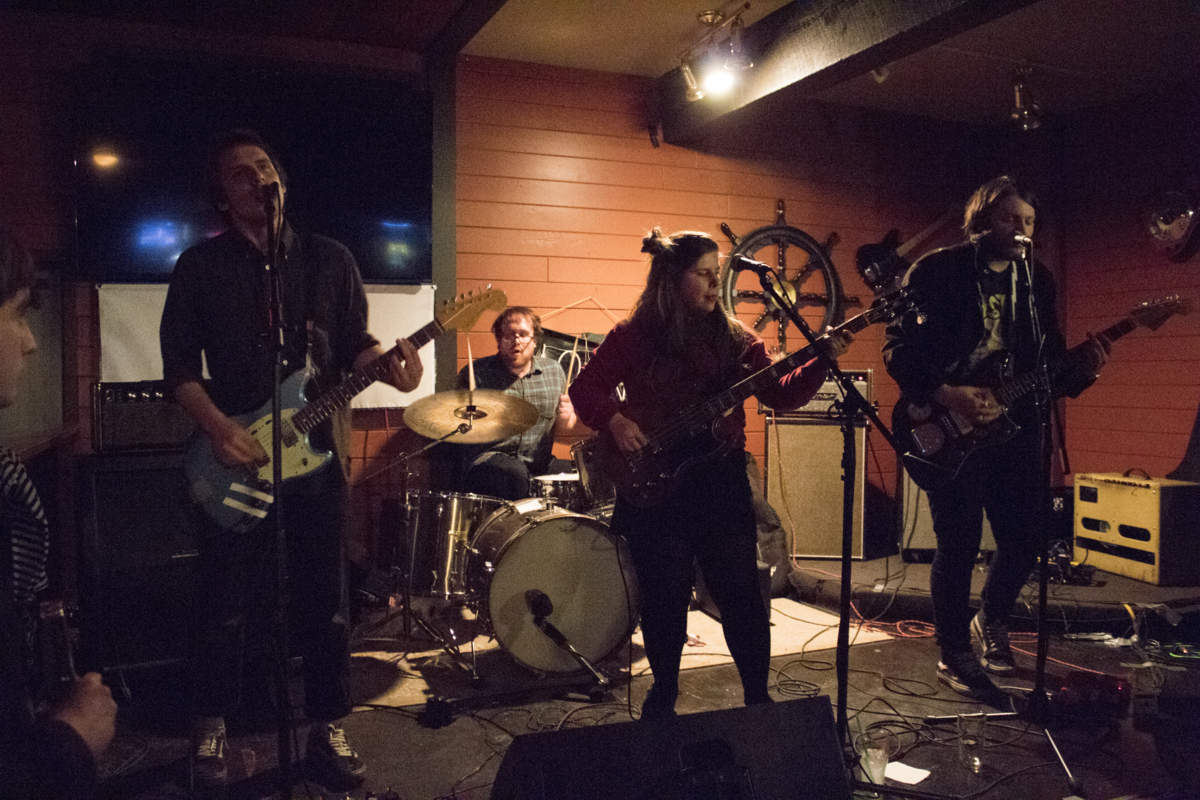 Now here's a band you don't see hitting up the Fraser Valley all too often. On January 26, Vancouver-based indie-rock outfit Dead Soft played the Captain's Cabin Pub in Mission with local favourites Kristin Witko, Loans, and newbie solo act Ian Fildes.
So, who really is Dead Soft? To name names, the band is composed of Nathaniel Epp, on guitar and vocals, Keeley Rochon on bass, and their most recent additions (whom you may recognize from MALK), Alex Smith on drums, and Kyle Schick on guitar.
Amid the commotion of the event, we snagged a moment of Dead Soft's time to ask them a few questions about their sound, and general band life.
What genre of music do you consider your work to be? Who are your major influences?
Epp: That's always a tough one. I guess rock, power-pop, and kind of punk influenced. Our influences are super broad. We have been compared to lots of '90s bands, and grunge bands, and rock stars.
Smith: Smash Mouth.
Epp: Yeah, mainly Smash Mouth.
How long have you all known each other? How did you start playing together?
Smith: That's a weird question because it's pretty new for [Kyle and I], Keely and Nathaniel have been playing together forever.
Epp: Yeah, Keeley and I have been playing together since we were teenagers in Prince Rupert, where we're from. We formed the band together in 2011, and this is our third show with these fellows.
Smith: We've only been playing with them for maybe three months. Kyle and I have played in MALK, and played shows with Dead Soft, and were always huge fanboys of Dead Soft. Then one day we got a message randomly on Facebook asking us to join Dead Soft, and we were like "Oh fuck yeah, let's do it brother!" So here we are.
Who writes your songs?
Epp: I write a lot of the songs. Keeley also writes songs. Keeley and I write a lot of stuff together as well. I guess I am the main "riff maker" at this point.
What are the main themes or topics for most of your songs?
Epp: Our topics range from death, to blackness, to overcoming obstacles. It's hard to put a finger on that exactly, some of the lyrics are kind of abstract, and a lot of it is a stream of consciousness about stuff.
Smith: From an outsider's perspective, as someone who always listened to the band, it seems like there's a certain earnestness. It's emotional, but almost like a wink and a nod toward certain subjects. Sarcastic isn't the word I'm thinking of, but there's definitely something earnest about it that's really grabbing. There's a frankness to the wording, it's not flowery poetry, it's very straight to the point, and straight to the heart. It's a "bypass the mind" sort of thing.
What has been your biggest challenge as a band?
Epp: There's so many. The biggest challenge of all of them is knowing what to do, and where to go next. You get the idea to start a band one day, and be like yeah, I'm gonna start a band. I love writing and playing music, but it's hard to know what to do with your stuff. It's a weird world to navigate, it's a totally brutal industry, and we're barely even involved in it truly. It's about getting yourself out there, and doing it in a sustainable way if you want to keep doing it.
Smith: You get to this stage where you're like "Woah, we got to this stage. That's amazing!" So, what's the next thing after that? You generally have to persevere through all the bad, since there's always so many bad parts to being in a band. And then the good things happen, and you're like "Oh yeah, that's why I keep doing this."
With some local additions to the band, we hope to see more of Dead Soft in and around local Fraser Valley venues. Dead Soft currently has no upcoming shows listed on their Facebook page, but fans-to-be can access their music on Bandcamp, iTunes, and Spotify.
Image: David Myles/Contributor