Recognizing success across the globe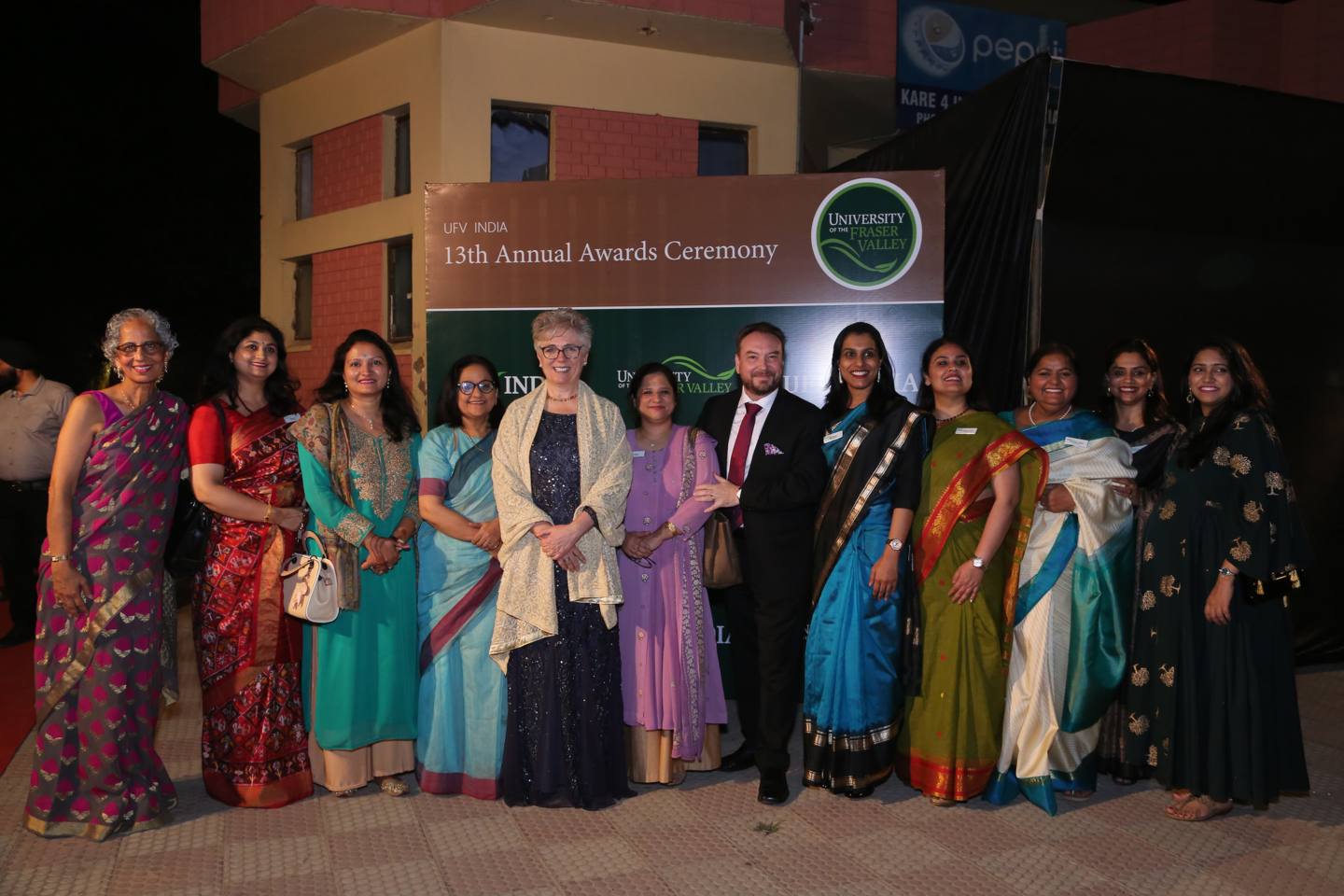 The cultural calendar of UFV India is marked by many exciting events. One of the most awaited for on UFV's Chandigarh campus is the annual awards night. The event is nothing short of a week of celebration for the students and faculty at UFV India.
This year, the awards night was held on Nov. 1 and was the 13th annual event. It is enthusiastically looked forward to by the students, as it marks their academic success along with their co-curricular achievements. This year, the occasion was graciously attended by the UFV president and vice-chancellor Dr. Joanne MacLean, legal counsel Ms. Maureen Murphy, and UFV chancellor Dr. Andy Sidhu.
Amid the music, cheers, celebration, and enthusiasm of receiving the awards, the students were addressed by numerous dignitaries and were congratulated and encouraged to keep up their excellent efforts. More than 6.7 lakh INR (6,70,000 rupees (?)) was given out to the students in the form of scholarships and academic achievement awards this year. Additional awards summing up to 2.7 lakh INR (2,75,000?) were also given out to 10 distinguished students for their continued academic excellence in the 2017-18 academic year. The students who successfully completed summer practicum internships were also recognized, along with the participants of the student company program.
Dr. Joanne MacLean, in her first visit to UFV India, spoke to the students about how their tremendous growth and potential continues to benefit the UFV community. UFV chancellor Dr. Andy Sidhu also spoke to the students about making positive changes to the society by the power invested in them through a good education.  
UFV principal Ms. Satwinder Kaur Bains was also present at the awards night event along with Mrs. Pritam Sidhu and Dr. Mike Ivanof (faculty, School of Business, UFV Canada). After addressing the eager sea of beaming faces at the occasion, Ms. Bains handed out two additional awards at the event to acknowledge the outstanding efforts of two members of the UFV India family. Dr. Shyam Babu Vyas, professor of marketing and business, was acknowledged and awarded a UFV Teaching Excellence Award. Mr. Sanjeev Singh, the senior recruiting officer was also graciously presented with an Outstanding Employee Service Award.
As the event came to an end and dinner was served, the bustling energy of the students could be seen as the dance floor was taken over by an enthusiastic band of undergraduates. All the hard work, the all-nighters, and the stressful examination weeks had been conquered by the students. Crossing the hurdles that university offers, they managed to come out victorious. All this could be seen evidently on the beaming faces of the proud parents and the ecstatic students.
Image: UFV Chandigarh/Flickr