Speaking to the president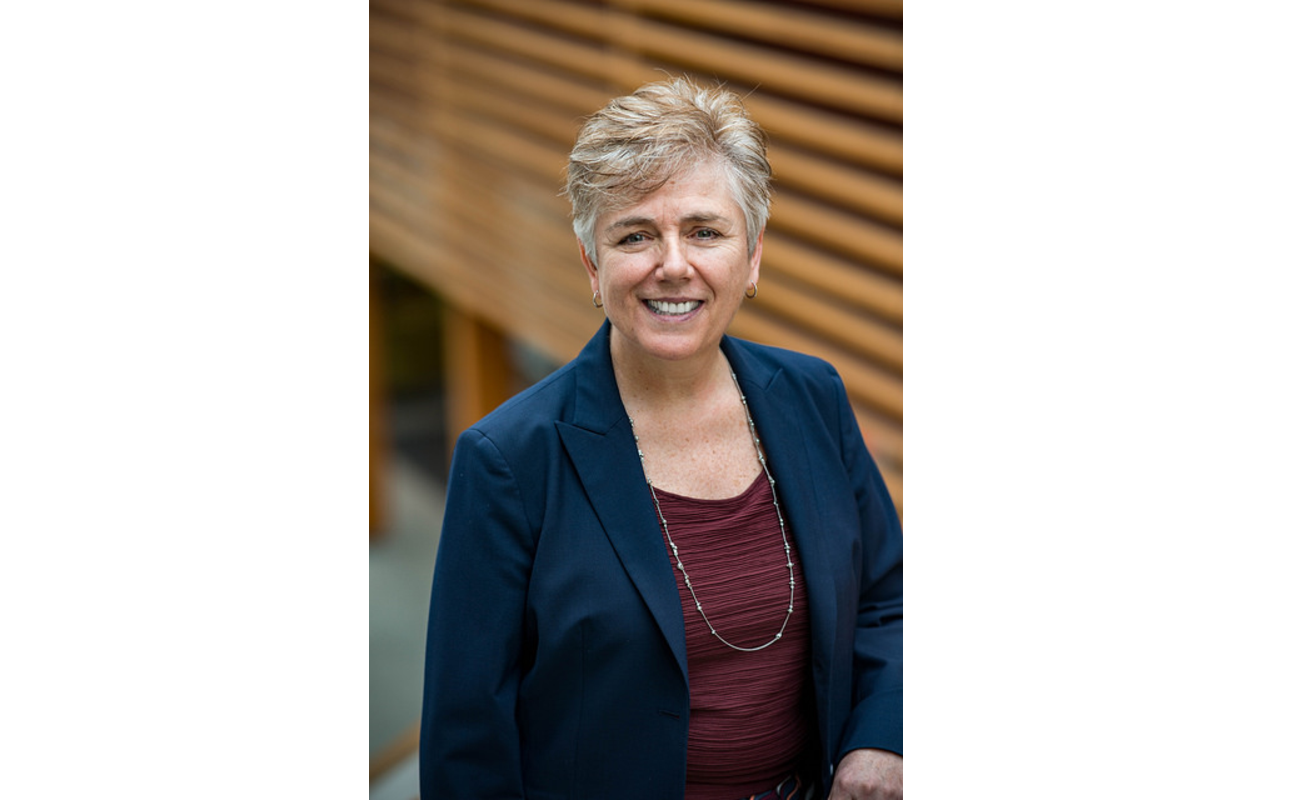 Are you excited? Of course you're excited.
I am so excited. I'm beyond honoured to have this opportunity. I'm really interested in working with our students, working with our faculty, working with the staff across the campus, and working in our communities to really reach the full impact of the UFV's goals. So yeah, totally excited.
Why do you think you were chosen as president?
Gosh, I mean, I think that I'm seen as the right leader at the right time for UFV, somebody who has had experience at other institutions outside of this one. I've had 27 years at two institutions in southern Ontario, but I've also been here at UFV almost six years. I think I'm viewed as a good choice because I have those different perspectives. I understand the culture of this place, the mission, the people, but also have ideas and perspective from other universities in Canada and maybe this was the right time to have that kind of leadership.
How will you keep your finger on the pulse of some of the university and all the students?
Well, it's obviously a difficult task because UFV is bigger than it used to be, more complex than it used to be, but I really believe in this term walking the waterfront. I really believe in being out on campus and out in the community, being present, and I think that I have to make a really concerted, intentional effort to be at things, to go to events, to be involved in our campus. Just as a member of the constituency, right? I find that's the way to get to know people, that's the way to hear what people are thinking, to value everybody who is working together, to help us to achieve our vision.
How do you see yourself as president and as an individual fulfilling the role? How much of yourself do you put into it? How much do you leave behind?
I think the role of a president of a university is pretty much a 24/7 kind of thing. That's not to say there won't be times when I will go on vacation or try to have a weekend to myself, but I view it as a role in which I am giving myself to the institution to be president, to be engaged in and to contribute to things that happen in the evenings and through the week and on the weekends and so on.  
This is my chance to walk in the shoes of trying to lead and enable, support, and celebrate the accomplishments of the people of this university. I'm appointed to a five-year term. I think successful presidents do a second term or at least part of one, and that's what I aspire to do. But it's not a long time, right? It's not a 30-year appointment; it's not for life. It's a short period of time, and I'm going to give it all of my energy to help us to succeed, and then it will be the opportunity for a new leader with new ideas and new passion and energy. And that excites me.
What do you see around the university that really calls to you in the sense of needing your attention?
One of the things that I'd like to engage the community on, hopefully starting this fall, is to look at our statements around our vision, our mission, and our values. The ones that we have are good, but they've also been around for many years. Having this goal statement to be the best undergraduate, or to deliver the best undergraduate education in Canada — I think it's time for us to consider a new statement and have a vision of where are we trying to get to long-term.
I'm talking right now with communities across the university (faculty councils, our deans and the vice presidents, and other administrative units) and it seems to me that we have very good plans. Let's unpack those plans and make sure that we're enacting them, but maybe we could redefine our statements, so there's a kind of pervasive understanding across our campus of where we're trying to get to and what we're doing.
One of my goals as president is to walk around the campus and be able to stop into any employee's office and ask, "What's the vision of this university?" And they would have no trouble saying the vision is this, this, and this.
Can you give some examples of how your vision might materialize?
I think the vision of the institution needs to be co-created among the people of the institution, and having a vision statement will hopefully create that by energizing the entire community to say "These are the words that are really meaningful to me around what we're trying to do." We know we're a university, we know that we are an undergraduate teaching-intensive university. I don't see a change to that, but I'd like to articulate what that vision is.
You mentioned the phrase "providing the best undergraduate education in Canada" and it being time to change that vision. What would you aim for instead?
Well, I think it's a phrase that is aspirational. We absolutely want to do that. I'd love to have something that's maybe just a bit more concrete than that. How do we operationalize that or how do we know if we've achieved it? Are there any metrics that would help us to know if we'd actually got to being the best at something and what does it really mean to be the best? I think it has meaning, but it's hard to be concrete about whether you've achieved it or not. It's just like anything at an institution, it's effective to have a refresh.
Then where do you see the most room for growth?
We are trying to be intentional about what we do in terms of enrollments. We have a strategic enrollment management plan. One of the things we're going to do in the next year is to have a refresh of it. It was a plan that went to 2019 as a five-year plan. I think the refresh will help us understand something about enrolment growth. Are there areas of specific focus? How many of a certain type of student should we have?
I think there's lots of room for growth for the university to really communicate what it is we're doing and how well we're doing — to tell our story, to tell our students' stories, to tell our alumni stories, to tell our faculty stories and the teaching they're doing, the research they're doing.
We'd been a smaller college and morphed into a university college, and we're certainly more complex than when we started out. It's just the natural growth of things and as we move forward, we are working to be intentional about what it is we're doing and telling people about how well we're doing — that's a really good thing for an institution to be doing so we can take pride in it. I know as the president of UFV that we're doing really well in a lot of different areas, but I'm not so sure that within, everybody knows. I'm not so sure that our communities know. I'd like to change that.
What is UFV doing really well in?
We really care about students. Our people here, the faculty, staff, and administrators, do a phenomenal job of ensuring that we understand the importance of ensuring the decisions we make put the students first.
We have very good people here, but mostly very good people who care about our students. They care about student experience and want to help them. As an institution, we're focused on the importance of a pedagogy that isn't just about teaching, it's about learning. That is fundamental, and I feel that we're doing a very good job of that here.
How can UFV be a more innovative educational leader?
Well, you are what you attend to, right? I really believe in being intentional around what it is we're trying to achieve. That's why I'm interested in that vision statement.
It's all our jobs to ensure the supports are there for faculty, and that we're doing what we can to resource new technologies and innovative ways of doing things. How do you get that? Well, you're intentional about it. You talk about it, you run workshops, you run professional development days, you send faculty and administrators out to look at how others are doing it, and you bring that good learning back.
I think we're doing our piece there. There'll always be work to do there because technology's changing; practices are changing, new knowledge is being developed.
Innovation is about new ideas, better ways of doing things, incorporating new design principles, new technology, new ways of considering things, and being open to them. I think that comes with an institution that has its instructional component. For faculty, it comes with a willingness to be those who advance new approaches.
Does the university have a role in providing students with affordable housing?
Yeah, and I'd love to see more resident space for UFV students; we have Baker house. It's great, but it's not big. And if there was an opportunity for us as an institution to grow, I think we would be seriously looking at that.
What should students, faculty, and staff expect from you?
That I will work very hard on their behalf, that I will engage with them and listen to them. Recognizing that for one person who might do this, there'll be someone who says exactly the opposite, right? So it's not about just doing what people may wish but through the process of listening and learning and discussing, I hope to be a president that people will say, "She's a part of us. She's not just in an office squirreled away in a corner of the building and we never see her."
I see my role as a leader is in serving the institution and working with it. I think those are fundamental pieces. If you work very hard and you engage with people and you bring all of the best ideas forward, then I think the potential for success is heightened, and that's an approach I would take. I've always been about teamwork — I started my career as an athletic coach, and I've always been in and worked with teams. I hope for us to be an organization that can benefit from that. I'll work very hard to try to do what's in the best interest of the institution as a whole.
This interview has been edited for length and clarity.
Image: UFV Flickr