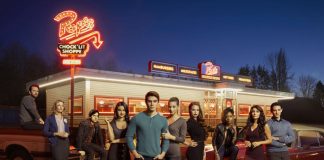 With a film and television industry as booming and busy as ours, the Fraser Valley seems home to many worlds. These worlds include Smallville,...
Last week — on Tuesday, I think — I watched all of Netflix's The End of The F***ing World in one sitting. Granted, the...
Not many have been watching, but the second season of The Leftovers has been a triumph — a marvel in narrative and tone with jaw-dropping performances. That said, it might not be for everyone, as its strongest traits might also be keeping viewers from engaging with it.
Well, Ryan Murphy is at it again. If you thought that Glee had no plot line and terrible drama, prepare yourself before you venture into the world of Scream Queens
After over 18 years, South Park is still entertaining — and more than likely offending some — people everywhere with its 19th season, which premiered this September 16 on Comedy Central.
Brooklyn's "finest" are back for a third season of the hit comedy Brooklyn Nine-Nine, which premiered this Sunday, September 27 on Fox.
Bringing comic book characters to life on the small screen is anything but a new concept. And with the novelty of television long worn-off, these days Marvel and DC are duking it out for blockbuster ratings rather than TV ratings. Consequently, TV comic dramas seemed to be on the back burner — that was, until Marvel unleashed Agents of S.H.I.E.L.D last year.
Who doesn't have a problem with Girls? The characters are self-centered, their problems are depressing, the show has no racial (or class, for that matter) diversity while being set in the diverse city of New York, and there is nudity seemingly for the sake of nudity, which is annoying. Despite being praised for its portrayal of women and their friendships, there are big flaws — classism and racism, for starters.
HBO is known for developing quality television entertainment, so it's no surprise that True Detective is already amazing at the three-episode mark.
We've been Sherlocked once again! The third season of BBC's Sherlock premiered January 1 this year and ended in the blink of an eye on January 12.