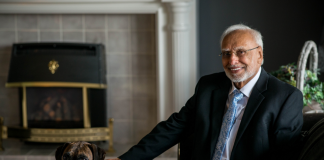 Andy Sidhu has been chosen as UFV's next chancellor. Andy grew up in Malaysia, and immigrated to Canada in 1974. He has seen the...
UFV's Global Lounge is a place where students of all orientations and backgrounds can visit to study, or catch up with friends. The room...
Admitting that your country considers stupidity a 'right' seems pretty funny. Still, jokes aside, Kerry's statement sits in stark contrast to a Supreme Court ruling in Canada only a few weeks later – a ruling that suggests that in Canada you don't have the right to be "stupid," or perhaps even to tell the truth. Perhaps, stupid Americans aren't the largest of our problems.
If you've been to South Fraser Way in Abbotsford after a Canuck's first round playoff victory then you might be under the impression that the team really caters to an Indian audience. In fact, the team has never had an Indian player on its roster before; that is, until they picked up the experienced center Manny Malhotra as an unrestricted free agent this summer after a great postseason with the San Jose Sharks.