Up SUB creek with no Canoe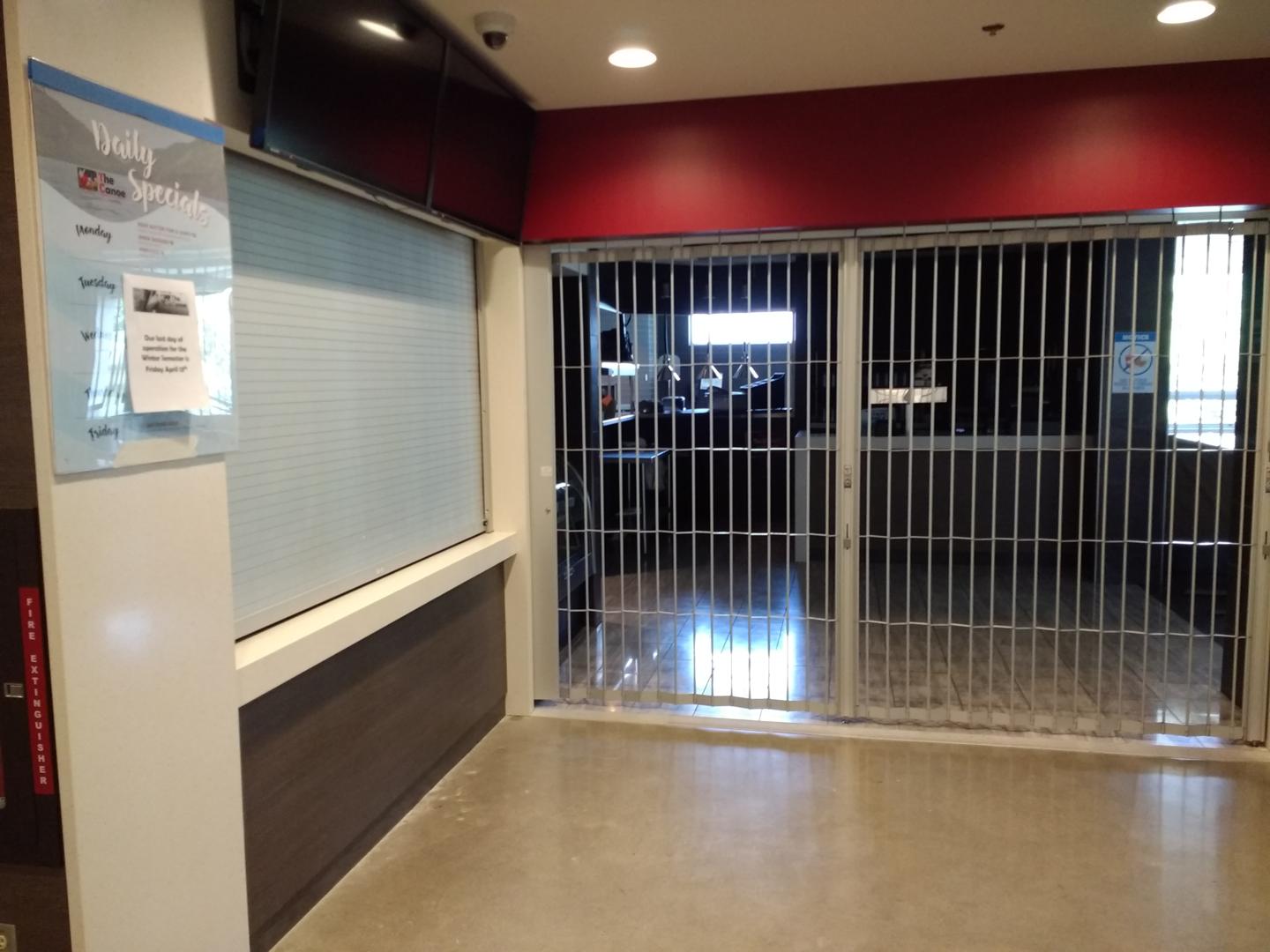 When I heard that the Canoe, UFV's on-campus student-run restaurant was closing for good, I confess I wasn't shocked. The restaurant had a number of issues, and the revelation that it was unable to turn a profit was unsurprising.
To some extent, the Canoe's fate was unavoidable. A proper sit-down restaurant demands more time and money, both of which are often in short supply among students, than a simple café. A coffee and a pastry from Tim Horton's or Fair Grounds is more manageable.
Unfortunately, the Canoe did little to endear customers who might have been able to afford the extra expense. Rarely did I see familiar faces among the staff, who seemed to come and go with each semester, and as a result, never had a chance to get a feel for the place. This is probably what led to so many mistakes and questionable decisions.
The Canoe had a, let's call it "creative," approach to the preparation and presentation of their meals. While not inherently bad, what was served was likely not what the customer would have expected. The Canoe was full of surprises, and many of them were unpleasant. Such unpredictability is unlikely to earn repeat or frequent patronage.
This doesn't excuse the frequent outright mistakes however, such as forgetting an ingredient, or not providing cutlery. The last straw for me was when I was served a pasta special that was half lukewarm, half cold, as if it had been poorly microwaved (although they assured me it wasn't). Evidently, I was not the only student who left unimpressed, judging by the restaurant's fate. For the record, the Fair Grounds café, which is also student-run, and is located in the same building just one floor down, is doing much better and manages to run at a profit.
All that is in the past. The question now is what to do with the space previously occupied by the Canoe.
Student Union Society president Gurvir Gill has suggested inviting a restaurant franchise to take over the space. The most obvious solution to fill the vacancy left by a restaurant would be another restaurant. To be honest though, I feel a bit leery about inviting yet another (presumably fast food) franchise onto our campus. We already have Tim Horton's, and now a Triple O's. I worry our campus is becoming too commercialized. An original business would be better, but that has already been tried, and it failed. Maybe an independent privately-run business operated by full-time professionals would do better, although it might be a hard sell given the limited customer base.
Perhaps instead of a restaurant, a proper campus pub could be established instead. The closure of the Phoenix Bar & Grill last year has left students without a nearby watering hole. In my opinion, we really ought to shed the puritanical dry campus culture that seems to be the norm in B.C.
On the other hand, I can understand why some people feel that making alcohol freely available on campus is undesirable; or perhaps it is simply out of the question as a matter of academic policy. In that case, there is no reason the Canoe site couldn't be transformed into a sober gathering place for students. It would be excellent as the site of a new student lounge to replace the old one in the Student Union Building (SUB) that was shut down a while ago.
For the time being, the seating area of the Canoe is open to students to use as they will. This is meant to be a temporary thing, but there is no reason that it has to be. The SUB could use some extra seating, because it gets rather crowded at times. As for the kitchen facilities, perhaps they can be kept for use during special events hosted in or around the SUB.
Lastly, we could think outside the box. Perhaps there is an amenity that UFV has never had before, for which the former Canoe area might be ideal. The demise of the Canoe is unfortunate, but we ought to view this as an opportunity for something better to take its place.