Yoga just got even more interesting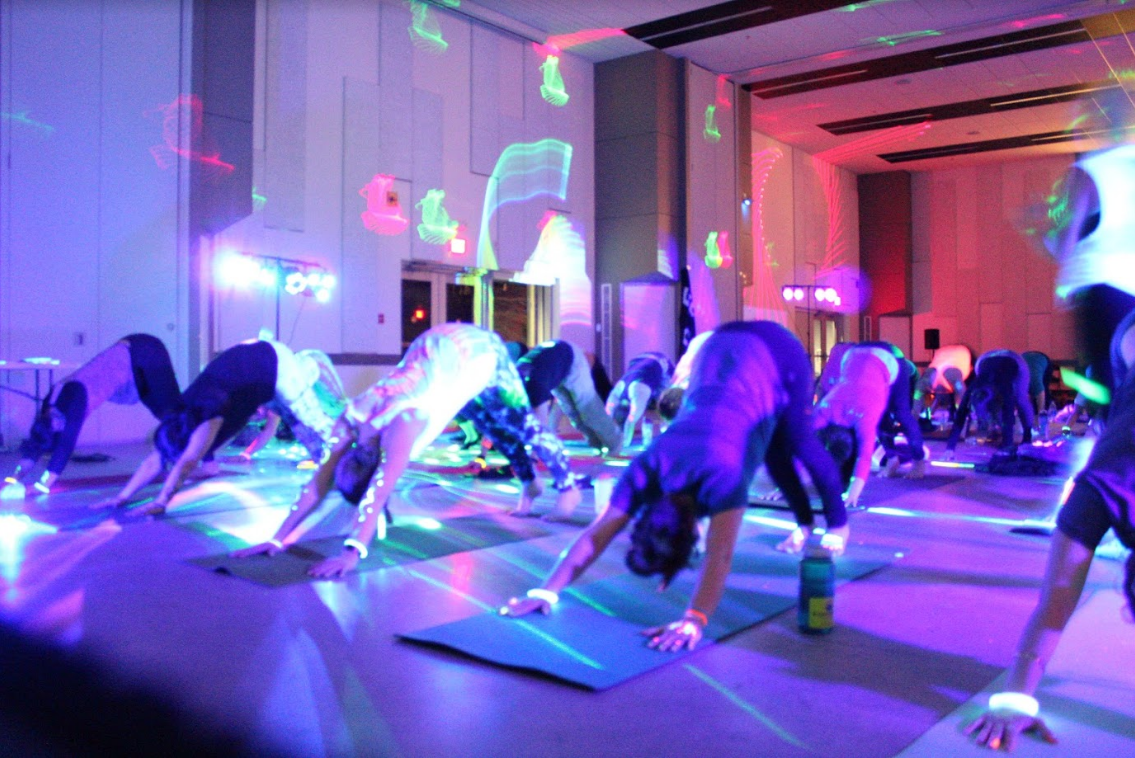 If you spotted glowing lights peeking out under the doors to Evered Hall in the Student Union Building last week and were wondering why there wasn't any music, have no fear. You were not witness to a silent rave, but rather the UFV yoga club's third annual Glow in the Dark Yoga, more commonly known as "Glowga," to which people of any and all skill levels were invited to participate.
Before the lights went out, attendees were invited to get creative with glow in the dark paint, and add their contribution to a paper mural titled "What Inspires You." There was also a raffle at the event, which gave away prizes graciously donated by Haven Yoga and Wellness.
Free items were offered to students, such as tea, feminine and other hygiene products, including tide pods, just to keep things interesting. A table was also set up to educate students on the various clubs and associations they can become involved with, and the channels and options available to those who are struggling with mental health issues.
This event was a joint effort between the yoga club and the mental health awareness club, who also worked with Campus Recreation and SUS. There was also participation from local Abbotsford business Haven Yoga and Wellness.
The instructor from Haven Yoga and Wellness was the studio's founder and instructor, Rebecca Marshall. Marshall did an excellent job keeping the attendees engaged and excited to be there. The atmosphere was comfortable, and students were invited to let loose, and laugh at themselves a little. Positivity could be felt in every corner of the room, which allowed the group to work on improving their physical and mental capabilities.
The space in which the event was held became possibly the most colourful room of yogis UFV has ever seen. Black lights, disco lasers, glow paint, and glow bracelets transformed Evered Hall, and put an interesting twist on the popular practice.
Mia Harries, president of the UFV yoga club, was able to answer a few questions in a post-yoga interview.
"The purpose of the event is just to bring UFV students together, to create a sense of community, and to show students that yoga is fun and engaging," said Harries. "Also, to make this an activity that's accessible to everybody, no matter your ability or experience with yoga. But overall, just to come out to have fun, and to connect with other people."
Harries counted roughly 45 yoga enthusiast in attendance, not including the various members of the involved organizations who also participated. Such enthusiasm is what inspires the yoga club to continue hosting events such as these.
The UFV yoga club is hoping to continue Glowga in the future. However, everyone currently in the UFV yoga club is set to graduate this year. For this reason, they are recruiting new people to join their executive team for next year. Hopefully this is a tradition that the new group will continue.
If you missed this event, do not fret. The UFV yoga club offers weekly sessions, Wednesdays at 1:00 p.m. in Evered Hall for the remainder of the semester.
Image: David Myles/The Cascade