Cascades reach final four, lose to TRU in the bronze medal match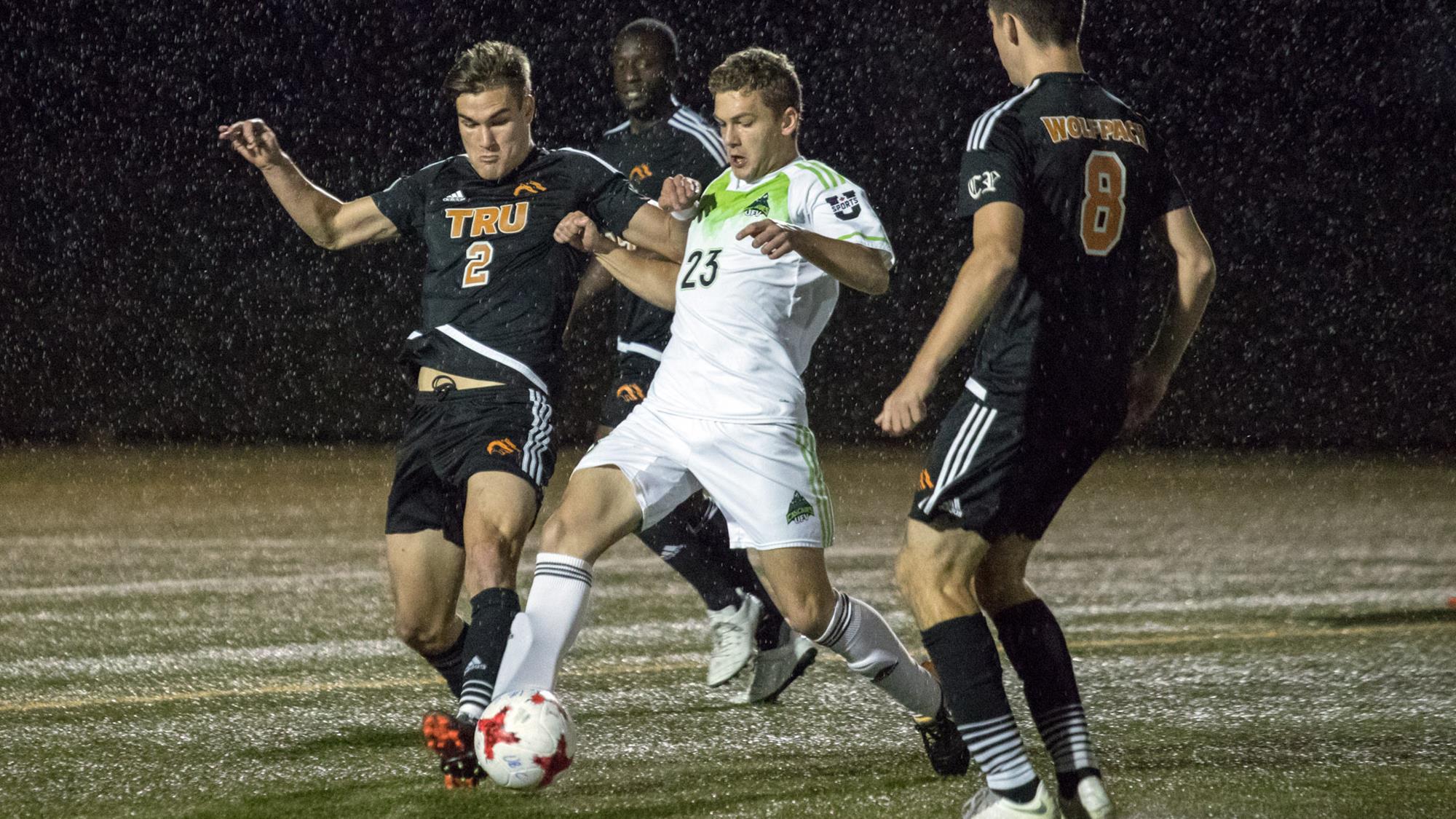 The UFV men's soccer team completed what was a fun and promising season this past Saturday when they lost the bronze medal match in Canada West to the TRU Wolfpack by the closest of scores. Losing 1-0, the Cascades fought hard to tie it up in the second half, but TRU held onto their lead and ultimately secured a podium spot. After the close loss to TRU and the previous 0-7 loss to UBC, one might get the impression that the season didn't go so well for the Cascades. Wrong: it actually was pretty awesome.
The Cascades had many bright spots this season, not least of which was their play. Going to a UFV home game was always fun as the fans came out in support, and the home matches went pretty well for the team. Sporting a home record of five wins, one loss, and two ties, spectators were given solid performances and it's important before getting into the stats to note this is due to how UFV ended their season in the playoffs.
Statistically, a couple UFV players also made it onto the Canada West leaderboards. Gurmaan Jhaj finished second in goals with 13 and third in total points with 15. The clutch midfielder was always fun to watch at home games this season, and his contributions propelled him among the Canada West leaders. As well, UFV keeper David Hicks finished third in Canada West in goals against average (1.18) which shows again why UFV was able to go as far as they did.
A question still remains: what about the rest of the team? What do the stats not completely show? One thing you can't put on a stat sheet is pure hustle, and midfielder Parman Minhas is a great example of that. Every game he could be seen sprinting down the field, fighting for position and recovering plays; things you won't find on a statistics page but that didn't change how valuable his play was for the Cascades. Not to mention the well-rounded game of forward Andrew Peat, who notched eight points in Canada West this season, or the solid play from defender Brady Weir.
Besides the players, all of whom contributed to the success of UFV this season, what can be said for the passionate coaching of Tom Lowndes? No matter where you were standing on the sidelines, you often heard coach Lowndes voicing his displeasure regarding a call, coaching his players, and celebrating during the highlight moments. All of those qualities made home games a lot of fun, being able to watch the players and the coach get into the game. It's fun moments like those from the entire roster and coaching staff that made UFV soccer well worth watching this season.
With the season concluded and the Cascades falling just short of the Canada West podium, it may seem like it didn't go our way, and to some degree that's true. However, this year's season and playoffs did more than just fulfil an obligation. The effort and play of this year's team was something to behold, and I think many agree with coach Lowndes when he said after the UBC loss, "I'm excited for their future."
Image: Andrew Snucins/TRU Athletics