Art Battle Abbotsford artist Q&A with Tori Carter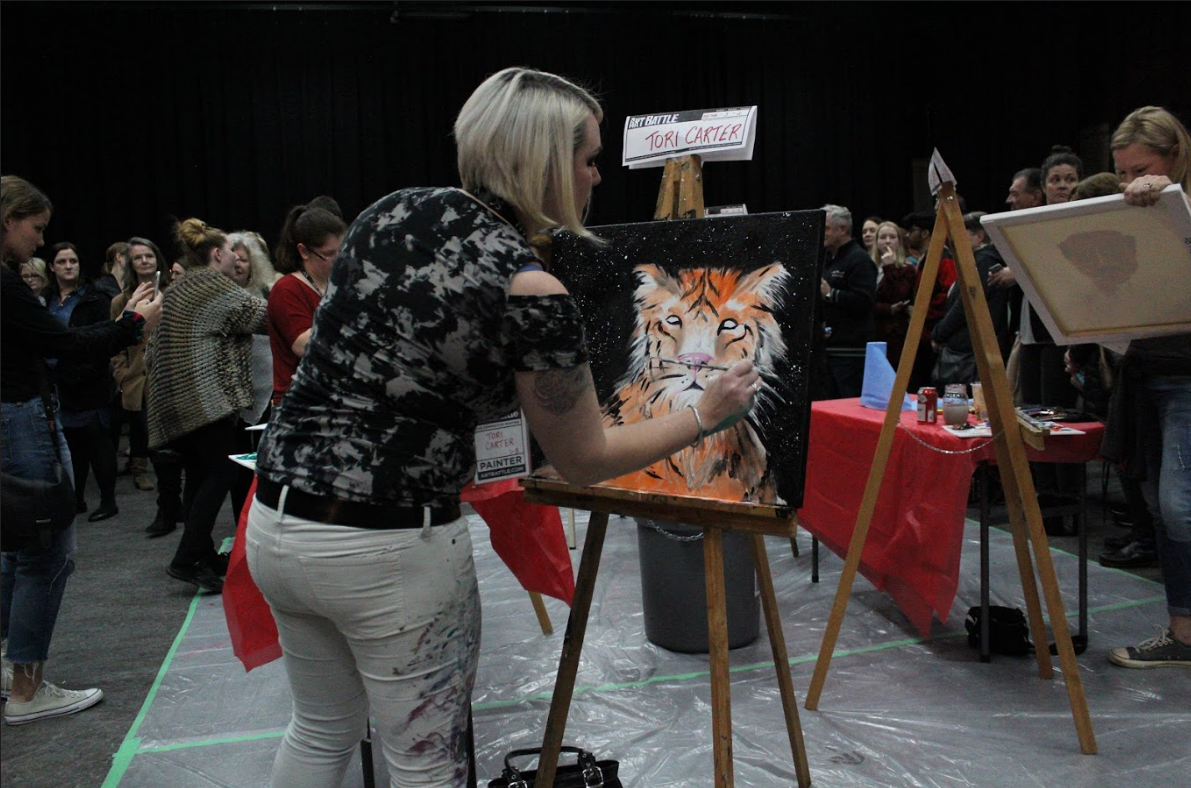 The Abbotsford Arts Centre made a perfect venue for the Abbotsford Art Battle on Friday, Jan. 18. A large crowd of spectators swirled around the artists in a slow tornado, watching the pieces develop from blank canvases to stunning artworks. The atmosphere buzzed, with dj elixir providing a rhythmic soundtrack as the artists battled the clock and each other for the right to represent the Fraser Valley in the upcoming Vancouver regional competition this summer. Abbotsford artist Tori Carter, one of the evening's finalists, shared her experience after the event.
Congratulations on making it through to the final round. As we talked about earlier, this is not your first Art Battle.
No, I have done Art Battle in Edmonton as well.
How did this Art Battle compare?
It was pretty similar. The one in Edmonton was a lot darker so it was hard to see your painting. Here they had good lighting which I really appreciate as an artist.
What drew you to compete tonight?
I think when you get out of your comfort zone, that's when you learn the most. I've been painting for as long as I can remember. I've been doing custom paintings for 12 years so it's hard to get out of my comfort zone. I kind of just take whatever people want to hire me for and I don't really get challenged much because I've been doing it so long. Here you have 20 minutes to do something and that's really challenging. This painting size I do in two months, so 20 minutes for two months worth of work.
How did the format influence your style or how you prepared for tonight?
I was not prepared. The whole time I was fighting with myself like, "What do I paint? I don't know what to paint." I was at war with myself. I think the other artists planned out what they were going to paint, practiced it beforehand, had a plan. At first I was thinking colour, then black and grey.
It worked out pretty well for you; you made it to the final round. What was it like to participate? What were you feeling?
It's a lot of pressure. Adrenaline, for sure. Your hands are shaking but you're trying to do a straight line. If you can image that with a hundred people staring at you — that's kind of what it felt like. It's not easy at all, but it's fun.
Is it nerve-racking having all the people walking around, so close?
I've done a lot of live painting, so I'm used to people staring at me. It's more like I back up to look at my artwork and I bump into someone. So I'm trying not to bump into people. And the music adds more adrenaline so you end up painting fast instead of thinking things through and planning it out. You're just kind of throwing it on. It's very impulsive.
Looking back on this tomorrow, what do you think you will take away from it?
I'm going to take away that I loved my face (first round painting) and I hated my tiger (final round painting). And I'm sure there are people that did like the tiger. I know somebody bid on it so obviously people liked it, but for me it was not my best work.
My wife thought she could reach out and pet it.
Aw, thank you! It was a big learning experience and I had fun. As long as I take that out of it and I learn from it, then I'm happy.
Overall, the Art Battle evening was fun, well-organized, and provided a unique art experience. Local artist Shameem Khan, an Art Battle veteran, walked away victorious and earned an invite to the regional competition in Vancouver this summer. For more information, visit the Art Battle Canada web page or keep an eye on the Abbotsford Arts Council website for upcoming events.
If you're interested in viewing more of Tori Carter's work, visit her website or Facebook page.
Image: David Myles/The Cascade