Interview with UFV men's golf senior captain Zachary Olson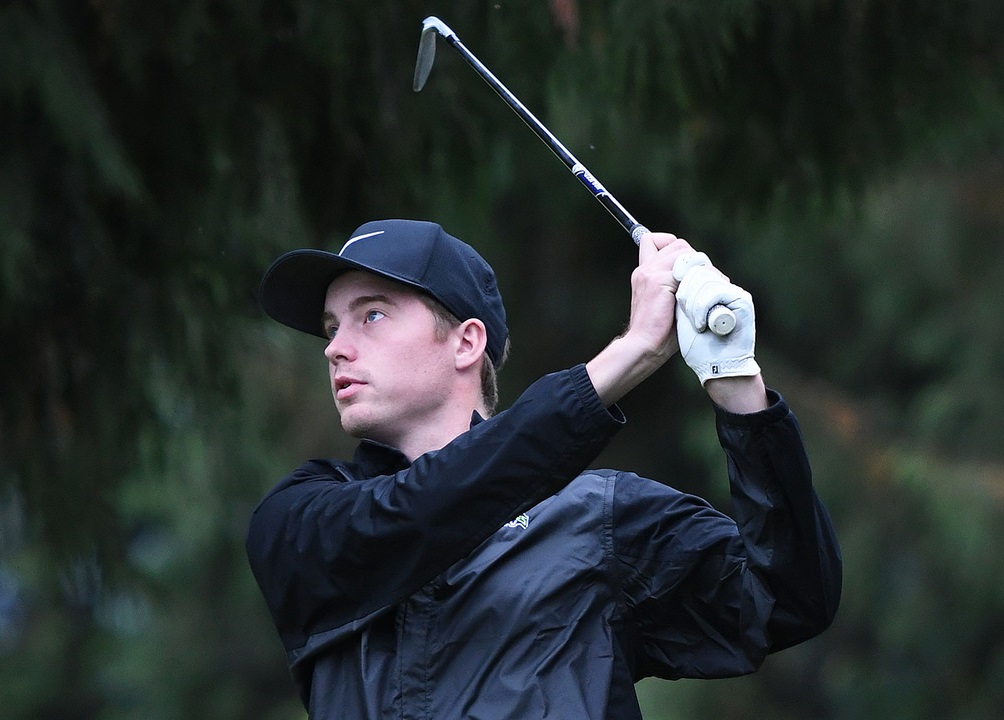 When the 36-hole 2018 UFV Invitational wrapped up, the UFV men's golf team added a sixth straight PACWEST tournament win to a storyline already sporting great achievements. Along with the 22-stroke team win and the extension of the conference winning streak, UFV men's golf team's senior captain Zachary Olson picked up a men's individual win by four shots, his first individual win in three years.
"I started when I was about four or five. My grandparents lived right on a course when I was growing up, so I wanted to go see them and play and my dad was just starting to get into golf," Olson said. "I kind of started playing tournaments when I was 14 or 15. I was a little bit late, being more into hockey growing up than anything else. Then I just changed over to golf once I got into high school."
From there it wasn't long until Olson realized that there could be a future in the sport for him.
"When I first started playing tournaments I had some decent rounds … I had never really taken it that seriously before. I got into practicing and started to really like it … I slowly got better at it than anything else and I knew I wanted to play a sport somewhere at the university level. Golf was going to be my best shot so, I decided to give that a go."
Currently, Olson is working on a business administration degree with a major in marketing.
Speaking on golf as a sport, Olson said he appreciates both the individual accountability and the team focus at UFV. This has been demonstrated by the team's success as a group and in Olson's recent success in the men's individual category.
"There's a team aspect here, so it's fun when the team is going good, but then in the individual tournaments as well, it's pretty much the amount of work you put into it is what you're going to get out of it. So, kinda like anything I suppose."
When asked if he watches golf, Olson was quick to respond, "Yeah, all the time." On whom he likes to watch, Tommy Fleetwood, Tiger Woods, and Dustin Johnson come to mind. "Those would probably be my top three."
When it comes to his own game, Olson described it as a consistent one.
"I don't typically go crazy low, but I also don't usually blow up super high. Kind of a steady level, for the most part I guess."
And then with a smile, Olson added, "It would be nice to get a few more low ones in, but we'll see if we can work on that."
Speaking like a true captain, Olson had much to say about the team at UFV and what it means to him.
"The team aspect is fun. I get along with all the guys really well. We have a pretty good group of players, so it's fun," Olson said. "With all the different opportunities we've got here, we get to travel and go up and play courses that I would never have gotten to play if I didn't come here, so it's pretty awesome."
Up next for Olson and the team is the PACWEST Championship, an important game for the team.
"I mean, you know it's a big event, for sure, but when you're actually out playing, it definitely helps if you can tell yourself, 'It's just another tournament, you're just playing another round of golf' and go out there and try and get it done, I guess."
When it comes to other future goals, the tournament ahead is the one on the minds of Olson and the team. "We're focused on the conference championship coming up this weekend, and then move on to nationals after that."
It's safe to say that the UFV men's golf team still has goals and aspirations they wish to achieve, but if recent times are any indication, the future is bright for senior captain Zachary Olson and the team as they look to win the PACWEST Championship, and then set their sights on the PING CCAA Golf National Championships.