Joining UFV's U-Join event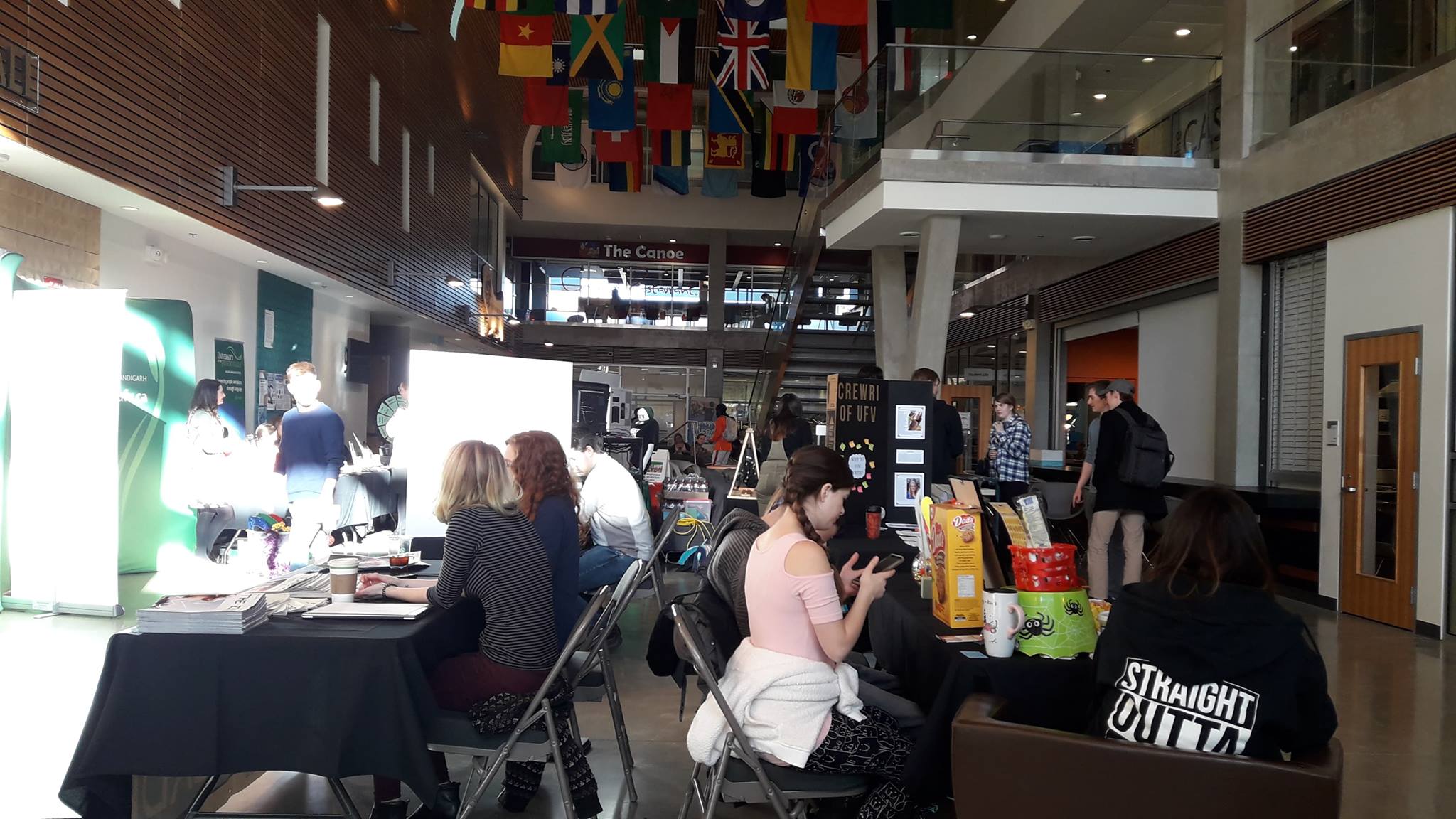 UFV's U-Join event took place on Tuesday, Jan. 15 in the Student Union Building (SUB). This event consists of the school's clubs and associations, along with local organizations gathering together to entice students to volunteer with them or join their club. Students were also able to learn about another exciting opportunity UFV has, the study abroad program. Plenty of groups were present in the building to help show students all that UFV has to offer.
In order to get people to even show up to an event, free food must be present. Most of the booths were on board with this mentality. Students were able to obtain candy, ice cream, cupcakes, samosas, and plenty of pens from many of the organization's booths by chatting with those running it. To my surprise, the turnout was excellent. I couldn't even get out of the door once I was done, there were just so many students eager to get involved crowding Evered Hall.
I had the pleasure of being able to learn about several of the opportunities students at UFV can get involved with. These were some of them that piqued my interest:
I'm sure you've heard of the Co-Curricular Record, but do you actually know what they're all about? Elicia Tournier, operations coordinator of student engagement at Student Services, explained that this service for students will "make use of your experiences." The Co-Curricular Record hooks students up with various work and learning opportunities which can lead to earning CCR credit. These opportunities are good for students to add on their resume to show their future employers all of the experience and leadership skills they have now.
I also learned about UFV's Student Refugee Program. This program is run under World University Service of Canada (WUSC), an organization which is present across other universities in Canada working towards the same goal. Their goal is to sponsor one refugee student per year to attend UFV along with covering their costs of housing and everyday life while they study. In order to bring a refugee student to Abbotsford, the club requires $25,000. Fortunately they have already raised this money through paint nights and local business donations, and will be welcoming a new student this August through the program. Students are able to get involved by keeping up with the club on Facebook (WUSC UFV), attending fundraisers, and donating funds.
Even though I'm not a science student, I took a stroll over to the Biology and Chemistry Student Association. At the moment they're still getting some wrinkles ironed out because of the new semester, but Lise Nehring, the associations's vice president of communications, said they hope to have a more formal mentorship program between upper year science students and first year science students running soon in order to help newcomers navigate UFV's science program. Students can often find association members hanging out in the science student hang out, room A367, where they are available to ask for help in a non-intimidating environment.
UFV's Amnesty Club is an offshoot of Amnesty United, a global organization that gathers evidence of human rights violations across the globe and provides the government with peaceful alternatives to the nation's issues. If the government fails to change their violent ways, Amnesty United raises awareness of the problem around their outreach platforms to advocate for those in danger. The club's president, Melissa Salter, labeled UFV's club as more educational, unlike action-based Amnesty United. Students can get involved by following what they're up to on their Facebook page (UFV Amnesty Club) and attending their weekly meetings on Wednesdays at 5 p.m. in the SUB, room S3103. Salter added that the club also enjoys watching a bunch of riveting documentaries, which you'll hear about through their Facebook page.
Local organizations like the Alzheimer's Society, Abbotsford Community Services, and Fraser Health were also present to show students various volunteer opportunities to help others in need while upping their resume game. It's a win-win.
If you missed the event but are looking to get involved somewhere, on their website under the "Get Involved" tab SUS has a list of all of the university's clubs and associations ready for you to learn more about and join.But keep in mind it unfortunately isn't always up to date.
Image: SUS Facebook