Monthly Community Spotlight: Pastor Ward Draper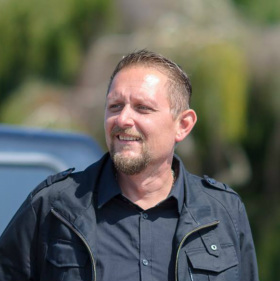 Welcome to our community spotlight column, where we take a moment to put an individual in the Fraser Valley community on the hot seat, and encapsulate their dedication to their work. Check back every month to learn more about the outstanding individuals in your city.
Pastor Ward Draper is probably the most down-to-earth pastor I've ever met. That's not a knock on other pillars of religion in the community so much as it's a comment on the fact that he's not the stereotypical Ned Flanders type son of a preacher man. He's got a good heart, an opinionated soul, and an open mind.
You can usually find him helping someone in need, reading one of the 30 books he's got on the go at once, enjoying coffee and cigarettes, or getting into a deep conversation with someone about the complex questions of life. In other words, he's consistent at intaking what others have to say/write and being articulate at reflecting in return.
He's certainly an eccentric figure in the community who serves with a good purpose; to help others. Despite that, many find him to be polarizing. In retrospect, this is understandable for a community like Abbotsford. Most religious figures in this town are pretty buttoned down. Pastor Ward, on the other hand, not so much.
Does not having a buttoned down facade mean being unorderly or unjust? No. Pastor Ward is simply Pastor Ward. That's it, nothing else. He's simply his own person. Comfortable in his own skin, happy to serve, eager to help. If anything, he's the archetypal punk-rock rendition of good samaritans in Abbotsford.
Since the early-2000s, Pastor Ward has been one of the leading forces behind the 5 and 2. The 5 and 2 is a church primarily within Abbotsford, but also throughout the Fraser Valley that specializes in feeding the homeless and providing religious services. It's non-denominational which makes it one of the most inclusive churches in the area.
Why did Pastor Ward start the 5 and 2? As he puts it: "People need to do a better job personally and hold accountability for the social issues in their community."
Pastor Ward started the church to use faith as an outlet for people to group together and find both community and resources. As Pastor Ward puts it: "Outside of providing weekly church services, last year the 5 and 2 served 40,000 meals and worked on everything from clipping toe nails for those in need to influencing policy reform."
The 5 and 2 has grounded itself as one of Abbotsford's most recognizable brands. Their infamous matte black van in Jubilee Park, appearances in the local newspaper, and presence amongst community leaders have all contributed to making a name for themselves. To live in Abbotsford, particularly throughout the past 10 years, and to not be aware of the 5 and 2, their van, or pastor is similar to living under a rock.
Their primary crusade centres around the homeless. Helping them with food, shelter, and embracement without judgement — the 5 and 2 aims to aid those in need on the streets.
Safe to say, the 5 and 2 is a valuable asset for Abbotsford. While they don't do all of the heavy lifting in regards to the issues they care about, they arguably have a greater presence in the trenches than most. With their eccentric pastor, recognizable van, connections to the community, and instances of fame in the local media, the 5 and 2 is one of the finest products of Abbotsford's environment.
Image: The 5 and 2 Ministries