Trethewey House, harbinger and stepping-stone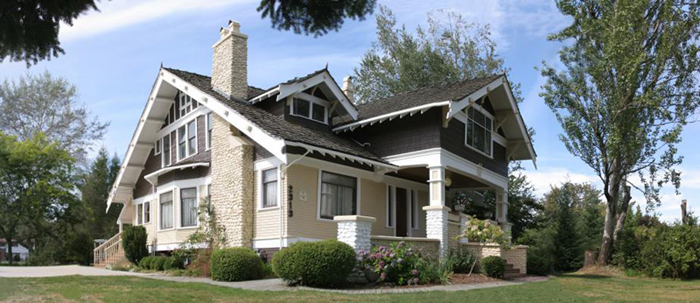 Last Friday, a special tour was held at Trethewey House, a heritage house located on the edge of Abbotsford's Mill Lake Park. In addition to the usual tour of the house itself, special attention was given to the features and architectural style of the building.
Trethewey House was built between 1919 and 1920 by the eponymous family as their private residence. The house is in the Craftsman style, which is similar, but not identical to, the better-known Arts and Crafts style. The Craftsman style was popular in B.C. between roughly 1910 and 1940, making Trethewey House representative of the era. Craftsman, and its sister style, Arts and Crafts, were a reaction against both the cheap mass production enabled by the industrial revolution, and the ostentatious style of home decoration typical of the Victorian era. Craftsman valued fine handmade craftsmanship, while displaying and emphasising the building's structural elements. In many ways, Trethewey House is a marker of the transition from Victorian embellishment to modernist simplicity, and also the emergence of an architectural style unique to our part of the world.
The Craftsman style originated in Europe in the late 19th century, and from there spread to North America. While Craftsman did not originate in, nor was exclusive to, the Lower Mainland, we soon put our own spin on the style, creating region-specific variations, including Vancouver Craftsman, and Craftsman Bungalow, of which Trethewey House is an example of the latter.
One of the Craftsman style's core philosophies is use of locally-made materials, and Trethewey House holds to this, even more so than most houses of its type. Whereas many Craftsman houses would use oak wall panelling and furniture, and floor tiles imported from Italy, the Tretheweys opted to use locally-made tiles, and locally available Douglas fir wood.
In the Lower Mainland, Craftsman would be succeeded by the Vancouver school of architecture, a.k.a. the Post and Beam style. This style originated in the late-1940s and reached its peak of popularity during the '60s and '70s. Many of Post and Beam's distinctive features have their origins in their Craftsman predecessors. In Craftsman, we see the beginning of the trend towards more and larger windows to allow in plenty of natural light, make rooms feel larger and more airy, and to allow a better view of the surrounding scenery. While the general outline of Victorian/Edwardian style decoration remains, it has become simplified, and effort is made to bring out the natural texture of the materials, such as displaying the grain of the wood in the wall panelling.
Looking at the exterior of Trethewey House, one cannot help but notice similarities with recent styles of residential architecture. On the outer walls, in different sections we see shiplap (overlapping horizontal boards) or river rock painted banana yellow, and stucco or shingle siding painted chocolate brown, separated by wooden beams and eaves painted in stark white. One sees this same sort of contrasting two-tone or three-tone colouration, and sometimes mixed cladding materials, in the newer buildings going up in and around the cities of the Fraser Valley. This extends to the heart of Vancouver as well, where one may find tower blocks with steel and glass upper storeys, but the lowest floors are clad in brick or masonry.
However, this apparent revival of Craftsman aesthetics may only be skin-deep, if Kate Wagner is to be believed. Wagner is a contributor to several architecture and design periodicals, and is best known for her McMansion Hell blog, which primarily lampoons the tacky design of upscale housing, but also contains educational features on the history and theory of architecture and interior design. According to Wagner in her article "The Case for Rooms," published on CityLab, modern open concept interiors remain king, and indeed are only becoming more exaggerated. Trethewey House, while it does have distinct rooms with walls and doors between them, shows the beginnings of the open floor plan by arranging them to allow a clear line of sight from one end of the house to the other. Wagner also points out in the same article that discussions of style such as these mainly concern the dwellings of the upper and middle classes, and do not necessarily reflect the homes that most people would be living in. Trethewey House is a prime example. Its relative simplicity and compact size are deceiving; the Tretheweys were one of the richest families in B.C. at the time they lived there. They owned the lumber mill that gave Mill Lake its name, and which also aided them in sourcing the lumber for building their house.
Trethewey House may not seem so important at first glance, especially since, despite being almost a century old, it wouldn't look much out of place in a modern Fraser Valley housing subdivision. Yet Trethewey House is important as a milestone in our region's history and culture. It shows us where we've been, and how we got from there to here.
Image: Trethewey House