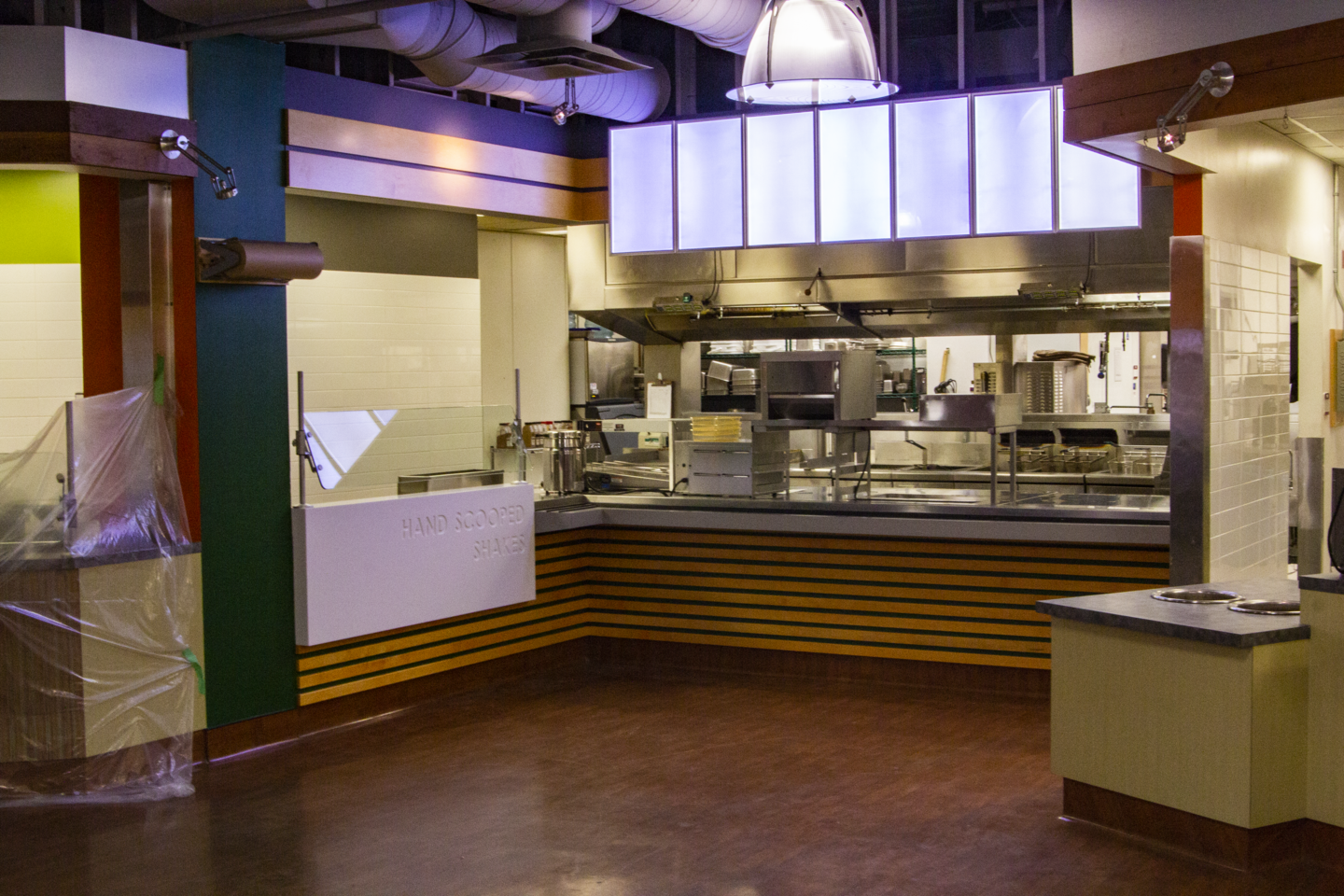 UFV's food services will see a refresh this summer. The Cascade Café, UFV's cafeteria, has been closed from June 4 to 29, undergoing renovations for the addition of a Triple O's. The Tim Hortons in G building will be closed from July 1 to August 6 for an upgrade and brand refresh.
The newly installed Triple O's will take the place of the current grill area in the east corner of the cafeteria. The entrée station previously in this location, ran by Dana Hospitality, will be moved elsewhere in the food court, and no other services will be disrupted.
The menu will include similar options to what is served at other university campus and Chevron Triple O's around B.C. There will also be a Triple O's milkshake stand which, according to Cameron Roy, director of ancillary services, will be feature quite prominently in the cafeteria.
"We have a fairly large grill area, large enough that it's very similar to the gas stations," said Roy. "It will be the same marketing, and the same look and similar physical layout."
Similar to Dana Hospitality, Triple O's focuses on creating fresh, locally-sourced food from scratch. However, there is still discussion between the two companies as to whether Triple O's will be using compostable packaging.
"It was a natural partnership between Dana and Triple O's," Roy said. "They are distinctly British Columbian."
Renovations for the Tim Hortons are also underway. The seating area has already been upgraded, and the general area will be remodeled during the closure, replacing the 10-year-old look with the more modern Tim Hortons branding. There will also be an equipment upgrade behind the scenes.
Roy said that while the change may not be as dramatic as the addition of the Triple O's, the work being done will make the area feel like a real Tim Hortons.
Roy added that, while it had been requested, there just wasn't the space or the funding to put in a full Tim Hortons. He has, however, tasked the Tim Hortons with making the service more efficient in the space they have to reduce wait times, which he noted to be a major source of student complaints concerning food services on campus.  
"I'd love to be able to [build a full Tim Hortons], but it is extraordinarily expensive," Roy said. "We would also have to take away from space that students need elsewhere, that they needed for classrooms and for resources to help them study, and we're not prepared to do that."
Both projects look to be coming in on or under budget, according to Roy. The Triple O's renovation is on track and will be ready for a soft opening later this summer, with a grand opening to follow in the fall.
Image: The Cascade