Wizards, teleportation, and energy vampires, oh my!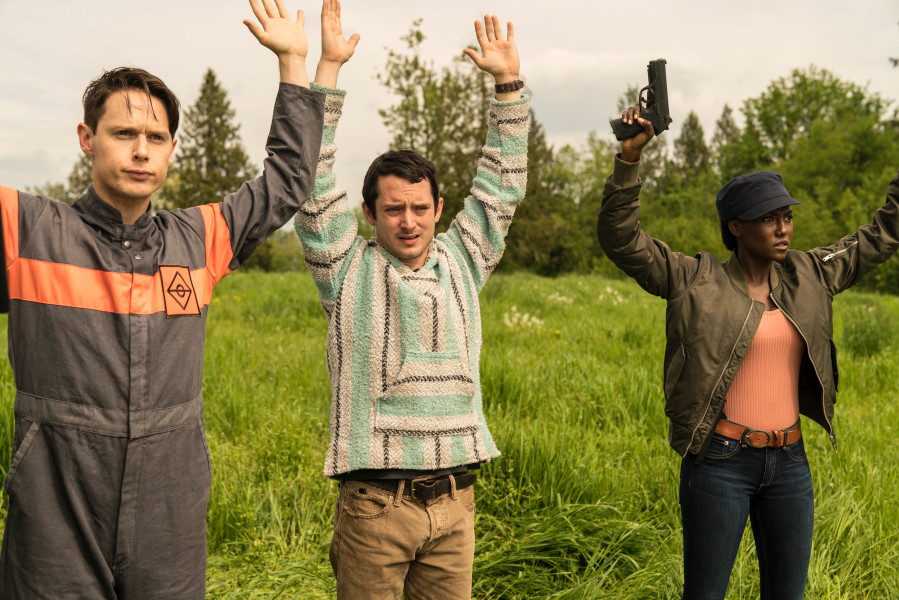 Last weekend, I was sick. Like, nose running, head pounding, I can't stand up or I'll fall over sick. My one beacon of light during that dire time was the second season of Dirk Gently's Holistic Detective Agency. Teleportation, magical powers, and a strange fantasy land? Count me in.
The basic premise of the show is that Dirk (Samuel Barnett), a "holistic detective," follows strange occurrences wherever they take him, followed by his friend / erstwhile sidekick Todd (Elijah Wood), whom he met in the first season. In this season, the pair start out divided, with Dirk trapped in a government facility run by Blackwing, a group that investigates people with supernatural abilities, and with Todd fleeing from the FBI with his friend Farah (Jade Eshete), looking for any sort of "weird" sign that will lead them to Dirk, as well as Todd's sister, Amanda (Hannah Marks) who went missing with a van full of energy-sucking vampires called "The Rowdy Three" (despite there being four of them).
Confused? Not yet you aren't. There's a boat in a field, an evil wizard with a wand that looks like a gun (as much as a twisted piece of wood can), and an elaborate fantasy world, complete with castles and rainbow creatures, which can only be accessed through a murphy bed in the wall of an abandoned farmhouse. There's a tree-like being that can teleport people through water, and a long-dead couple found dead, inside a tree, and inside a car inside a tree, respectively. Oh, and the entire fantasy world was created in a dream by a young boy 50 years ago.
Despite being a bit confusing, especially if you haven't seen or don't remember the first season, Dirk Gently has some truly excellent moments. I love that they turned Amanda's illness, pararibulitis, a disorder that makes her feel like she's suffering from very real and very disturbing pain (such as being lit on fire), into something she can control and use to her benefit, eventually learning to teleport people through water as the tree-being does. That, and the world building for the fantasy land is phenomenal; viewers were thrown into a medieval-ish fantasy land with strangely shaped, colourful castles (think Floop's castle in Spy Kids), and swords shaped like giant pairs of scissors. Not to mention the eerie house of mirrors feel of the "house within a house," complete with a deranged flying purple people eater that echoes a distorted version of the song of the same name every time it appears.
For me, the best part of this season was the LGBT+ romance that is subtly at the back of the viewer's mind throughout the season. We're introduced to it within the first couple of episodes: a love story between two princes, Panto Trost (Christopher Russell) and Silas Dengdamor (Lee Majdoub). The story here is that Panto and Silas's families are at odds, and the princes are working together to mend the rift between their kingdoms. What Dirk Gently does differently than most other shows featuring an LGBT+ romance is that A, it doesn't feel like it's been forced in there to tick a box and appease the LGBT+ audience, and B, it actually ends with a happily ever after for the pair.
Despite being a little hard to follow in some places, and packing a lot into only 10 episodes, it's overall a well thought out, engaging show. Too bad they cancelled the series — I was looking forward to binge watching season three.