Ice storm wreaks havoc on UFV campus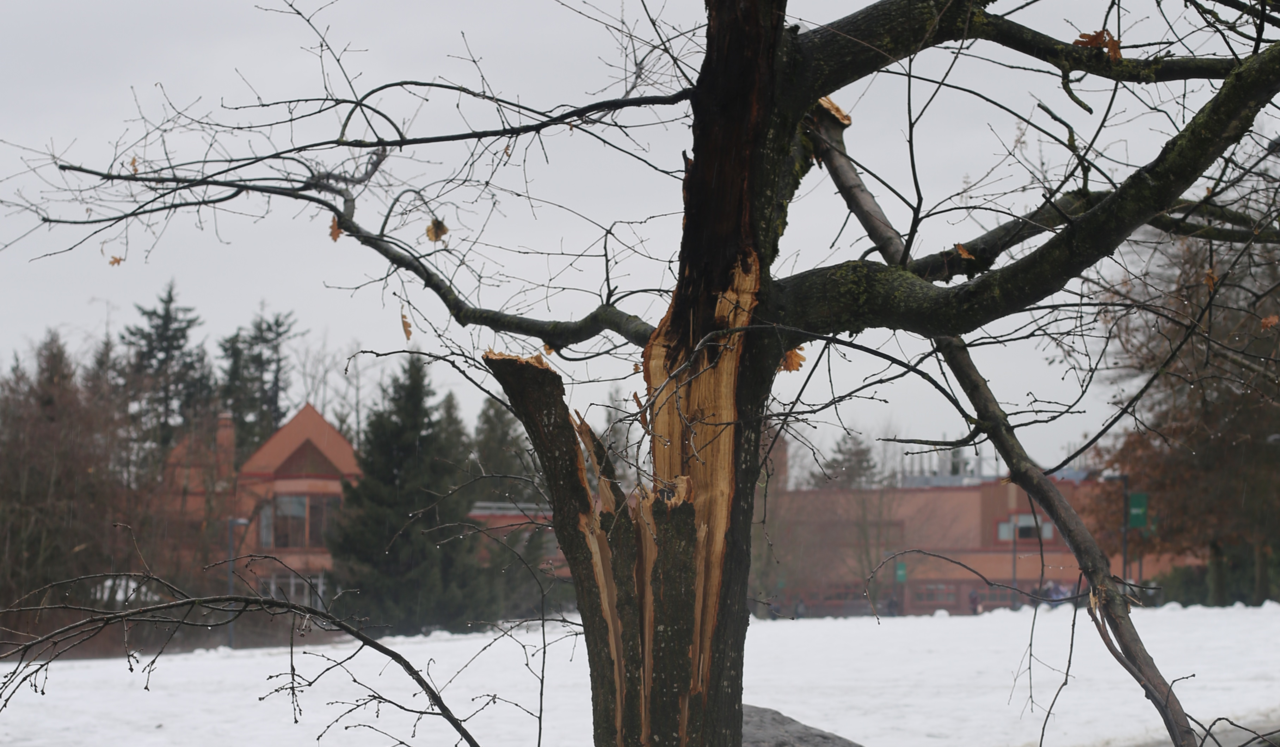 The ice may be gone for now but the cleanup caused by the Fraser Valley's freezing rain is far from over, David Shayler, associate director of operations at UFV, said.
"It hit us really hard," said Shayler. "We have a sparse grounds crew, and we know that they'll be working well into February to recover from this."
Contractors have been brought on to help with the restoration of the campus, removing trees and making repairs, as well as an arborist to work on the campus trees. Even with no further complications, Shayler estimated the damages will be in the tens of thousands.
At the height of the ice storm, the plants on campus had as much as four inches of ice on their branches. According Dr. Alan Reid, UFV biology professor, many trees just don't have the tensile strength to hold up against that. Much of the damage seen on campus is from branches slowly ripping over a period of hours.
Many of the trees that were damaged by the ice will have to be removed, for both aesthetic and safety reasons. In nature, Reid said, trees can survive after sustaining as much as 70 per cent damage. Commercially, trees with more than 30 per cent damage are generally removed and replaced.
"My fear is that we're just going to go wholesale with a chipper and a chainsaw," said Reid. "And we can't afford to have that."
Reid has been working on an inventory of all the plants on the UFV campus, and has been updating his work to include trees felled by the storm. Some have held up better than others.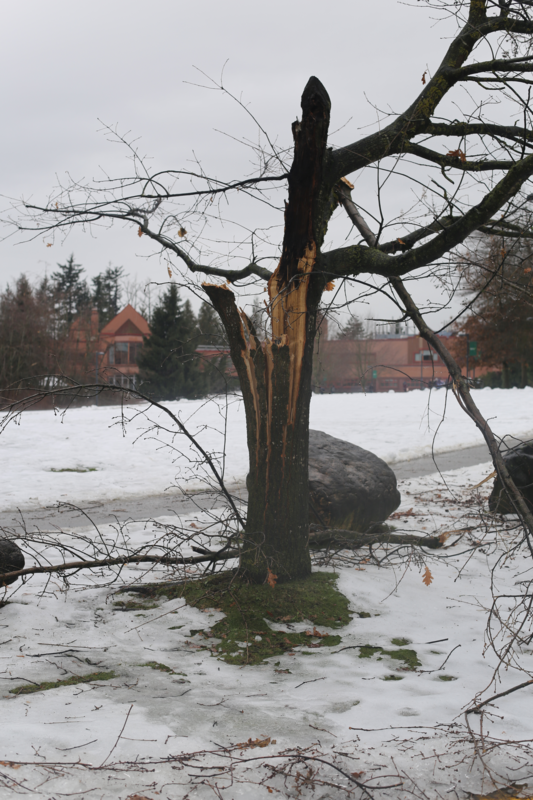 Most notably, UFV lost a stewart tree, known for its fragrant, white flowers, that was planted as a memorial for a Japanese exchange student who passed away. The tree, planted on the north side of A building, was non-native, and had evidence of extensive rot through the core.
UFV has also lost the oak tree that shaded the gazebo beside lot 10.
"If you look at the trunk, it's almost wider then you or I are, and it just split," Reid said." You could hook up your F-150 to the tree and do that damage, but then you're using 400 horsepower."
Many of the trees on campus are ornamental, and native to areas that do not experience harsh weather conditions. However, the swamp cypresses from Louisiana survived the storms with minimal damage, as did the persimmons.
"The calorie pairs have been shmucked into oblivion," Reid said. "Persimmons from tropical China should not have survived. The pears from our area didn't survive."
If ice storms become the new winter norm, there may not be much that can be done to protect the trees on campus.
"It's hard not to think, this may be the way of the future," said Shayler. "This has happened to us two years in a row, now. Is this something we are going to experience every year? I hope not, because it's going to change our landscape."
According to Reid, even trees with only broken branches will take years of remedial pruning before they are restored. He believes that knowledge of plants on campus, and a desire to restore them, may be the best protection.
Image: Alan Rein