Community, excellence, inclusivity, integrity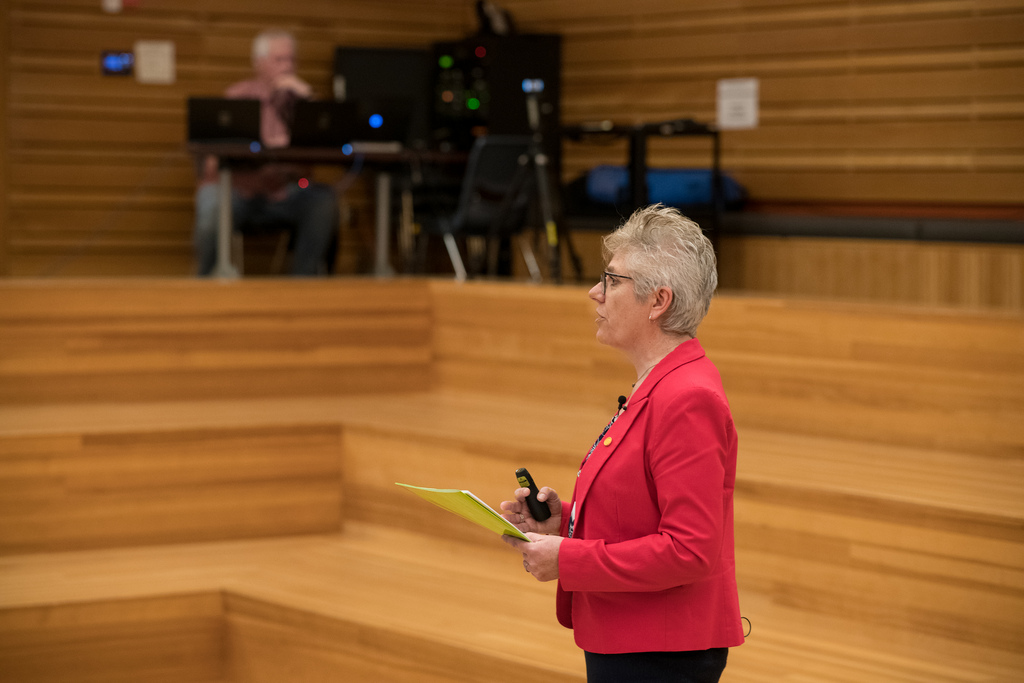 Written by Aleister Gwynne & Jessica Barclay
UFV president and vice chancellor Joanne MacLean hosted a town hall meeting at the Abbotsford and Chilliwack campuses on Tuesday, Jan. 8 to provide an update on the progress of rewriting UFV's values and mission statement.
Using input from faculty, staff, students, alumni, and others on a digital platform called Thoughtexchange, the administration has set out to create a new set of values and a mission statement that's clear, concise, easy to remember, and with concrete, attainable goals.
At this half-way point in the process, 20 most frequently-mentioned values from the thought exchange have been narrowed down into four core values: community, excellence, inclusivity, and integrity. From this, a three-point mission statement has been drafted: engaging minds, building community, and transforming lives.
"There's more to come on this," MacLean said. "Putting it out there, it's not fully formulated yet. This is where we are at this point, at half-time."
At the beginning of her presidency, MacLean announced she would not be conducting a strategic planning overhaul as often occurs with a new president, but instead would be revitalizing UFV's mission statement and core values.
MacLean and others found UFV's current set of values to be long, involved, and unwieldy. One comment submitted to Thoughtexchange said the existing mission statement "reads like policy and lacks life." Another stated they didn't feel UFV's values were clear enough.
There were 651 people who participated in Thoughtexchange, with a total of 916 contributions of ideas on UFV's mission and values, called "thoughts," and 20,207 ratings on those thoughts.
"I see this as an absolutely pivotal area of activity for the university," MacLean said. "I'm really pleased about the activity that we've had so far from all our constituents and where we are."  
"I think that it's not too soon for us to be thinking of what we want to be next year, and five years from now, and 20 years from now, and 55 years from now."
MacLean asked attendees at the meeting to close their eyes and imagine what the university might look like in the year 2074 when UFV would be celebrating its 100th anniversary.
"You might think 'No, nothing will change, it will be exactly as it has been.' But I would contend that likely that is not the case," MacLean said. "The impact of technology and the impact of the world change that we are engaged in on a daily basis from a lot of different factors is going to lead us to look very differently down the road."
MacLean used the 2074 thought-experiment as an illustration of the long-term planning of her administration, which seeks to create an Institutional Strategic Plan to build what she calls "lasting endurance."
Question period
During the question and answer period, questions, comments, and concerns were raised about the drafted set of values and mission statement.
One attendee at the Chilliwack meeting raised concerns about the wording of one of the core values, stating that "ensuring our mission is delivered without compromise" mentioned under integrity may be too strong and inflexible.
Another online commenter suggested that student responses to the Thoughtexchange should be considered separately to see if the student vision for UFV differs from that of the faculty. When analyzing responses from the Thoughtexchange, no distinction was made between sources; however, MacLean said she would re-examine the results with this in mind. Nearly half of all contributing individuals (49 per cent, 279 persons) were students, according to statistics cited in the presentation.
Commenters in Abbotsford discussed broadening one of the value statements on engaging minds to extend beyond intellectual engagement. They considered including emotional engagement as well, and suggested wording such as "engaging the mind."
"Is engaging minds the only thing that we want to do or is there more to that process?" one commenter asked.
There was also a small debate in Abbotsford on whether teaching and learning should be included in the statements. One commenter mentioned that teaching and learning are already encompassed by the university's mandate, a statement of what the university is required to do, and are the core from which the vision and mission statements are built.
MacLean said she expects to have UFV's new values and action plan completed and confirmed by the end of this semester.
A second Thoughtexchange is being held from Jan. 8 to 21. The results of the exchange will be published on Feb. 1. Open workshops will be held from Feb. 4 to 8, which will be followed by the final review and confirmation process which is expected to conclude on April 4. Anyone wishing to see the town hall presentation or contribute to the new thought exchange can do so at visioning@ufv.ca
Image: UFV Flickr