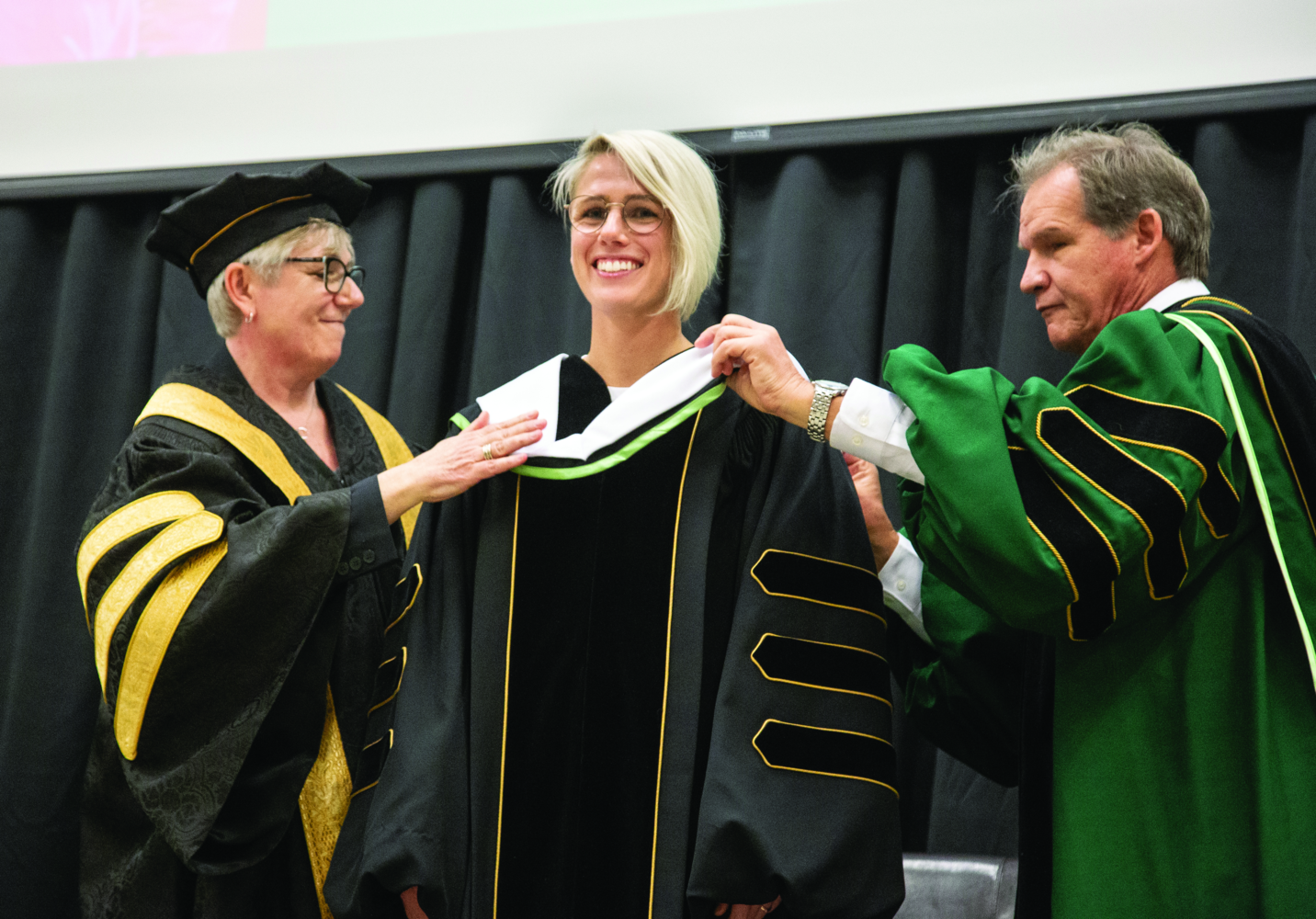 This past Friday, Feb. 8, the University of the Fraser Valley honoured local sports hero and two-time Olympic bronze medalist Sophie Schmidt. The university celebrated Schmidt's accomplishments by presenting her with an honorary doctorate. The now-official Dr. Schmidt began the evening with a meet and greet, socializing with the UFV women's soccer team and some of the faculty. Dr. Schmidt was accompanied by her husband Nick, and family.
Dr. Schmidt began her soccer career at the age of eight in Abbotsford. She played for various teams and leagues in British Columbia and graduated highschool from W.J. Mouat Senior Secondary. Dr. Schmidt went to university in Portland, and continued to play soccer throughout school. She went on to play in Germany for some time, and eventually returned to play for team Canada. When asked about the experience of coming back to her hometown to receive this great honour, Dr. Schmidt spoke of how special it was for her. "The people that influenced my life, the coaches I had, [along with] the experiences I had in high school" she said were all a part of her success story.
Dr. Schmidt remembered her experiences at the 2012 Olympics. The determination of her team is an inspiration: "Before the tournament we were last place. In the previous world cup, we had a new coach, and were still in the process of finding our new identity. Then we lost against the U.S." Dr. Schmidt didn't let that loss get her down, having Canadians rallying and supporting the team helped them pull through, bringing home the bronze medal for Canada. However, they didn't stop there: during the 2016 Rio Olympics, Dr. Schmidt and her team did it all over again. She joked that she wished they had brought home a different colour this time, but "you can't take the Olympics for granted." It was also a first Olympic medal for some of the other girls on the team.
Dr.Schmidt initially "saw [soccer] as a means to get a scholarship," but once she was in it and had made the national team, she decided to fully commit to it. Dr. Schmidt doesn't take her education for granted, and knows that she will always have her degree. Her parting words were advice for university athletes.
"It's definitely not easy; time management is the biggest thing. It can be tough, but at the same time make the most of it, because these university years are an experience you will never regret."
After the meet and greet, Dr. Schmidt was whisked away to prepare for the upcoming ceremony. Evered Hall was packed with young sports fans and families, eager for the opportunity to talk to Dr. Schmidt. The ceremony began with a welcome from Sto:lo Nation, before master of ceremonies Dr. Alisa Webb addressed the room. Joined by Dr. Joanne MacLean, president and vice-chancellor of the University of the Fraser Valley, and other distinguished faculty, they presented Dr. Sophie Schmidt with her official honorary doctorate. Dr. Schmidt then addressed the room, giving some lasting words of wisdom to the young fans present.
"Who could have imagined a little girl from Abbotsford, playing in three world cups, three Olympics, winning two bronze medals (even though I wish they weren't the same colour). Making a professional career out of soccer, and still going strong. It's crazy; it's a dream. It all starts with a person and a dream and that's when the fun begins… It's not always easy. It took a lot of hard work, dedication, and sacrifices … The biggest lesson I learned along the way is to be comfortable being uncomfortable. This is where the good stuff happens."
Dr. Schmidt accredits her accomplishments to her ability to be able to push through these uncomfortable situations. She ended her speech with a challenge to the crowd.
"What have you done today that's made you uncomfortable? What will you do tomorrow to keep growing as a person?"
After the ceremony, Dr. Schmidt and Dr. MacLean took some time to answer questions. With some initial hesitation, and some prompting by their parents, a line up of young people formed in front of the microphone. Eager and smiling, many budding soccer fans got an opportunity to ask their idol questions about soccer, coaches, and life. Dr. Schmidt answered every question with humility and patience. It's not very often we get the opportunity to honour someone for their accomplishments. Dr. Schmidt was truly an inspiration to all who attended.
Image: UFV Flickr