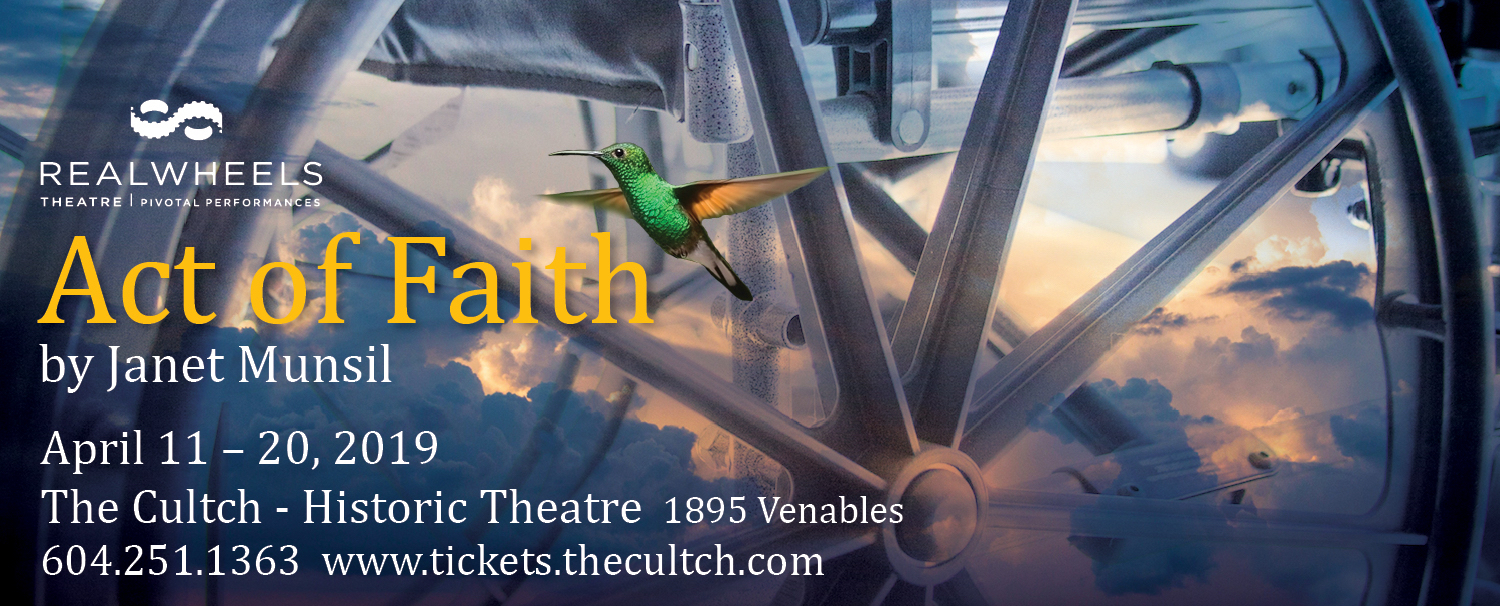 This April 11 to 20, UFV graduate Danielle Klaudt will be taking the stage at the Cultch (formally the Vancouver East Cultural Centre), one of Vancouver's most diverse centres for arts and culture. The Cultch will be hosting the world premiere of Act of Faith, written by renowned Victoria playwright, Janet Munsil. This play tells the story of Faith — played by Klaudt — based on the true, inexplicable recovery of a Vancouver woman who was paraplegic for 13 years.
The play was directed by Rena Cohen, artistic director for Realwheels Theatre.
"Disability is a part of the human condition. It's a complex and diverse feature of our culture, history, and identity — one we proudly reflect in all of Realwheels' practices and productions," said Cohen. "Janet Munsil expanded on that seed event to craft a story exploring the mystery and controversy of faith-based healing amid a spectrum of belief systems."
With the use of a mixed-ability cast, Act of Faith includes many exciting Vancouver-based performers. Emily Grace Brook, who lives with paraplegia, plays one of the leading roles of Jess, a young paraplegic woman. This play will explore the complex relationship between two friends and the controversy surrounding Faith's mysterious recovery. Bringing in questions of faith and healing, this play looks to help the audience better understand the conflicting emotions that rose with this event.  
The Cultch is located at the historic theatre on Venables Street in Vancouver. Tickets start at $24 and are available through the box office of the Cultch. The preview performance for the play begins April 11 at 8 p.m., with opening night occurring on April 12 at 8 p.m. Though the play will continue at 8 p.m. for the duration of the performances, a matinee performance is available at 2 p.m. on April 14. Act of Faith also offers ASL-interpreted performance with live audio description by VocalEye at the April 16 performance.
If you would like to become engaged in a conversation about the play, a post-show Artist Talkback will be happening April 14 and 16.