Listen to my pleada, don't buy Frida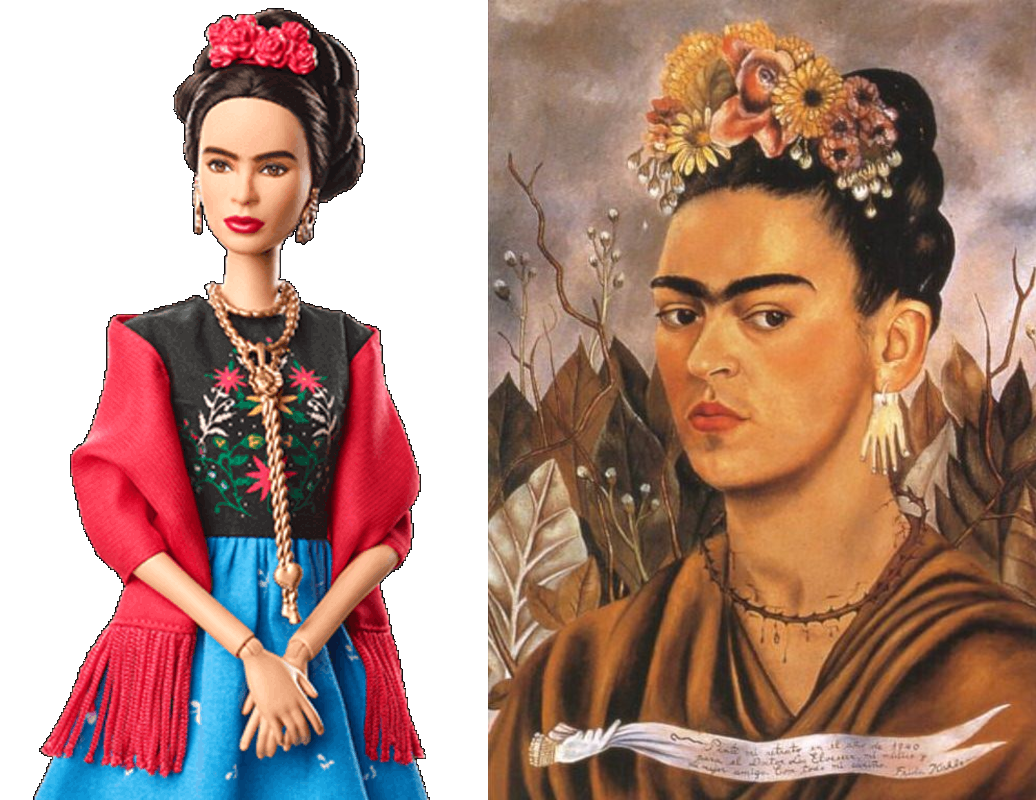 After an article in a recent issue of The Cascade heralded the release of Mattel's new Barbie line representing female role models, I rushed to their website to take a gander at the selection. Yes, I thought, a refreshing and wide range of women of different colour, and profession worth endorsing! Then I spotted Frida. Her skin? Pale. Her facial hair? Missing. Her cane, back brace, and prosthetic leg? Absent as well. What happened to the accurate representation of Mexico's beloved artist and revolutionary?
Frida Kahlo, who died in 1954, was a Mexican artist who painted many self-portraits. Unfortunately, the signature features that encompassed Kahlo's identity have been stripped away for the sake of aesthetics. The doll reflects a lighter eye colour, a lighter skin shade, and eyebrows that seem less than perfect only if I squint.
In Kahlo's self-portraits, however, she intentionally accentuated her unibrow and facial hair in efforts to show her contempt for European standards of beauty. She even said herself, "I don't like the gringos at all. They … have faces like unbaked rolls." She rejected beauty standards of the time expressed in Europe and the United States, which she nicknamed "Gringolandia," and embraced her Indigenous Mexican culture through the textiles she donned. Her image was integral to her identity and represented many conscious decisions about the presentation of her body.
Furthermore, her artwork offers a humbling depiction of her chronic pain and disability. It's well known that she suffered a debilitating streetcar accident in her youth that later caused her to rely on canes, medical corsets, and wheelchairs. These physical aids are a reminder of the adversity she went through, and her perseverance is one of the reasons why she makes such a great role model for today's youth. By taking away the features Frida loved and embraced, Mattel seems to be limiting the scope of what beauty is, and even infringing on what she believed in.
Speaking of Kahlo's beliefs, in a painting entitled "My Dress Hangs There," Frida clearly expresses her political condemnation of capitalism. Instead of her figure, an empty dress is present as the lone focal point, hanging in the middle of chaos that represents the United States and symbolizes the superficiality of American capitalism.
I can only assume she would have objected to the idea of her mass produced image being used to rake in profits for Mattel, Forever 21, and Hot Topic, among others. There's an irony here, but it's a little too tragic to laugh at. When it comes to making Frida into a fashionable and easy-on-the-eyes commodity, it seems corporations can easily overlook her political views on their establishments.
Her late family has already expressed their unhappiness towards the inaccurate portrayal of Frida, but surprisingly also shed light on legal matters. On the Frida Kahlo Twitter, a letter claims that her great-niece, sole owner of the rights of her image, didn't give authorization to Mattel for production of their doll. Despite this, The Frida Kahlo Corporation, claiming to represent the Kahlo family and hold rights to the icon's brand name, released a statement supporting the Frida Kahlo Barbie. This just adds another layer to the conflicting ethics involved in its development.
The idea behind the new Barbie Role Model doll line is innovative, empowering, and diverse. The execution of the Frida Kahlo Barbie? Not so much. The other dolls represent many other modern and timeless women who deserve to have their Barbies totted about proudly, but Frida's leaves a bad taste in my mouth.
I encourage others to go out and support Mattel's production of the other Barbies, and show that there's a market for these types of toys. At the same time, however, experience Frida's strength and perseverance through the medium she loved best: art. Create clothing with hand drawn representations of her likeness, read her diary, take in her paintings, or watch informative films on her life.
This kind of media may not be as easy to digest as a doll who can't object to the practices behind her making, but maybe it's a better way to represent the bold and beautiful Frida Kahlo.
Image: Mattel & fridakahlo.org