Orange Shirt Day for Abbotsford students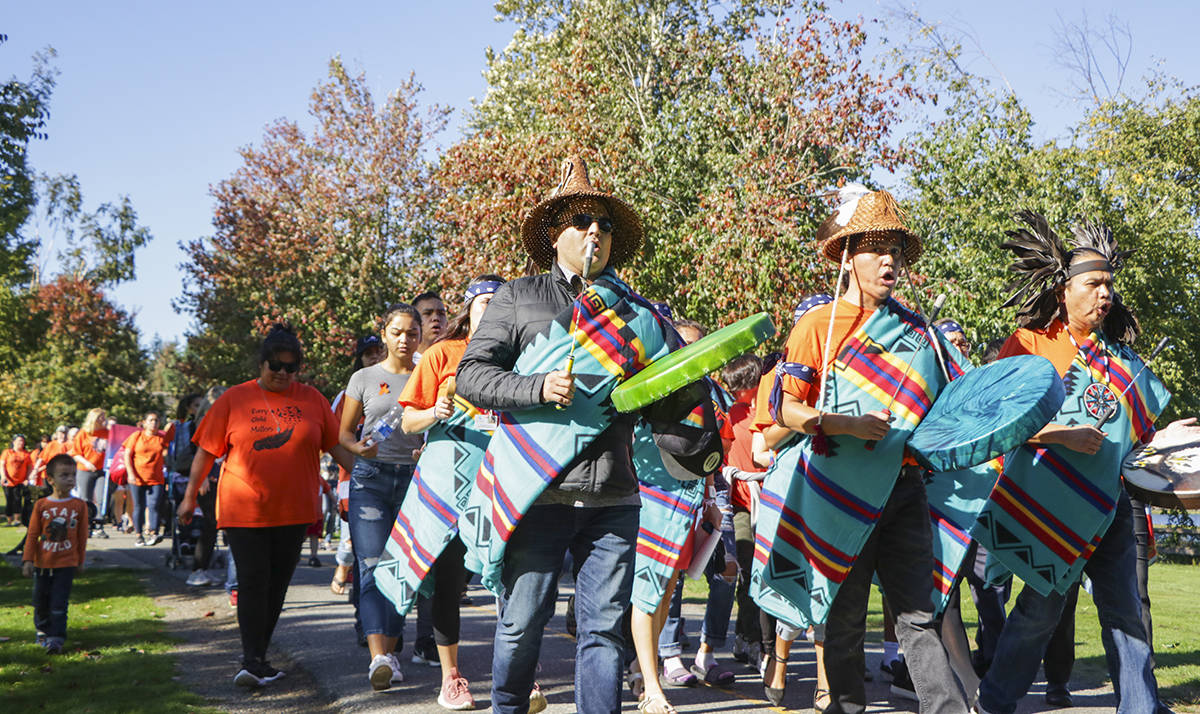 Did you notice a lot of orange shirts this past week? You may have thought to yourself, why orange? Sept. 30 was "Orange Shirt Day," a day started by Phyllis Webstad. Several years after she had survived residential school she realized that the experience she had during her childhood was wrong and began to share her story.
In the 1973/1974 school year, Phyllis attended a Mission school where she had her first-hand experience with the residential school corruption. "I had just turned 6 years old. I lived with my grandmother on the Dog Creek reserve. We never had very much money, but somehow my granny managed to buy me a new outfit to go to the Mission school. I remember going to Robinson's store and picking out a shiny orange shirt. It had string laced up in front, and was so bright and exciting – just like I felt to be going to school!"
Phyllis had started her residential experience happy and ecstatic, as most of us do on our first day of school. However unlike the majority of us, Phyllis' experience took a drastic change upon her arrival at the residential school.
"When I got to the Mission, they stripped me, and took away my clothes, including the orange shirt! I never wore it again. I didn't understand why they wouldn't give it back to me, it was mine! The color orange has always reminded me of that and how my feelings didn't matter, how no one cared and how I felt like I was worth nothing. All of us little children were crying and no one cared."
Phyllis had her self worth taken away from her at a young age and is spending decades trying to heal from the wounds left from her experience.
"I went to a treatment centre for healing when I was 27 and have been on this healing journey since then." Phyllis is now a grandmother and tells her story and spreads awareness of the tragedies that occured in the residential schools.
On Sept. 28 multiple Abbotsford schools gathered in Mill Lake Park to respect the 63rd call in the Truth and Reconciliation Calls to Action (TRCA) set by Canada. The ceremony began with the students taking a short walk through the park, lead by drummers. The ceremony included the telling of stories from survivors, a song from one of the schools that were present, and personal messages that students wrote which were given to the elders present. At the ceremony there, the mayor and chancellor were present along with representation from the Sumas, Metis, and the Stó:lo. During the ceremony the heart-breaking stories of the brave survivors were shared. The importance of bringing this dark past of Canada to light is so that the TRCA will be held true.
The TRCA has only 94 calls to action and so few have been answered. As a nation we need to honour and respect the calls to action. It is vital to realize that the last residential school in Canada did not shut down until 1996. Many people do realize that the stories of residential schools are not our history, but our present. Survivors are still tormented by the tragedies they experienced in the schools.
UFV took its own small step toward spreading awareness by asking students to wear their own orange shirts on Friday, Sept. 28. The university also pays respect by acknowledging the Indigenous land the school is built on. They have set a high priority of doing their part in the reconciliation process, and have also set a standard for other universities in bringing awareness to the Indigenous people.