Working towards a greener campus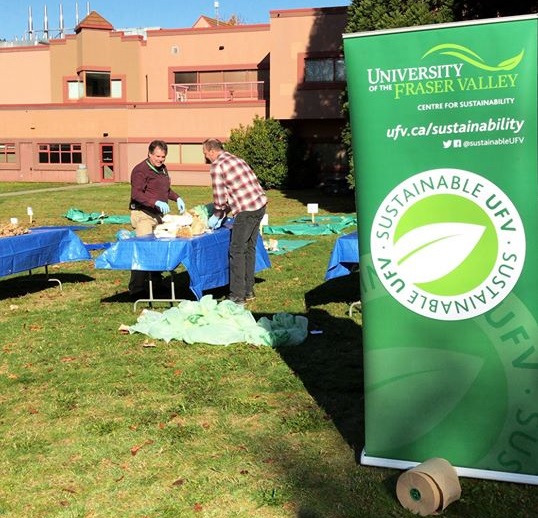 By converting the waste bins in the bathrooms from landfill to organics, SustainableUFV has reduced landfill waste by 10 per cent, as shown by their annual waste audit. This year's waste audit demonstrated the effectiveness of the changes SustainableUFV has implemented in the past year.
In the audit, SustainableUFV dissects each waste stream (organic, landfill, refundables, and mixed recycling) to examine how effective people are in allocating their waste into the correct stream, and from that can determine where to focus their programming moving forward.
"Through the waste audit, we're trying to see how our projects have impacted how people are allocating their waste — are they allocating it sustainably, are they putting it into the appropriate waste," said Blair McFarlane, UFV's energy manager.
Results in this year's waste audit have shown that UFV has been slightly cleaner, with each bin containing more of its intended composition rather than waste that does not belong.
Overall, there are only slight changes in the total amount of waste produced for all streams. However, this year's waste audit did reveal a 24 per cent decrease in the amount of organics that end up in the landfill bin rather than their designated waste receptacle. Before this year, SustainableUFV found that the majority of the landfill stream consisted of organics products that could have been composted.
"When we're comparing 2017's waste audit to 2018's, a lot is exactly the same, except we transitioned the washrooms from diverting that waste into the landfill to diverting that into a compost facility. That, and education," said McFarlane.
SustainableUFV has attended every student union event possible to help educate students on proper waste disposal. By bringing clarity and cohesiveness to proper waste disposal, they seek to increase participation in sustainability.
According to Sharisse Birk, student sustainability coordinator, sustainability comes down to the choice of the consumer. UFV seeks to support businesses with compostable products and sustainable business operations. Dana Hospitality (UFV's food services provider), Fair Grounds, and Spirit Bear Café all use compostable cups, though Tim Hortons does not.
Tim Hortons lacks compostable one-use products, and while their cups may be recyclable, the lids are not. The need to separate sleeves, cups, and lids to dispose of them properly acts as a barrier for many when it comes to putting waste into the correct receptacle.
"We consistently see Tim Hortons as a big source of waste, much of which can't be recycled, and which certainly can't be composted, so it's going into the landfill, and it's a bit disheartening to go through 165 kilograms of waste and constantly see the same brand over and over and over again," McFarlane stated.
Consumer choice does not necessarily mean boycotting Tim Hortons in support of sustainability, though — McFarlane and Birk encourage consumers to make the choice to bring reusable mugs in the absence of compostable one-use cups.
"I just want to encourage everyone to participate in the sustainable revolution — it's happening, it's here at UFV, and you can join and participate and be active at SustainableUFV," said McFarlane.
Image: SustainableUFV Facebook