A sea of beauty and plastic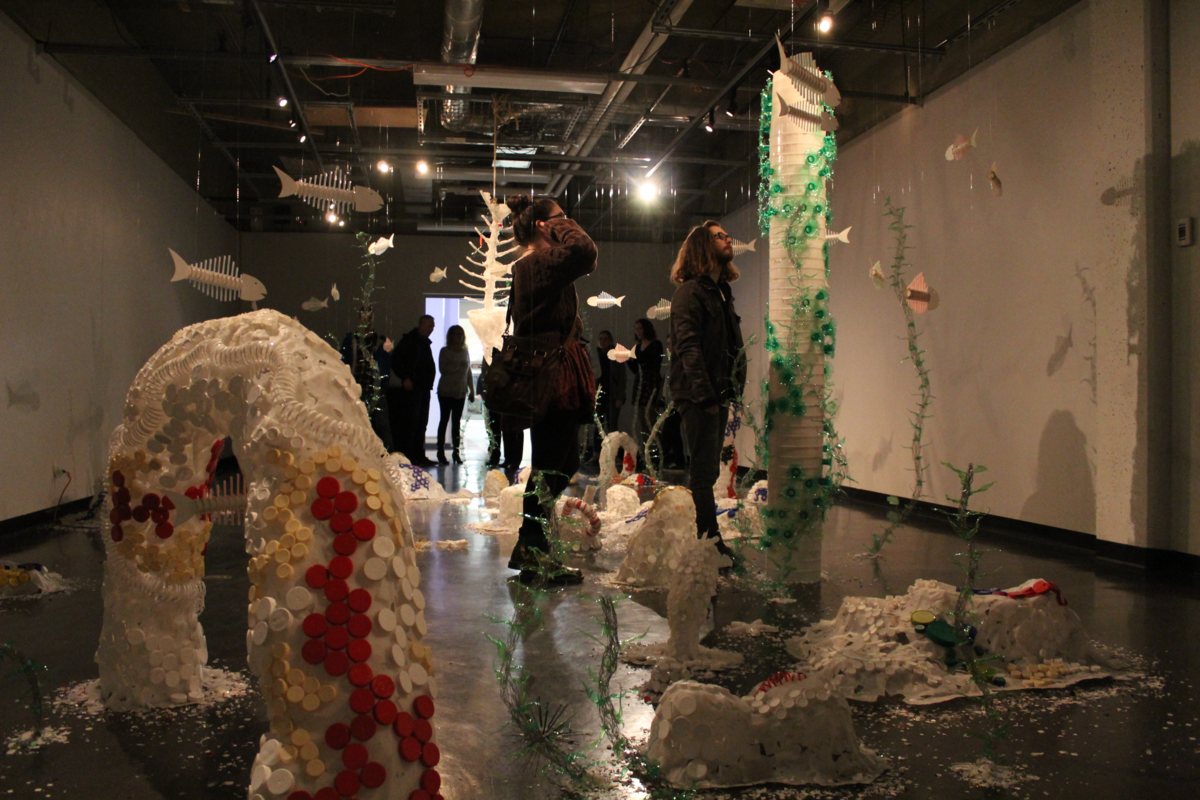 If you find yourself with an extra 20 minutes on the Abbotsford campus this week, and transporting yourself to an undersea wonderland sounds enticing, take a moment to visit Deep Sea Changes by UFV visual arts student Madeline Hildebrandt.
Deep Sea Changes is an installation piece that portrays a deep sea environment made from a variety of plastic wastes. The main ideas revolve around plastics in the ocean, and the environmental concerns associated with that issue.
Many may be familiar with Booster Juice, the popular chain of Canadian smoothie bars. Hildebrandt, being a former employee of theirs, claims recycling isn't the company's forte. In an interview, the UFV artist mentioned, "I would take a lot of stuff home because it wouldn't get recycled, [such as] buckets. We would go through at least 15 a week, and they would always get thrown in the dumpster." At least, before Hildebrandt started taking them home. In addition to not one, but two Booster Juice locations in Abbotsford, Hildebrandt also sourced her materials from her own personal usage, and from friends and family. In the end, she gathered so much waste that a surplus remains, waiting to be used in later projects.
Hildebrand also spoke about wanting to do more for the environment, and this project is the first step on her journey to becoming more of an activist. People like to talk about getting plastic out of the ocean, but Hildebrandt believes that's not where the problem lies. "You can stop it at the faucet, at the flow into the ocean." It is vital that we try to remove as much plastic from our oceans as possible, but if we keep dumping more in, that's counterproductive.
The materials present within Hildebrandt's piece include chicken wire, plastic buckets, bottles, lids, straws, and a number of other high density polyethylene (HDPE) plastics. All these materials make up structures depicting coral, seaweed, and a variety of marine life. There is a large fish in the centre of the installation, to which one's eye is drawn instantly. The fish is covered in bits of plastic, and wrapped with lures and fishing line. This is done with a specific purpose, as Hildebrandt wanted to put a human element into the piece. She states: "You can't look at [this], and not think that a human did that. So, we are now liable for what's happening."
According to Hildebrandt, Deep Sea Changes has been a year and a half in the making. This includes the development of her artistic practice, collecting the items, and developing the concept. It started with a smaller sized project created in September 2016, which consisted of a handful of seaweed, coral, and fish structures. Hildebrandt believes her concept was fully developed at that time. It was during her time at Booster Juice that she realized how much waste they produced, and she decided to begin collecting the waste to build a larger scale project.
Hildebrandt wishes that by experiencing this exhibit, her audience will take away an appreciation for the beauty of the ocean, but at the same time realize the terrible fate that the human race is imposing on it. She urges each and every one of us to take a look at our life, and how we are contributing to the damage.
Deep Sea Changes will be on view at the S'eliyemetaxwtexw Art Gallery until January 25, 2018.