Cross institutional program partnership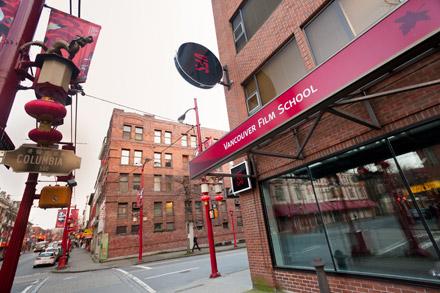 A new Vancouver Film School (VFS) and the University of the Fraser Valley (UFV) partnership will give students from both institutions more education options — degree programs for VFS grads, and scholarship opportunities for UFV theatre students.  
Students graduated from the VFS one-year diploma program can now transfer with two years of UFV credits into any of four degree programs offered by UFV. Students could earn a VFS diploma and UFV degree in as little as three years.
The degree programs UFV offers to VFS graduates are the Bachelor of Media Arts, Bachelor of Arts, Bachelor of Visual Arts, and Bachelor of General Studies. Ten one-year diplomas from VFS satisfy the transfer requirements.
"Students graduate from VFS for their diploma, then when they get — let's say a Bachelor of Fine Arts from UFV — they will graduate as a UFV student with a Bachelor of Fine Arts," said Eric Davis, provost and vice-president academic, UFV.
An acting scholarship available to UFV theatre students will grant tuition for the one-year Acting for Film and Television program at VFS. Four scholarships are offered, each covering a different amount of tuition.
One UFV alumni has already received the scholarship, and is working on the diploma.
VFS approached UFV arts in spring 2016 regarding options for their students to transfer into UFV after completing a VFS diploma. It took close to a year and a half to complete the work needed to establish the agreements.
Alisa Webb, associate dean of students, college of arts, analyzed the VFS courses, and matched them against UFV course learning outcomes, to pair students with the appropriate degree program pathways.
"Based on current levels of interest and VFS predictions, we hope to see at least 25 [students] a year by fall 2019," Webb said. "VFS expects the actual number to be much higher, but time will tell."
Davis said the partnership benefits UFV by bringing more students to the institution. It also opens opportunities for UFV students to access the specialized facilities at VFS.
"The benefits for their students … who want to get the diploma in whatever area at the Vancouver Film School but also want to come away with a degree …  they can now do their one-year diploma there, transferred to us, and in three years total come away with a degree," Davis said.
Ted Gervan, VP of education, Vancouver Film School, said by working together, UFV and VFS will accelerate positive social, cultural, and economic developments for Vancouver and the Fraser Valley.
"In particular, the pathways will help address the skilled labour shortage in our province's booming creative economy," Gervan said.
"Further possibilities for collaboration are being considered, including jointly offered workshops, reciprocal transfer agreements which would allow current UFV students to complete programs at VFS and transfer the credits back to UFV, and shared industry nights," Webb said.
Gervan said VFS hopes the partnership will be expanded, and more program pathways created in the future.