Q&A with the minds behind "Transparency and Deterioration"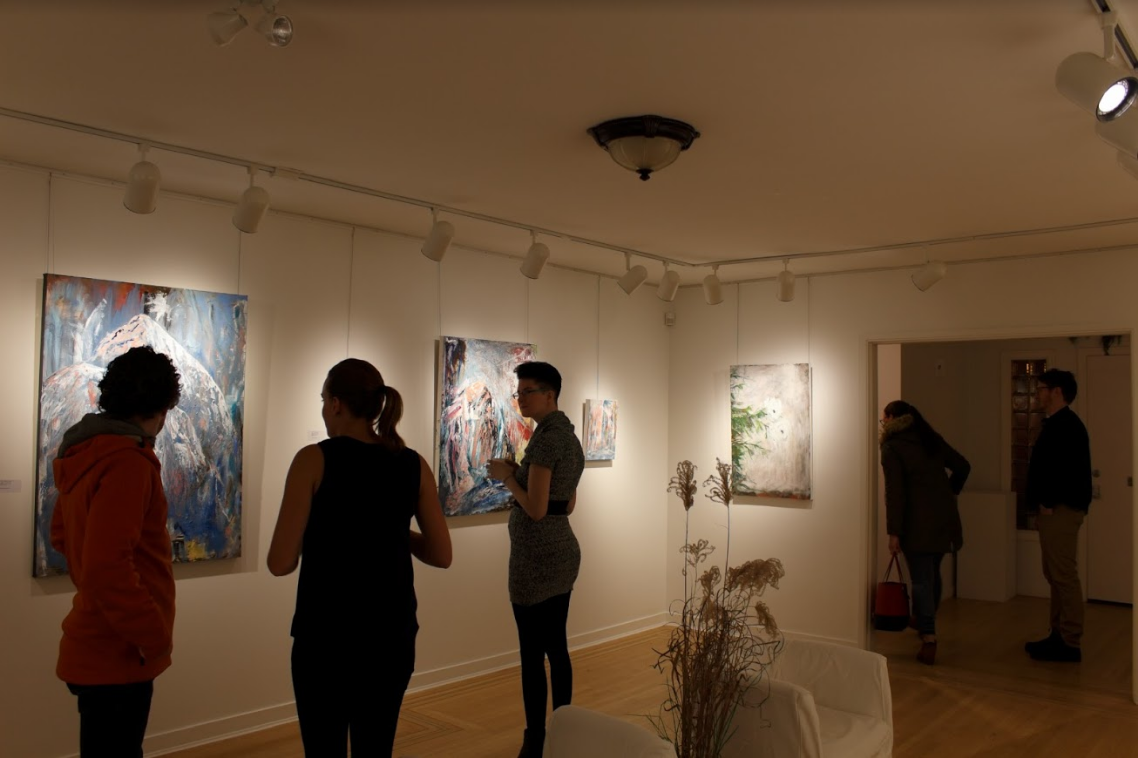 The Kariton Art Gallery in Abbotsford recently opened its latest exhibition, "Transparency and Deterioration" on Feb. 10. The show features oil paintings and Polaroid emulsions from local artists Andrew Booth and Fiona Howarth. We had a chance to sit down with the artists to ask them about their individual practices, and what they think of the show as a whole.
First off, what are the main themes of the show?
AB: I think between Fiona's photographs and my paintings there's this element of texture, there's an element of destruction, and there's an element of abstract landscapes. All of which we wanted each viewer to interpret a little differently from another viewer. We leave a lot of the elements scratched away, or abstracted a little bit, leaving half of the piece to be developed in the viewer's own mind. We might purposely strip something away or block something out, or in Fiona's case, an interesting medium to apply the photograph to, just to add an element of uncertainty or abstraction.
How do you think each artist's work relates with one other? What sort of joint message do they share?
AB: I think there are a lot of similarities. Visually speaking, I think we have a similar focus on wanting to blur things up intentionally. We want to modify these images to encourage the viewer to then finish the pieces in their own mind.
FH: I want to leave it open for interpretation, and for each person to bring their own emotions to it, and to create beautiful imagery that also makes people think, as opposed to being put out there to be easily understood.
AB: I do appreciate any type of art. But, what I really enjoy is when not everyone is going to see it the same way. Someone might see something different compared to someone else. If we can make people tap into the right side of their brain a bit more, we're doing our job.
Tell me a little bit about the practices and concepts behind your work.
FH: In my practice I do environmental photography, and want to bring awareness to environmental issues. This work in particular is about the pulling of status from the national monuments in the U.S. for mining, oil, and timber rights. The areas I was specifically looking at were Utah and Arizona. In some of those areas, [the government] has pulled the national monument designation back so that existing uranium mines that sat right on the edge of the parks can now mine further within the parks. I use copper and silver leaf in my Polaroid emulsions, as copper and silver are the by-products of uranium mining.
AB: For me, a lot of the work that I do, whether it be landscape or portraiture, is all pretty textured and abstract. So with no real motive behind that, I'm just creating landscapes or portraiture. Scratching elements away or covering certain elements adds a lot, and keeps those pieces open for interpretation.
What drew you to use these mediums, initially? How long have you been working with them?
AB: I've been working with oil on canvas for about six or seven years now. My first love was photography, but now I work with paint because I can blur those lines even more by creating them with my hands as opposed to taking an image of something that exists. I wanted to create things that didn't yet exist and put them on a canvas.
FH: I've been working in photography for about 15 years now. I do exclusively film and darkroom photography and I've never veered away from it. I do a lot of darkroom work like silver gelatin and platinum plating, and stuff like that, but I wanted to do something that was more striking, and more abstract. With photography, especially traditional photography, it's very hard to do abstraction when you're not digitally manipulating things. I wanted to find a way to do just that, so I've been working with emulsion for a while now.
There's so much ingenuity and enthusiasm present within your work. What fuels your creative spirit?
AB: I've thought about that a lot. Seeing other art, regardless of what it is, somehow taps into my creative mind. I fully recognize that the urge or desire to paint comes and goes. So not every single day for eight hours am I motivated to paint. But if I just continue to immerse myself in any type of art, whether it's photography or painting, I continue to feel the conceptualization of art in my mind. Then at some point in time, the spirits move me, and say "Okay, now I need to paint," and I get those ideas onto canvas.
FH: I'm like that too. It really comes and goes. There are big gaps where I don't do a whole lot, and then it kind of comes back to me. I really want to do something impactful to do with the things I believe in. So I have to think about how to go about doing that. This is the way I feel, like I can make some sort of difference.
What do you wish audiences will take away from your work?
FH: I hope that they have an appreciation for the art and the work that has gone into it. Also, I hope that it will provide some sort of thought-provoking material, whether it be from mine or Andrew's work. It doesn't have to be an environmental issue, but art that makes you think, and engages you, has the power to change.
AB: There's a great quote I heard one time: "Art is meant to engage and enrage." You need to engage emotionally with art to interpret a piece. Then you become more emotionally involved, which becomes a far more rewarding process, as opposed to being given the answers right off the bat.
"Transparency and Deterioration" will be on display at the Kariton Art Gallery until March 13.
This interview was edited for length and clarity.