Stepping out of the Shadows: a conversation with The Sylvia Platters and Stephen Carl O'Shea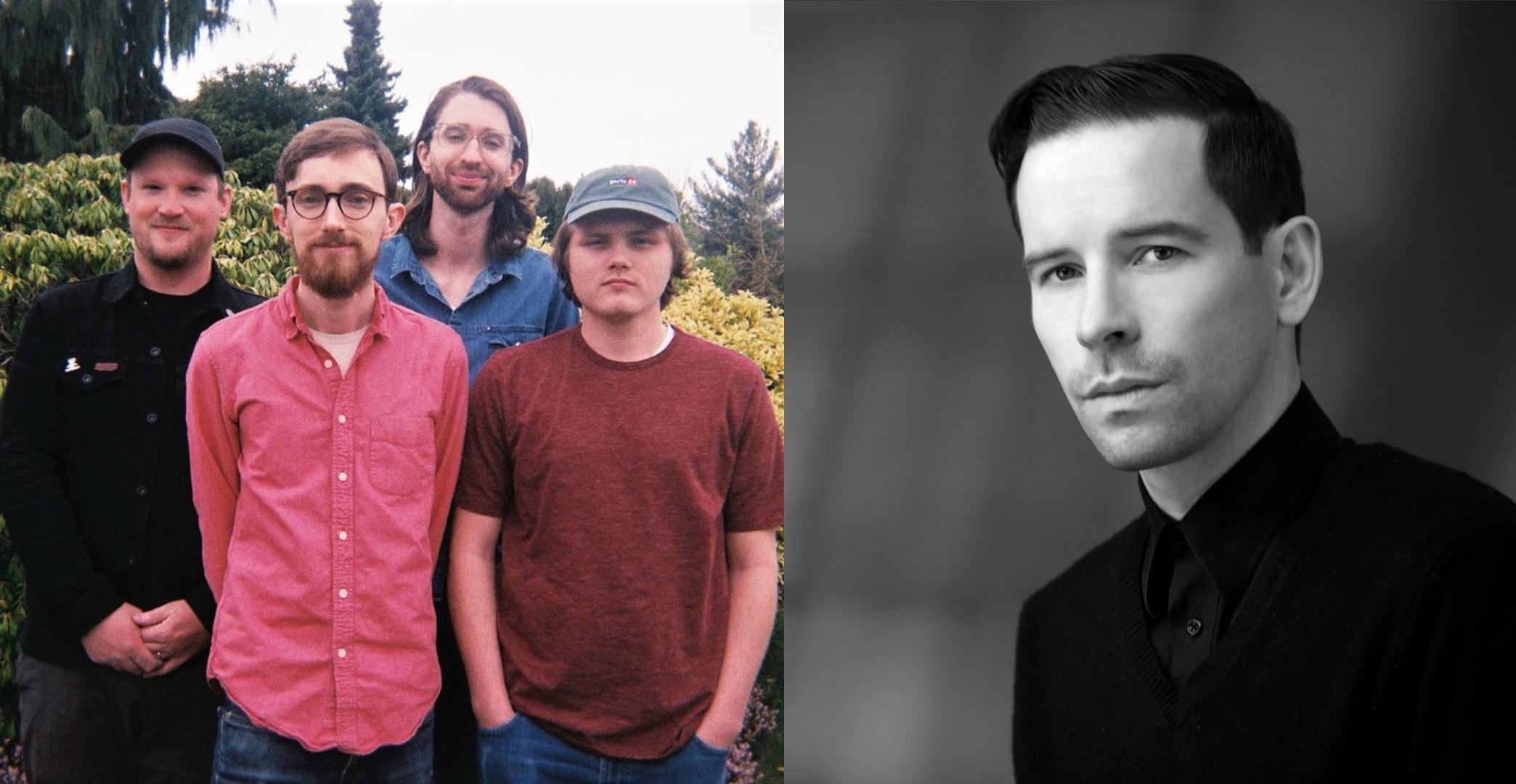 If you follow the Abbotsford music scene whatsoever, you've probably heard of You Say Party and the Sylvia Platters. Since the beginning of 2018, You Say Party's Stephen Carl O'Shea has been working with the Sylvia Platters to release a new album, Shadow Steps. I had the chance to sit down with Stephen Carl O'Shea, and Nick and Tim Ubels from the Sylvia Platters, and discuss the unique process with them for over an hour.
How did this collaborative project come about?
O'Shea: Abbotsford needs a lot of inspiration, and Abbotsford takes a lot of inspiration from CIVL FM. I think a lot of credit goes to [Station Manager] Aaron Levy, who was the very inspiration to put us together to do this release.
Nick: That's definitely the catalyst for the inspiration … When Aaron reached out to us to discuss this with Stephen, we were excited to push forward.
O'Shea: My half of the songs on the album were written back in 2012, 2013. When Aaron came along with this opportunity I really stepped on it and got things going a lot quicker. It was a great opportunity, obviously to collaborate with the Platters, but also to have this release, that I was like, 'I'm going to finish these songs, and I'm going to perform and support them.' It's been an exciting, if not exhausting, 2018.
What are the pros and cons of this collaboration?
Tim: Being able to throw some demos back and forth between Stephen and our band. There are two sides of a vinyl release, so they can be on the same physical release, which I think makes sense that way.
O'Shea: I think we, as a group, managed to come together around a common vision. The only con — it's not a con, but we could've written a song together but there were time constraints that prevented that from happening. Overall we were able to come up with a cohesive look and feel for the album.
Nick: I think what Stephen is talking about is more of a missed opportunity. It's nice to put together something that represents both of our music, that isn't in a competitive spirit.

What was the process itself like?
O'Shea: It was pretty exciting, just to get to see the coffee-fueled exhaustion they had to go through, day after day. Before we were even working on the process, Nick and I set aside a common vision for it, and how we could collaborate beyond even the release itself: the tour dates, the promotion.
Nick: By the end of six days, the record was more or less complete, whereas on Stephen's side, he was chipping away at his record over a couple months. I think both of those are very different and interesting ways to record.
What would you say has been the biggest challenge in making Shadow Steps?
O'Shea: I found myself needing sounds and needing musical ability that I didn't possess — there were intentional decisions to shape the aesthetic to be more minimalistic, more with the consistency of what my own abilities were. It was a fun experiment, making sure the vision didn't exceed the confines of reality.
Nick: We did a lot of takes of every song. So many songs, we spent hours and hours until we got one that everyone was really happy with. We were in the studio for 12–13 hours a day, for five or six days in a row.
Tim: I feel like for our other two releases, we've had more time. Whereas this one, we had time constraints, so I think there were a little bit of nerves going into the recording process, but the result was something we're very happy with.
What do you think is the most important thing to accomplish with your music, and do you believe that you succeed with Shadow Steps?
O'Shea: This is really a beginning point for me. I'm a generally pretty outgoing, pretty happy guy, and people who know me will be surprised, I think, to hear the feelings in the songs and the lyrics themselves are pretty genuine; it is genuine. They're the conflicted, complicated feelings that I have that I don't often express.
Nick: Music is a way to process and turn what's on the inside, and channel those feelings into art. If you put something out, someone will listen to and connect with what we're expressing.
Tim: I feel like this album represents the band in its correct form. Sometimes you have old material and you present it to someone, then they see us live and it's a completely different beast, so this one feels very current and very telling of our new lineup.
Stephen, do you feel like you had something to teach, or some wisdom to share with them?
O'Shea: I think the relationship between us is one of mutual respect. It's not based in who has more knowledge or experience, because I think what these guys have done is really valid and valuable, and I can tell, working with them, that they know things I don't know. Their band is really quite inspiring for me. It's been a pleasure getting to work with them.
Do you feel that they taught you something?
O'Shea: Definitely. Absolutely. Everybody just streams online and that's vastly different than the music industry I was a part of only 10 years ago. The Sylvia Platters do know a lot and they've also confirmed a lot of things that I've known … and it's great to see it be reaffirmed, like, 'Oh good, some things haven't changed.' I guess I've learned that there are still good people out there.
Nick: Likewise, it's been amazing to have the opportunity to work with Stephen. Working with him on this record, his democratic principles, and [he makes] the music scene more accessible to everybody. That's been refreshing, his commitment to his values, in terms of making music. I think we have a lot to learn from that as well.
Tim: It's also nice to work with Stephen because the Abbotsford music scene probably wouldn't exist without him and You Say Party; they kind of created it in the mid- to late- 2000s. When we were first starting to play in Abbotsford … You Say Party was the pillar of the Abbotsford music community.