What Valley Fest teaches us about community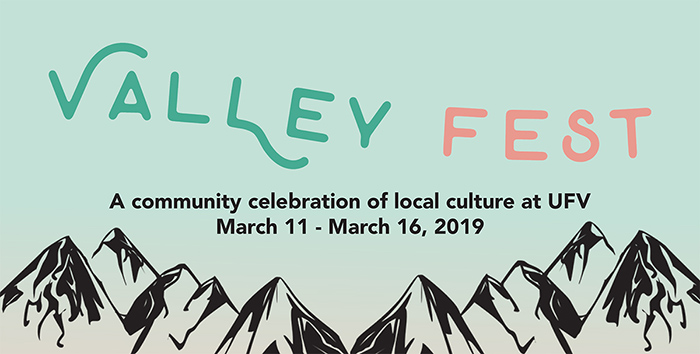 This past Monday, the first-ever Valley Fest kicked off at UFV with open classrooms, guest presentations, Mennonite quilting, a showcase of South Asian settlers, and a four-hour talent show. The rest of the week follows suit with film screenings, readings, art installations, workshops, and a plant walking tour of UFV's Abbotsford campus.
For 12 five-hour days, UFV merges with the Fraser Valley community to showcase the Fraser Valley's culture and community in relation to UFV and the rich variation of people attending. The Fraser Valley is known for its diversity, and Valley Fest was created to highlight this. In doing so, Valley Fest pushes us to reconsider the idea that the Fraser Valley lacks any substantial culture or community.
Those who know me personally know I'll take any chance I'm given to yell about community at UFV, and how it does exist, despite grumbles that it does not. Not to beat a dead horse, but there is community here; in fact, at this point, community in the Fraser Valley is no longer a quiet whisper, but a deafening roar. Check out UFV's or the Tourism Abbotsford's events calendars and you'll see what I mean.
The importance of community is often overlooked, but it has substantial benefits we shouldn't ignore. Being part of a community allows us to step outside our own heads to expand our knowledge of other people and cultures, provides us with valuable social connections (staving off isolation, which can lead to myriad negative health benefits), supplies us with inspiration for creative projects, and contributes invaluable resources for bettering ourselves and the community we live in.
Take for example the first benefit of community: knowledge. Valley Fest hinges on this with its open classrooms, its workshops, and its art exhibits. The very core of Valley Fest is, aside from showcasing beautiful works of creativity, to share knowledge with one another. With over 30 events taking place, it does this exceptionally.
What we learn from Valley Fest is that the Fraser Valley (and by extension UFV) absolutely does have community. There are numerous cultures to learn about, various skills to learn from knowledgeable people, and stunning works of art to enjoy. And at the centre of all this are the people who make up the marvelously diverse community we get to call home.
So, next time you think Abbotsford has no culture and no community, stop yourself. Take a step outside your own head and outside your own home. As with anything, if you look hard enough, you'll find what you're searching for. Community and culture is all around us in the Fraser Valley; but we need to choose to participate in it.