UFV art gallery hosts design program info session gallery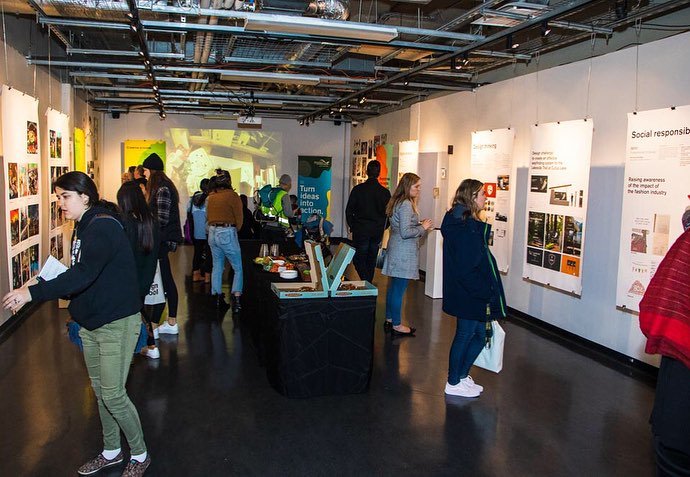 The design department at UFV hosted its annual information session in the S'eliyemetaxwtexw Art Gallery on the evening of Tuesday, Nov. 6. The typography included letters construed from geometric shapes, sunflowers, and ruler lines. The urban design project focused on creating trails at Cultus Lake; in particular the assignment involved designing an effective wayfinding system for the Lakeside Trail. Also, students from the applied photography and video course GD281: Visual Themes and Narratives displayed on Instagram a series of videos about designing album covers and the process of editing photos.
A few exhibits showcased the knowledge students can obtain in areas such as fashion design, graphic and digital design, and design history. Descriptions and schematics were available on the walls for the most popular design courses, hung beside student projects. Posters revealed how Photoshop can be used to create projects that tackle social and environmental issues. Dynamic media, which refers to motion graphics and animation, was also advertised as an attractive career choice. At the end of the gallery on the left side wall there were portraits of famous people and characters made from numbers and letters, which could only be observed if one came very close to the artwork. People such as Albert Einstein, and the Joker and Harley Quinn from Suicide Squad were featured among the many portraits.
Student volunteers from the design program who had organized the exhibit were present at the event. The volunteers were at the entrance of the art gallery, providing additional information about the program and handing out leaflets pertaining to the session.
This event was created to allow design students the opportunity to display their work to the public. For students that are not in the design program, this exhibit gives them the chance to find out what projects they can take part in. This yearly event has been quite successful in generating more interest in the UFV design program. However, a recent change has involved bringing the design info session to the Abbotsford campus in order to make it more accessible to the majority of students who attend UFV.
The graphic and digital design program provides opportunities for experiential learning and making connections outside the classroom. Pamphlets and flyers handed out at the event provided essential information for future design students regarding career outlook, program length, and entrance requirements. There is a diploma, minor, and extended minor option available for students interested in graphic design at UFV. Since graphic design is a creative field of study, students are also expected to submit a portfolio in the application process which requires 10 to 15 pieces of creative work. The guidelines for the portfolio submission state that the portfolio should showcase the use of at least three different mediums. Creative work includes projects ranging from traditional art to digital media such as paint, pastel, photography, digital applications, publications and more.
Image: UFV GDD Twitter