Dr. Joanne MacLean welcomed as new president of UFV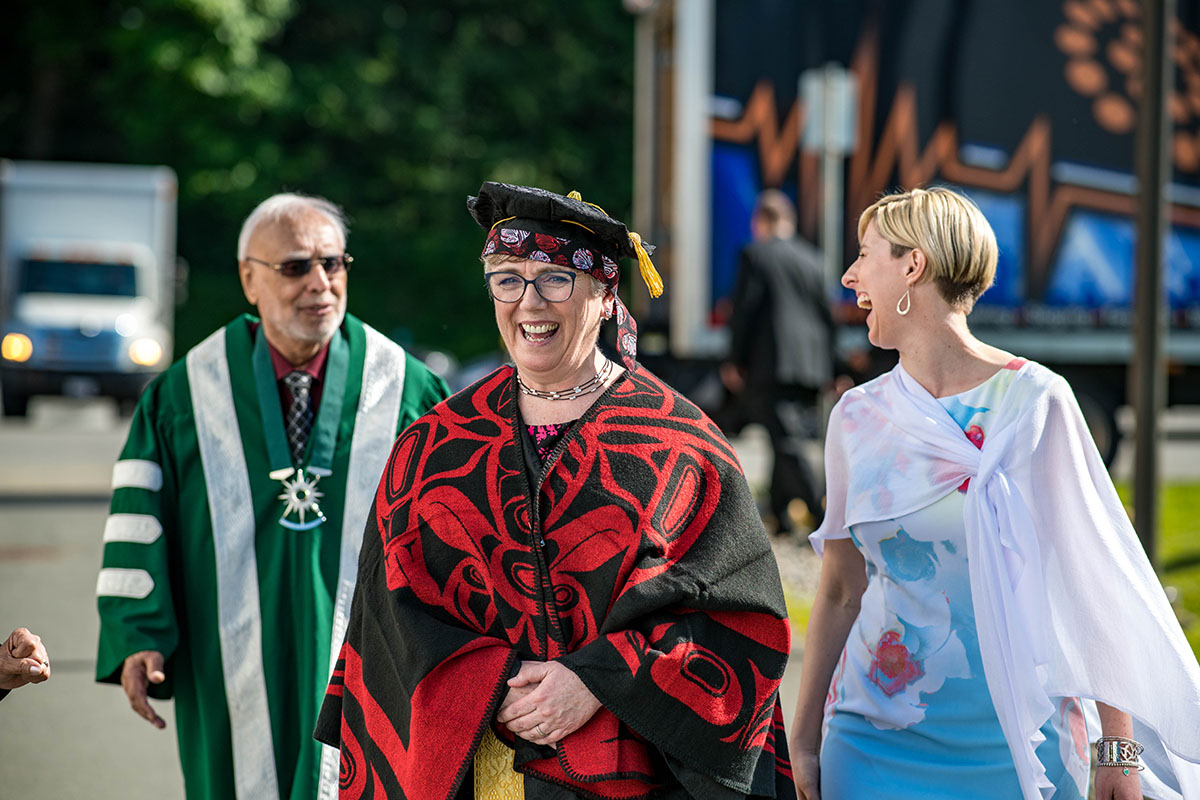 Dr. Joanne MacLean was installed as the University of the Fraser Valley's eighth president and vice chancellor May 11. Government officials, other university's representatives, Stó:l? community representatives, faculty, staff, students, administrators, friends, and members of the Fraser Valley community welcomed MacLean to her new role during the inauguration ceremony and following reception.
MacLean brings over 30 years of experience as an administrator, professor, dean, and accomplished coach to her new appointment as president. Before coming to UFV as the dean of the school of health sciences in 2012, MacLean held positions at both the University of Windsor and Brock University.
While at the University of Windsor, she was selected as Ontario Coach of the Year three times. Additionally, she participated as coach and as an administrator at three World University Games, and was Canada's Chef de Mission at the same event held in South Korea in 2003.
MacLean earned her bachelor's degree in physical education, and her master's in physical education and sports science from the University of New Brunswick. She also holds a PhD from the Ohio State University, where she studied philosophy, sport and recreation management, and administration in higher educations.
"It's clear to me that her academic credentials and her practical experience have prepared her  exceptionally well for the important responsibilities she now assumes," Lieutenant-Governor Janet Austin said before she administered the oath of office to MacLean. "To Mr. Sidhu, to the board of directors, and the selection committee, I say very well done indeed."
During her inaugural address, MacLean emphasized her commitment to UFV and the Fraser Valley community.
"Our direction at the university will be developed in collaboration between colleagues and the community," MacLean said. "I believe that our vision will be achieved through teamwork, relationships built, and the engagement of our entire UFV community."
"You see, I see that our people are our greatest strength, and that supported, challenged, respected, and connected faculty, staff, and students thrive in a learning environment, and will achieve their potential and contribute to our overall success."
She also emphasized her strong support in providing diverse academic opportunities for students, including experiential learning and leadership opportunities, supporting faculty in their research goals, and "their quest for innovative teaching approaches that drive learning everywhere."
"I am committed to supporting scholarships at UFV, and am convinced of the importance of integrating teaching and research as a model for true faculty member impact," MacLean said.
In a final comment, MacLean addressed the importance of Indigenization, and her commitment to moving UFV forward in embracing "Indigenous cultural knowledge and ways of knowing."
"I believe the future of the university must be informed of our past and our ability to welcome and listen to the people who cared for this land the longest," she said. "Indigenization must inform our approach to education, and I'm committed to building this relationship, and ensuring that the university is welcoming to Indigenous learners and Indigenous employees."
MacLean was welcomed into her new position with speeches by the lieutenant-governor of British Columbia, Janet Austin, chair of UFV Board of Governors, John Pankratz, Abbotsford Mayor Henry Braun, Stó:l? speaker Russell Williams, and many others during the ceremony. Letters from Prime Minister Justin Trudeau, and the minister of advanced education, skills, and training, Melanie Mark, congratulated MacLean on her new role.
"Dr. MacLean, I wish you the very best as you work to change lives, and build community at UFV," said Braun. "With your depth of experience in higher education, you will serve UFV, and in turn our community, extremely well."
"Her experience and credentials as a professor, as a researcher, and as an administrator are impeccable, and she demonstrates her remarkable ability that will prove to move UFV forward, and her ability to build functional and highly efficient teams," Pankratz said.
"Her strong lifelong commitment to education and to students will serve UFV and our community well as we move forward."
MacLean receives the position of president and vice chancellor from Jackie Hogan, who held the interim position over the last year. Dr. Alastair Hodges has taken over MacLean's previous role as the dean of health sciences.