Glow-paint, yoga, and dance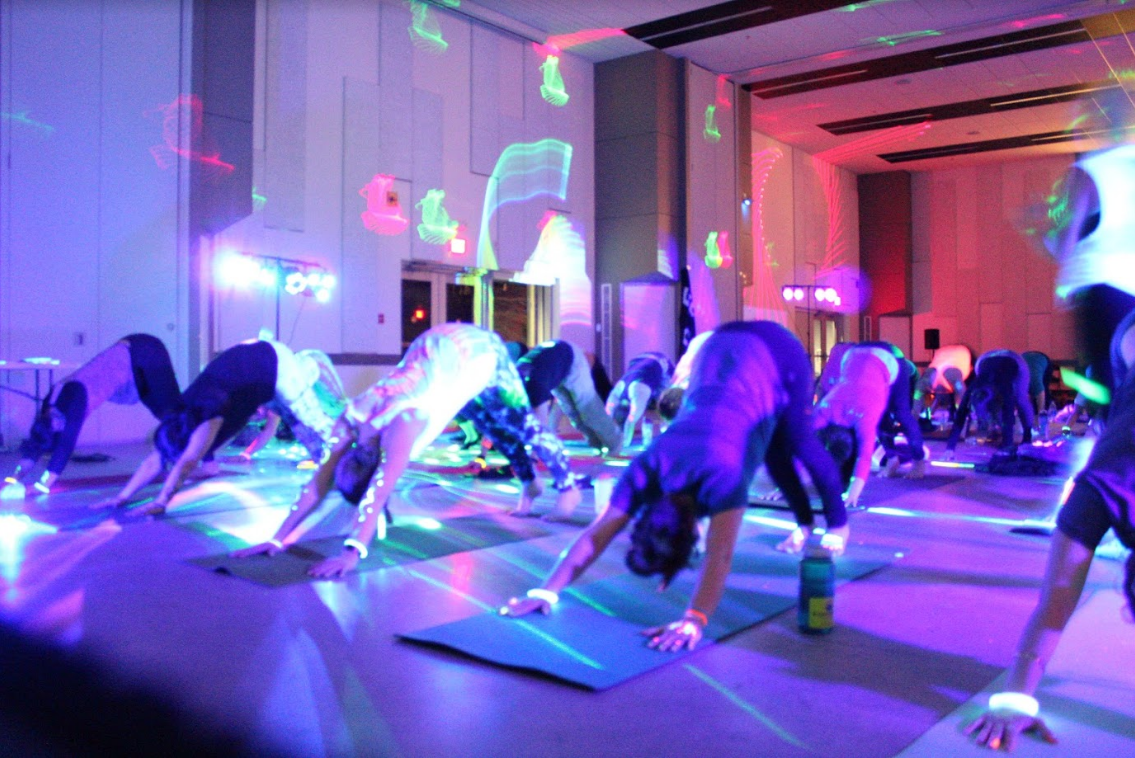 Several dozen students decked out in white clothing and glow paint attended UFV's latest fitness event, a yoga rave, last Thursday. The evening event, hosted by UFV Campus Recreation, built on last year's "glowga" session, adding electronic music by local Mission DJ Elixis to the blacklight-lit gymnasium and glow sticks.
I entered UFV's yoga rave with a spoonful of skepticism. Admittedly, I had never participated in a group yoga session, but I had participated in raves and knew the energy generally associated with them.
I also knew some of the background. Yoga rave wasn't just a term picked up by glow-painting yoga enthusiasts; they're an actual thing. They claim their origins from Argentina in the early 2000s from a group of volunteers with the Art of Living, a nonprofit organization that runs programs on happiness and well-being. The volunteers were looking to create a "utopia" party for local youth, with all the highs of a rave but without the drugs and alcohol. Early videos show youth swaying to the devotional songs (bhajans) set to electronic music, with a variety of yoga poses scattered throughout.
The small raves, sometimes held in people's homes, expanded to events that have been held around the globe. They are drug- and alcohol-free raves that start with a yoga session and mediation, and end in meditation, often with basic yoga poses throughout the music.
The events were picked up by other local yoga groups and businesses. Yoga raves peaked in popularity with Western consumers about five years ago, with secret yoga raves trending in Brooklyn and New York. As general popularity dimmed, many local universities have taken on the activity, including UBC, UVic, and now UFV, as a social fitness activity.
UFV's yoga rave, as with the UVic and UBC events, was far removed from the yoga rave's original form. DJ Elixir's selection of modern electronic beats were unlikely to be mistaken for devotional songs but did lend energy to the event, and while there was a dance workout there was no actual dancing.
The most musically-charged part of the event was the warm-up. After participants had gathered their glow sticks and painted their faces, Heidi Hill, UFV's Dance Fit instructor, lead the group through an energetic dance routine to a mix of equally energetic house songs.
After 20 minutes of jumping about, with varying degrees of success that was highly dependent on coordination and talent, Rebecca Marshall, owner of Haven Yoga and Wellness in Abbotsford, took over. The music turned down, and we were directed through a series of recognizable yoga poses.
The routine was straightforward, and as a beginner I had no trouble following Marshall's instruction. Marshall emphasized that these types of events were meant to be accessible to a broad audience, to bring people into yoga and let them see what it's all about in a fun, laid-back setting.
"I think that it shows that you don't have to go to a studio, you don't have to roll out your mat; you can show up and just have fun," Marshall said. "Yoga isn't all about being in a quiet room. In fact, yoga is really about living what your yoga is, to becoming present to what may be, and this is all about fun and moving around."
Despite the event being more fitness class than dance party, Marshall's words echo the spirit of the original yoga rave events: to be a healthy, substance-free outlet for party-goers and to bring a spiritual element into partying.
"Yoga asks you to do one thing and that's simply to become present to that moment, and that's all. There's a long-time belief within yoga that each and every breath you take is a new opportunity to change what is. So, living in the present, moving on from the past," Marshall said.  
Image: The Cascade (last year's Glowga event pictured)