Virtual reality is the most recent innovation to take the video game world by storm. The immersive technology allows participants to experience gaming in a whole new way, and is attracting the interest of a wide variety of people and age groups. Both enthusiastic fans of virtual reality gaming, and those who may simply be interested in trying it out, will be pleased to know that an arcade dedicated to the normalization of virtual reality as a form of gaming has recently opened in Abbotsford.
The new Calgary-based virtual reality gaming chain VRKADE held the grand opening for its new Abbotsford location on December 9. They invited people of all backgrounds in gaming to participate, as you don't need any particular level of skill in order to master the controls of "VR." Free demos were offered to the public for the full day of the opening, which gave attendees that extra push to come out and try something new.
Micah Wever is a consultant from the head office of VRKADE in Calgary.
"What VRKADE does, is we provide virtual reality experiences to the general public at a price point that they can afford, while also offering the ability to play virtual reality games with your friends in a common space," he said.
Wever mentioned that virtual reality systems are sometimes difficult to set up in your own home.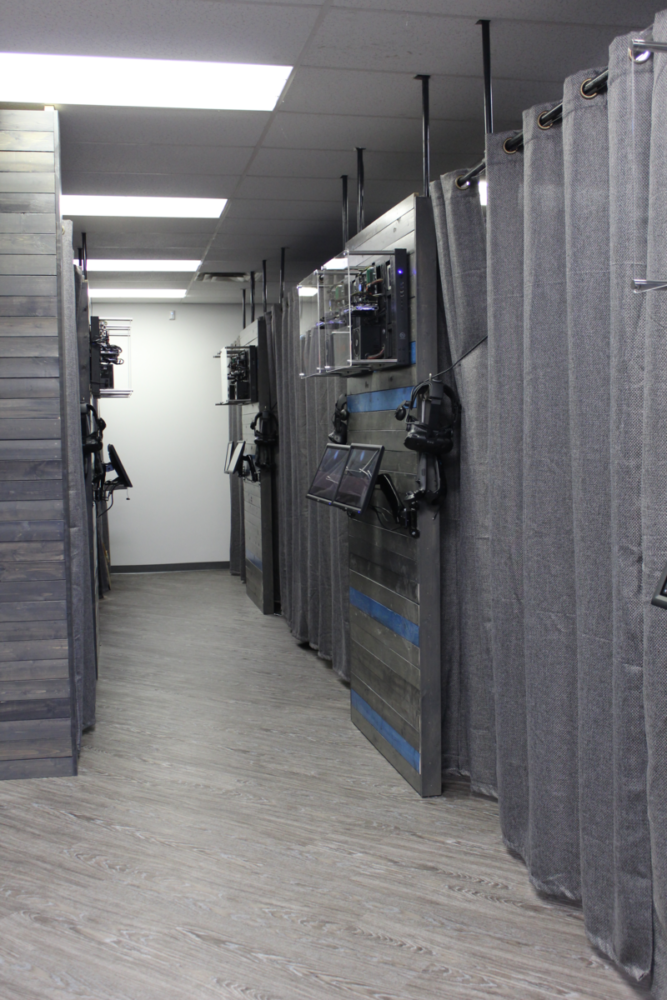 "The issue is that it's really expensive for people to get into it," Wever said. "For the systems we use, you're looking at a couple thousand dollars just to get the equipment. But then, in your home it's very rare that people have the space to set one up."
The virtual reality system that VRKADE uses are called the HTC Vives. This system consists of a headset and motion controllers. Two sensors are also anchored on the ceiling, and aimed down at a ten by ten foot play space to track user movements, and then project them into the game.
When asked about what inspired him to launch an Abbotsford location of VRKADE, location owner Jeremy van Woerden stated he had begun to research it back in March of last year.
"When I took a trip out to Lethbridge, my father-in-law booked up five bays for a whole group of us to go in and try it out at the [VRKADE] location there," he said. "I had a blast, I jumped in and just loved it."
That trip was what inspired van Woerden to work on opening an Abbotsford location. Though it took a while initially for the project to get off the ground, Wever mentioned that this is the company's fastest store build so far.
"Three and a half weeks from keys to completion, which is crazy," Wever said. "It [took] about a sixth of the time that we expected it to take."
Wever also stated that VRKADE encourages anybody and everybody to try out virtual reality gaming. The mission of the company is to normalize virtual reality as a whole for most demographics, and so far it's working.
"When we first started, we thought it would be the hard-core gamers coming down to play," Wever said. "But very quickly it was actually the non-gamers who came, and actually enjoyed it far more than the gamers did."
This new local business provides Abbotsford with another way to get out of the house and enjoy time with peers, or simply to try something fun and new. More information about VRKADE can be found on their website, or the VRKADE Abbotsford Facebook page.

Photos: Cassie de Jong