Telling tales of local women in art
The Reach Gallery has recently unearthed new contemporary narratives by expertly combining elements of art and storytelling into their new exhibition Tales Untold. This exhibition features a number of accomplished women from a range of practices. The list includes artists Rebecca Chaperon, Davida Kidd, and Chris Reid, and accomplished B.C. writers Susan Musgrave, Zsuzsi Gartner, Erika Thorkelson, and Chelsea Rooney.
An opening reception was held for the new show at the Reach last Thursday, May 24. During her opening speech, the Reach's executive director Laura Schneider stated that the artists featured in Tales Untold were chosen due to their aesthetic and thematic commonalities. All the work follows a feminist narrative that despite its history, is quite relevant today. Several speakers at the event used the #metoo movement as an example of how women are now being encouraged to speak out and find their own voice, and how that voice is present in these artworks. The bodies of work also follow themes of storytelling, fairy tales, dreams, and even nightmares, which inspired the collaborating writers involved in the exhibition to provide rich and evocative text in the form of poetry and prose. Their texts are displayed among the artwork.
One of the artists featured in Tales Untold is UFV printmaking instructor Davida Kidd. Kidd's inspiration stems from science fiction and anything that explores how we are evolving as a species. Her work explores the strange and the unknown, including themes of new technology and culture. She describes her work as psychological landscapes reminiscent of film stills that feature characters that fit certain stereotypes and psychological profiles.
In an interview Kidd stated, "When you have artists that all deal with narrative work, there are threads that just start to crisscross." Some of the works that Kidd provided for the exhibition are a few years old, but there are also brand-new works in the show. The narrative aspects of her work have always been present, so there is a visible connection between the old and the new.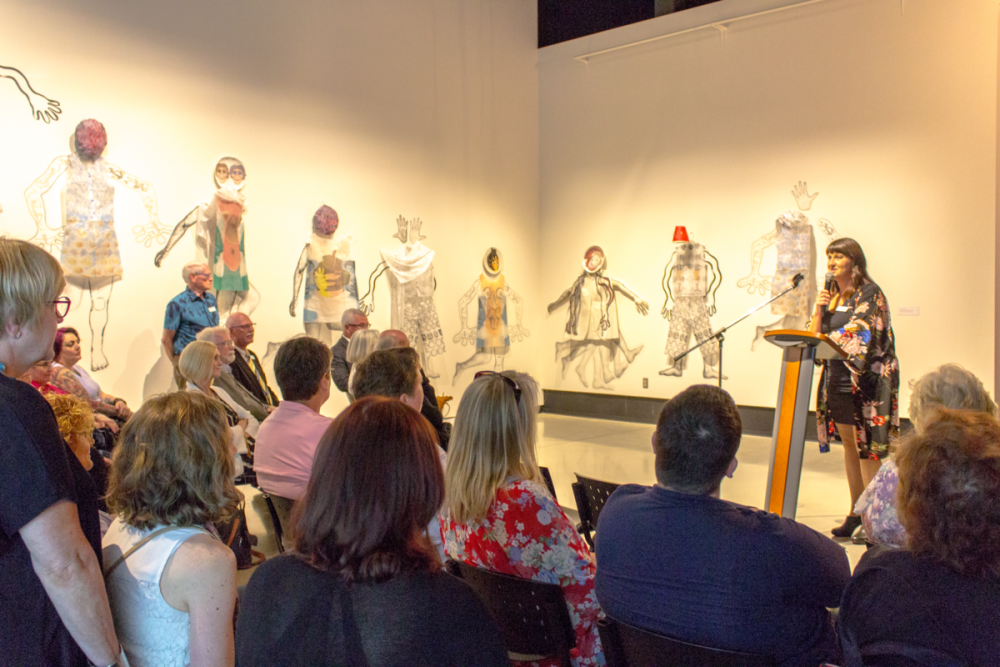 Laura Schneider made sure to point out the importance of collaboration in putting together an exhibition such as this. The three artists exhibiting in the main space of the gallery worked with four published B.C. authors, who inspected the artwork, and wrote short pieces of creative fiction to narrate the art. This was done instead of the traditional factual write-ups that usually accompany fine art in museums and galleries. The idea to represent the work exclusively in creative writing was first brought forward by Rebecca Chaperon, who wished to inspire the exhibition's audience to analyze the work in a more creative way.
In an interview, when asked about her overall experience writing about art in this context, local B.C. author Zsuzsi Gartner stated, "At first it was a challenge, but I liked Rebecca's work to start with." Gartner mentioned that she had previously come across Rebecca Chaperon's work and loved it, so she was pleasantly surprised when the artist approached her about participating in this exhibition.
Gartner wrote about Chaperon's recurring cave witch character that appears in her paintings. The title of her written piece is How to make love to a cave witch. The general mood of Chaperon's work was also incorporated into Gartner's interpretation. Gartner spun a myth from the paintings and fleshed it out in many different ways. Her writings were presented as excerpts from fictitious books including a scientific study of the cave witch, cave witch the cookbook, cave witch the personal account, and many more.
In regards to the unorthodox explanations of the artwork means, the newest member of the Reach's team, Adrienne Fast, commented, "By opening up the creative process to other kinds of creative responses, we discover things about the artists that we wouldn't have discovered otherwise." There emerged in the written works some unexpected themes regarding topics such as sexual violence against women and determining who in our society has the authority to speak on such matters. Those themes have been expanded upon in the gallery space.
In February of this year, the Reach hired Adrienne Fast as their new curator of art and visual culture. This was Fast's first experience with changing over exhibitions at the establishment, and she expressed that she could not be any happier that these are the exhibitions she had the privilege of introducing first in her new position. She also voiced that she could not be prouder of the team she now works with.
In addition to Tales Untold, two more exhibitions opened at the Reach last Thursday. Also making their debut were Procession by Dutch artist and master printmaker Saskia Jetten, and Of The Standard Of Taste by Andrea Hooge and Kathleen McGiveron. Fast took the time to introduce Jetten's work during her speech, stating that, "She is pushing forward against the limits, and is trying to see what else printmaking can be, and what it can do." Jettens work is comprised of a number of installations that depict figures and use a variety of distinct materials and elements. Her works deal with identity and selfhood, and reveal more and more to the beholder the longer you spend with each piece.
Of The Standard Of Taste by Andrea Hooge and Kathleen McGiveron is housed in the Reach's atrium gallery, and was organized by their Aboriginal curatorial assistant, Andrea Pepper, who introduced the exhibition as a comparison of contemporary art, the aesthetic of kitsch, and the roles that commercial platforms such as Instagram and Etsy play in the critical reception of contemporary art.
Author Erika Thorkelson, in addition to publishing written work in the show, is the host of The Storytelling Show from Vancouver Co-op Radio. Throughout the night she could be seen recording certain bits of the event, to be broadcast online at a later date. According to the radio's website, The Storytelling Show airs every Sunday from 9:00 to 10:00 p.m.
Overall, the Reach's new set of exhibitions aim to break down the boundaries between the audience and the artist through new forms of experience and observation. Tales Untold and its accompanying exhibitions will be on display at the Reach until September 2, 2018.
Images: Cassie de Jong/The Cascade