Preview: National Aboriginal Day Awareness event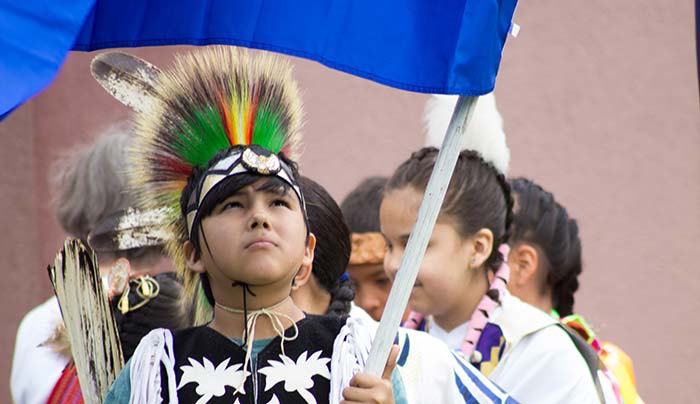 UFV's Indigenous Student Centre (ISC) has something big in store for the Abbotsford campus next month. On June 13 from 10:00 a.m. to 2:00 p.m. all students have been invited to join together and celebrate Aboriginal culture at the National Aboriginal Day Awareness event. The event will take place on "the green" at the Abbotsford campus, and will provide an opportunity for students to learn about Aboriginal culture through interactive activities. The list of attractions also features cultural performances, display booths, and local Aboriginal vendors.
According to the director of UFV's Indigenous Student Centre, Lorna Andrews, the goal of the National Aboriginal Day Awareness event is to create awareness of National Indigenous Peoples Day, which takes place the following week on June 21. The Government of Canada's website describes National Indigenous Peoples Day as "A day for all Canadians to recognize and celebrate the unique heritage, diverse cultures and outstanding contributions of First Nations, Inuit and Métis peoples."
The impressive list of interactive activities currently scheduled at the National Aboriginal Day Awareness event includes cedar weaving, carving, storytelling, rattle making, and Halq'eméylem language lessons. There will also be display booths where students can learn about Aboriginal genealogy, Métis culture and history, and traditional herbal medicines. The very popular Stó:l? Bannock food truck will be making an appearance to provide delicious traditional food at reasonable prices. All interactive activities, display booths, and vendors will be available from 10:00 a.m. to 2:00 p.m. and the cultural performances will occur between 11:30 a.m. and 1:00 p.m.
While the Aboriginal student club and the Student Union Society have co-hosted this event before, the past few events have been hosted exclusively by the ISC. The ISC has offices on the Chilliwack campus in the "400 Wing," and on the Abbotsford campus in the Student Union Building. There they act as a vital resource that promotes and supports Indigenous student success. They aim to assist and support UFV students of Indigenous ancestry in their studies, or personal related issues. Their services can be provided to Indigenous students across all of UFV's campuses upon request, and their activities are open to all students. By providing a "home away from home" on campus for Indigenous students, their support helps to connect Indigenous peoples at our university.
This annual event first took place in June of 2005, and has existed in a variety of different forms. They have previously hosted a pow wow, and over the past four years they have expanded to include a diverse range of Aboriginal cultures in Canada. The ISC plans to continue hosting the National Aboriginal Day Awareness event on an annual basis, with the hope that other areas within the university are able to join in as co-hosts.
This event is open to anyone and everyone. The objective of the National Aboriginal Day Awareness event is to inspire our communities to act on ensuring relevant and reciprocal education for Indigenous students, and to raise awareness about Aboriginal culture and history through performance, engaging activities and display booths, and supporting local Aboriginal vendors.

Image: UFV